When writing an essay or research paper, it is essential to reference and cite the facts you borrow from other sources. Students often wonder whether Encyclopedia Britannica is a credible or scholarly source. Unfortunately, students get confused because sometimes it has information that can be used to write a good essay.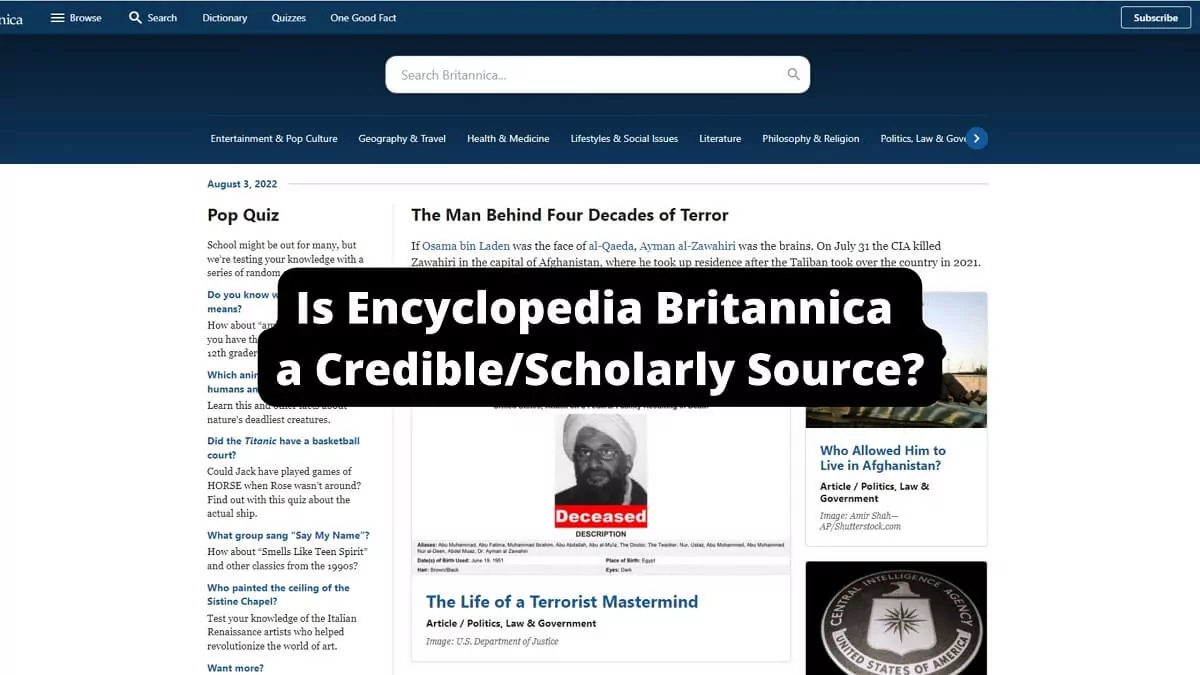 The Question of whether an encyclopedia is a scholarly source cannot comprehensively be answered by saying a simple 'yes' or 'no.' It is a disturbing question among many students who find Encyclopedia Britannica loaded with many informative articles.
After careful consideration of the CRAAP test, advice from professors, and research findings from the academic community, we can conclude for sure that:
Even though Encyclopedia Britannica has real editorial staff, high-quality articles, and up-to-date information, it is a general encyclopedia that should only be used for background research on a given topic, just as you would with Wikipedia, but do not include it in your works cited reference page or bibliography page.
About Encyclopedia Britannica
Encyclopedia Britannica is one of the oldest English-language general encyclopedias published and managed by Encyclopedia Britannica, Inc., established in 1768. The company has existed for decades since the 18th Century, even though it has changed ownership through the years.
The encyclopedia is maintained by over 100 full-time editors and has over 5000 contributors. The number changes as years elapse. The company has existed and published for about 254 years and has served over 150 million students. It is offered in over 20 languages. The mission of Britannica Group is to suit everyone's learning needs. It targets students, individuals, educators, reading enthusiasts, and researchers worldwide.
Britannica Online hosts hundreds of thousands of objective articles that cover different subjects and topics. A kid's version also gives kids the basic facts and general knowledge.
What makes a Source Credible?
A source is considered valid, credible, or reliable if it meets the conditions of the CRAAP test, a standard test for evaluating scholarly sources.
A credible source should have current information, be relevant to your topic, have authority, be accurate, and purposeful. Credibility means that you can trust the source, and it means that you can use them in your research papers and essays. We discussed this in our comprehensive guide on good and good scholarly sources.
When using the CRAAP test, you can evaluate the source as follows:
Currency. Consider the currency of information and ask yourself whether it is up-to-date. A credible source has current, relevant, and accurate information that is verifiable and fact-checked.
Relevance. A credible source should be relevant to your research topic or question. It should meet your needs.
Accuracy. The accuracy of a credible source depends on its quality and the verifiability of the content therein. In addition, credible sources have clear content and references to other scholarly sources.
Authority. A credible source's authority stems from the author's experience, background, expertise, and integrity. It should have the authority to ensure that you extend a scholarly discussion.
Purpose. A credible source has a good reason for existence. The authors must make their intentions known. The information must be factual, devoid of biases, and have objectivity and impartiality.
A credible source is an excellent scholarly source because it is written by experts. Such references are also peer-reviewed to determine their authenticity.
Is Britannica Valid, Scholarly, Peer-Reviewed, and Credible?
After carefully analyzing Encyclopedia Britannica through the CRAAP test and researching the insights of professors and university publications (writing centers), we come to a conclusion that Encyclopedia Britannica is not a valid, credible, or scholarly source that can be cited in academic and professional papers. Instead, it is a tertiary source that can only be used for information and idea generation. Furthermore, it is not a peer-reviewed source.
Encyclopedia Britannica contains many carefully edited articles on all major topics. Notably, these articles are written by identifiable and credible authors.
As you might have noticed, most of these articles reference books and other sources relevant to the topic covered. The articles are also edited for length, with the primary target audience being researchers, students, and professionals.
Encyclopedia Britannica serves sufficient background information without overwhelming the readers. Unfortunately, even with the information and cataloging, most universities, colleges, and high schools do not allow students to cite encyclopedia articles. You should consult with your professor if you are unsure if they will accept articles from Encyclopedia Britannica as one of the scholarly sources in your essay or research paper. But that beats logic since you can find many other scholarly sources online. We have detailed information on accessing these quality sources in our guide to finding scholarly sources without struggling.
Parting Shot!
Our conclusion is that, like many other encyclopedias, Encyclopedia Britannica is an excellent source of background information. You can use it to begin your research on a topic and gather facts as you brainstorm on your essay outline, but you can never cite them in your essay or research paper.
Also Read:
Since most professors want you to use credible academic sources in research papers and essays, when you use an encyclopedia, they will be convinced that you never did extensive research and did not read widely.
Yes, it is reliable for it has existed for a long time, but limit it to knowledge acquisition and idea generation. It is an excellent place to get information as you brainstorm an essay or research paper topic and write an outline for your essay.