Although often seen as easy homework, assignment, or paper, writing an essay on the legalization of marijuana can sometimes be a confusing task.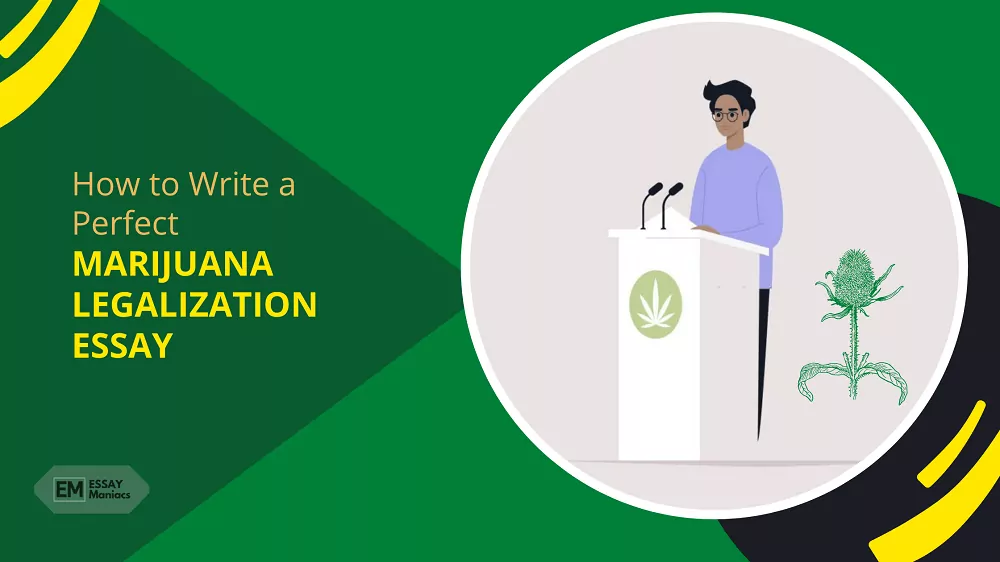 The legalization of marijuana is a hot topic debated within the public, scholarly, and legal domains at an international scope. Given that it fits as a current issue, most instructors and professors assign the legalization of marijuana essays to test their students' writing skills, creativity, and reasoning.
As expected, you might have some ideas and a basic understanding of what an essay on the legalization of marijuana would look like. However, when you get the chance to write one, you end up realizing how challenging an assignment is.
Based on the experience of our custom essay writers, we have compiled this guide to help answer the numerous inquiries we get. This guide will teach you how to start, develop, and end a marijuana essay. We also teach you how to create an outline, the best structure to take, and some valuable tips that will help you write a perfect cannabis essay.
Whether you are writing for or against an essay, argumentative/persuasive essay, informative essay, or a descriptive essay, this is a guide you should go through to avoid wasting yourself on research and writing weak essays.
Steps for Writing a Marijuana Essay
We have covered the steps for writing a standard academic essay; writing an essay on the legalization or decriminalization of marijuana is no different.
Read the prompt. Read the prompt provided by your instructor/professor to determine the length of your essay, the potential topics, the scope of your arguments, the formatting style to use, and other details such as the deadline.
Select a topic. Choose a good topic based on the marijuana essay prompt. Let it be something you can write an entire essay on when choosing a topic.
Choose and write a good title. Select and write a good title for your essay so that you can attract the attention of the readers or markers.
Brainstorm ideas. Come up with ideas that you would like to focus your essay on. For example, you can take the medical, social, economic, or political approach when writing your argument. Brainstorming helps you decide what will feature in your essay.
Research widely. Research and read widely to get scholarly sources that you can use to support your argument and write a good thesis statement.
Develop your thesis. Write an appropriate, relevant, clear, and concise thesis statement that covers the gist of your essay.
Write an outline. Write an essay outline to help you determine what goes where and come up with the best structure for your marijuana essay. The outline will differ depending on the type of essay you are writing.
Write your essay. Develop the introduction paragraph with an essay hook, background statement, and thesis statement. Next, write the body paragraphs and adhere to the paragraph writing rules. Finally, conclude your essay through a concise concluding paragraph that ties everything together and completes your writing loop.
Edit the essay and submit it. Proofread, edit, and polish your essay to remove any grammatical errors. Also, ensure that the essay meets the top grade in your Rubric. Only submit the essay if you are sure it would earn you better grades. If not, you can hire a professional editor and proofreader to turn things around in your essay and make it worth a good grade.
As you write your pros and cons of legalizing marijuana essay, or an argumentative marijuana essay, you should research widely. Ensure that you research well because the use and legalization of marijuana is still a controversial topic. Although some states and countries have permitted the use of marijuana, some states are yet to legalize it. Therefore, write it from the social, economic, political, and religious perspectives. Let us now explore the arguments that you can write either for or against the legalization and use of marijuana.
Strong arguments for the Legalization of Marijuana
There is no right or wrong argument when writing a marijuana or cannabis essay. if you are writing an essay that argues for the legalization of marijuana, there are strong points that you can focus your essay:
The basis for the legalization of medical marijuana can be a lot of things. Medical marijuana or cannabis has been shown, through different studies, to bring improvement to different patient populations.
Medical marijuana helps reduce pain and nausea arising from chemotherapy and prevents vomiting.
Medical marijuana helps reduce muscle spasticity, which occurs during paralysis and in patients with multiple sclerosis.
It also reduces anxiety and inflammation. In addition, it kills cancer cells and slows the growth rate of tumors.
It is proven to lessen tremors in Parkinson's Disease.
It is linked to the management of nausea and weight loss
It can help treat glaucoma
There is promising evidence showing its effectiveness in treating PTSD among veterans
It is also reported to help patients with HIV/AIDS in reducing pain
It is an effective treatment for Crohn's Disease and Irritable Bowel Syndrome
It has been successfully used in the treatment of fibromyalgia, endometriosis, and other diseases with chronic pain
It helps prevent relapse during drug and alcohol addiction treatments
It helps reduce chronic pain and can be used in the management of psychiatric problems
Cannabidiol or CBD, an advanced form of synthesized marijuana, can be used in treating various medical conditions.
Economic Reasons to Legalize/Decriminalize marijuana
There are many economic bases that you could feature in your essay and win your teacher's trust for a good grade. These arguments include:
Medical marijuana taxes could boost the economy
Decriminalizing marijuana will help the nation save on the current costs of enforcing marijuana prohibition laws. Enforcement costs the criminal justice system billions of dollars
Legal marijuana already creates jobs and is projected to create even more

It is expected that the cannabis industry will create more jobs
It is estimated that the job growth in the marijuana industry will grow by 250% in the next decade
Economic empowerment via these jobs
Socio-Political Arguments for Decriminalizing Marijuana
Reduces racial disparity in the criminal justice system and restores dignity among people of color.
Reduces the effectiveness of law enforcement officers due to bad attitude
Causes economic disenfranchisement of the minority populations
Improves police-community relationship
Benefits the local communities through investments in housing, facilities, and infrastructure
Raises the well-being and health of the people employed and those benefiting
It gives dignity to those using it by reducing stigmatization
Can promote responsible use and reduce abuse
Legalizing marijuana will make it safer for use
Creation of full-time jobs for the immigrant populations
Other Good points for Legalizing marijuana
As you write your marijuana legalization essay, you can consider including these points.
Prohibition of marijuana is undemocratic; it infringes on the users' rights.
Marijuana prohibition is costly.
Taxes collected from legal marijuana sales can support government programs
Marijuana is less harmful to humans when used moderately
Legalization reduces crime rates
The prohibition is racist
It helps phase out black markets and criminal gangs benefiting illegally
Legalization helps set up safety and consumption standards
Reduces traffic deaths and arrests due to consumption
Helps reduce teen use of marijuana
Perfect Arguments Against Legalization of Marijuana
There are many reasons against the legalization of marijuana.
Increase in the number of accidents caused by people consuming marijuana
Lead to people using stronger and more addictive drugs
Increase in crime-related to cannabis consumption
Reduce the use of land for food security
It is harmful to people's health
The use of drugs such as marijuana is immoral
No evidence that decriminalizing marijuana would benefit the society
More teens would use and abuse marijuana, exposing them to effects
Related to increased traffic accidents and deaths
The black market and organized crime gangs will benefit from the legalization
It might lead to marijuana-related emergencies
Harmful to the brain and causes mental health problems
Marijuana is detrimental to the secondary smokers
It leads to broken marriages
Decriminalizing could lead to a vast industry that exploits people for profits
Increase in business losses due to accidence and absenteeism
Breach of the international treaties signed by the USA
It goes against the guidelines by the public health organizations
Growing marijuana is likely to harm the environment
There are many other reasons to prohibit marijuana as there is to legalize it.
How to start an essay on the legalization of marijuana
Like any essay, the beginning always counts. If you hammer the introduction paragraph well, the chances are that your readers will be enthusiastic about reading your essay. The good thing is that getting it right from the start wows your professor. The first few minutes of reading your essay determine what grade you will likely get.
If you want to create a good impression with your essay, have a befitting essay hook or attention grabber. An attention grabber can be a statistic, shocking fact, quote, story, or anecdote.
After writing the hook, you should give a small overview of the topic to explain what your topic is, its scope, and anything that will help contextualize your paper. In your last or second last sentence or two, you should then present the marijuana legalization thesis statement.
You can address the history of criminalization and decriminalization of marijuana. You can also expound on the recreational and medical use of marijuana. You might as well look at marijuana-related policies.
Finally, you can signpost the ideas presented in your essay if they are longer than four pages.
Examples of good hooks for the legalization of marijuana
According to recent statistics, the legal Marijuana industry currently employs nearly 250000 full-time jobs, four or five times higher compared to other conventional sectors of the economy.
Federal statistics show that 40% of the American population aged 12 years and above have at least tried cannabis in their lives, with an estimated 25 million active consumers consuming 31 million pounds of marijuana annually.
The number of people languishing in prisons for possession and use of marijuana is daunting. Moreover, the cost of sustaining them there is skyrocketing daily.
The marijuana industry is a multibillion-dollar industry that can sustain the economy in ways that can only be realized through decriminalization.
The enforcement of marijuana prohibition laws has resulted in the disenfranchisement of the minority populations leading to racially biased incarceration of many people.
Final Remarks
When assigned to write legalization of marijuana essay, speech, or research paper, you can consider some of the steps listed above. Besides, we have also outlined the main points that you can integrate into your thesis and body paragraphs.
It would help if you researched widely because there are many issues, beyond what we have covered, for or against the legalization of marijuana. Preferably, look at the government websites, credible institutional websites (.edu websites), .org websites, and peer-reviewed journal articles for facts to support the arguments in your essay.
That said and done, we offer custom essay writing services. Suppose all you need is someone you can pay to write your marijuana essay. In that case, our writers are available even if it is urgent. They have written endless essays on marijuana legalization, decriminalization, or prohibition. You can also trust us to edit and proofread your first draft to ensure it is worth something when you submit it.
Above all, we can also write an essay plan, annotated bibliography, or outline the legalization of marijuana. We make it easier to write your marijuana essay.