Abstracts are crucial components in research since they describe the research study to the relevant bodies such as journal editors and researchers alike. It is improbable to find a quality research paper without an abstract. It mainly gives the reader a snippet of what they should expect when they go through your paper.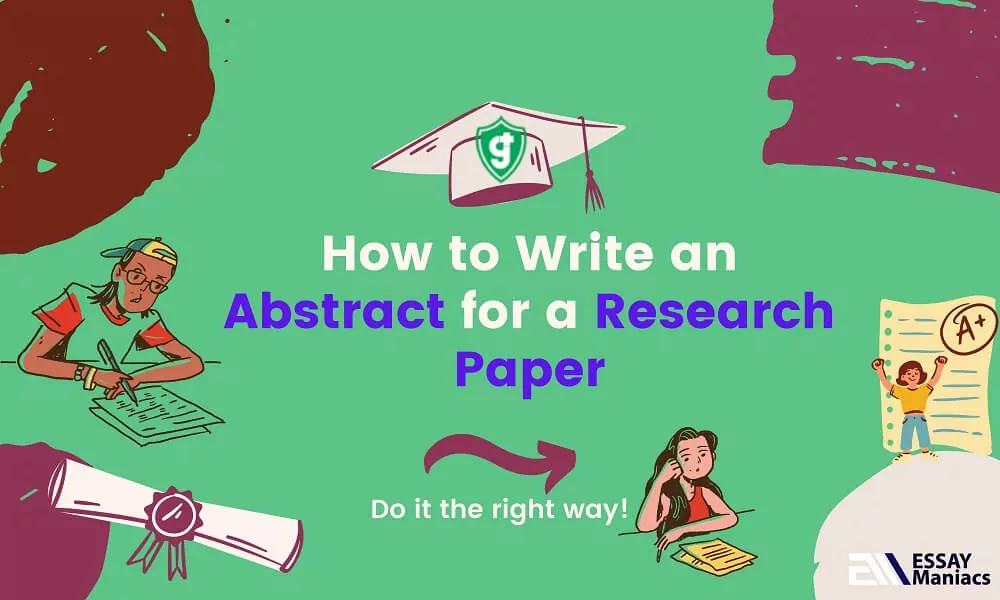 Times have changed, and currently, there is a greater emphasis for researchers at all levels to write a convincing abstract. You, therefore, have to give it time and energy to make your research more enticing to read.
An abstract needs to bear information such as; summary, observations, results, and trends in simple terms. By highlighting these components, you make it easy for your audience to examine your work. We believe in the crucial role a good abstract will play in your research, and this guide will be of the essence to you. You will also learn how to create unique subjects that will keep readers glued to your work. Here are some tips as per some of our top research paper helpers.
What Is An Abstract?
An abstract is a simplified summary of what your readers should expect in the research. It gives the readers a better understanding of what point your paper focuses on, and it also details the goals and outcomes of the paper. A well-structured abstract goes ahead to allow your audience to either read through your paper or not. Your research, therefore, needs to have a thesis, and your document will be rendered incomplete if it lacks.
The abstract should not contain too many details and information. It can contain anywhere between 150 to 250 words, and you will write it after you have summed up writing the entire research paper. This section should be added after the title and acknowledgment pages before you write your table of contents.
Types of an Abstract
Before you write an abstract for your research paper, you need to understand the type of abstract that matches your writing needs. Here we will be going through the four main types of abstracts.
Critical Abstract
A critical abstract needs to provide many concepts. Besides giving details about the main results and information, it needs to comment on the study's validity and its reliability or completeness. The researcher, therefore, has to compare his work with what other researchers have done in the same study. The general size for this type of abstract is between 400-500 words long, mainly because of the commentary for interpreting the findings. However, most researchers use this abstract infrequently.
Descriptive Abstract
A descriptive abstract shows what information the reader should expect from the work. There are no comments or writer's judgments about the job, and neither does it give conclusions and findings of the research. It, however, bears the crucial vital words to expect in the study, such as the study purposes, research methods, and area of research. The descriptive abstract can be concluded as a description of the work written. It is often considered an outline of the work, and they do not bear any lengthy information--- anywhere around 100 words, but not beyond.
Informative Abstract
Most research paper abstracts are informative. They give further descriptions of the work instead of evaluating and describing it"a well-written informative abstract is a substitute for the work itself. The researcher will explain the arguments and crucial results and indications in the research paper. An informative abstract has all the information you would find in a descriptive abstract; the purpose of study, methods or research, and scope of the study. It can also include findings and conclusions of the investigation, with the author's recommendations included. The length of the abstract might vary depending on the discipline of research, but it rarely goes beyond 250 words.
Highlight Abstract
The primary purpose of having a highlight abstract is to capture the reader's attention to the written word. The abstract does not give the complete details about the work, and this is aimed at making the reader more interested. Therefore, a highlight abstract cannot be independent of the article associated with it, so most researchers do not use it in their work.
Format of an Abstract
Having known the standard definition of an abstract, it is imperative to understand the general format of a good abstract. Regardless of whether you are writing an abstract in APA, MLA, or Harvard, it is usually a single paragraph with double or single-spacing. In most cases, your abstract should not exceed 250 words unless instructed to write more. Besides, it is usually not part of the general word count. Now, here are some fundamental parts of an abstract that you should include when writing one for your research paper, thesis, dissertation, term paper, capstone project, internship report, or any academic paper that requires an abstract:
Introduction
The introduction needs to answer the question as to why you are carrying out the research. Your first sentence on the introduction needs to mention the main content of the paper, and the second sentence needs to dig deeper into the background of the study. It needs to explain the focus of the research and how important the investigation will be.
Methodology
This section of the abstract details the methods and means you used to answer the research problem. You need to describe the design, the sample size, and any variables that might have influenced your results. Also include the tools you used in the process of finding results.
Results
This is the peak section of the abstract, and it answers the primary purpose of the study. It needs to state the significance of the results and how it differs from the research hypotheses. You need to write the results in the past tense. As you write this section, do not veer off the scope of study and what you discovered.
Conclusion
This section finishes off the abstract page, and it needs to interpret your findings from the other pages and highlight the general implications of your study results. You can also add recommendations for future studies.
Keywords
If you intend to publish your paper, you must add a list of keywords at the end of your abstract. In most cases, these keywords reference the most important elements of the research you conducted to help the audiences find the paper when researching for their consumption or when performing literature searches for various purposes.
How to Write an Abstract : Tips, Hacks, and Tricks that Work Best
It is always a requirement by professors that students write an abstract for their research papers. Most students still choose to ignore this section, and reviewers will always miss the weak abstracts. Below are the steps required to write a good abstract;
1. Go Through the Instructions
When you are tasked with writing a research paper, you will be issued a set of instructions to consider. The provided instructions will be the guidelines you need to follow when creating an abstract. So, before you get to write your research paper, check on these guidelines that your professor or person in charge will offer:
The type of abstract you will write.
The appropriate abstract structure and pattern you need to follow.
The specific rules that will apply for the research.
The word count requirements for the abstract.
The required style and formatting.
Considering these guidelines will make it easy for your readers to follow through with what you have written.
2. Write Down Your Research Paper
The abstract is supposed to come after you have written your paper. However, since the abstract needs to display the key points, you will be handling your work briefly. Therefore, it is impossible to know the facts before you complete writing the rest of the paper.
3. Include the Research Background
Your research topic needs to have background information to make the readers understand what you are aiming at. Cease from adding lengthy details that have no relevance to what you are researching. The information needs to be brief, precise and focusing on the research questions.
4. Write Down the Problem Statement and the Objective of the Research
It would help if you started your abstract by carefully describing what your research aims at achieving and why you want to do so. Then, explain the significance of the study to the community and tell what questions you would like to answer in your paper. This requires you to use words such as analyze, investigate, evaluate, among others. Moreover, you can use simple past or present tense to write this section, do not use the future tenses.
Your research problem needs to answer questions such as;
Why you are carrying out the research
How does the study contribute to your field of study
How the audience should read the full paper
What problem does your research aim at solving
Is your research study specific or general
What argument are you trying to bring out
5. Describe your research method
To incorporate your research methods in an Abstract, ensure that you give a general idea of the procedures, approaches, and sources you used to develop your paper and the findings. It can be a cases study, qualitative or quantitative study. Give reasons why you are settling with a particular research method and how it benefits your research.
6. Discuss Prior Done Researches
Some abstract may require you to discuss the researches that were conducted earlier on your topic. After identifying the relevant ones, ensure you explain to your audience why your research bears a different perspective than the rest. It would be best if you kept it short and well-detailed. It is more of a brief overview of the unique features of your research.
You need to understand that an Abstract is a lite version of your research, so keep all the relevant information that engages your readers.
7. Summarize the Research Findings and Results
This section requires you to summarize all the crucial findings and results of your research. You need to write in simple past and present tense to avoid vague usage of qualitative terms. Also, the contribution of your study to the community should be written in concrete terms including, trends, percentages, and figures. You can also compare the methodology used against the results to determine if the study was successful or not.
8. Write Your Conclusion
The final section of the abstract should have the conclusion of your study. It needs to explain the findings and answers to the research problem. Be sure to note down the limitations you faced in terms of methods and sampling. It gives your audience a clear understanding of what you did and the paper's credibility"going by the circumstances. You can also add a few suggestions and recommendations for further research. Your results and findings need to be valuable to the field of study.
9. Use Appropriate Keywords
At the end of the abstract, you can add a few keywords to make people consider your paper. These words should not be technical, and they should be common and relevant to the topic. Using these keywords in your research, readers can easily find your paper when searching on the internet or when scanning through scholarly articles. They can be a maximum of 10 words that are related to the research paper.
10. Read Abstract Samples
Using samples to guide you on writing an abstract is the surest and fastest way to learn. Before creating an abstract for your paper, go through some online examples and check across all subjects-- social sciences, sciences, and humanities. The most effective way to get the hang of what abstract you need to write is by reading through literature reviews. You will find one that is directly related to your study discipline and use it to your advantage. Do not copy-paste.
11. Write Down a Simple Draft
Your abstract needs to have a rough draft. There are no specific rules to how you need to approach this aspect. You have no word count limitations or content type to use. Your primary focus should be on the research theme and take note of anything that comes to mind.
As you write the abstract, there are a few crucial points you need to consider.
Avoid providing lengthy details about your research background
Refrain from using irrelevant adverbs, adjectives, and phrases.
Do not repeat information
Do not write down any acronyms or abbreviations
Do not reference the work done by other researchers even if they relate to your study.
Do not cite other publications and papers
Avoid writing incomplete sentences
Avoid using any illustrations, images, or tables
Do not define any terms or keywords in the abstract
Once you have completed the abstract, it is time to do a thorough review and revision now. While doing this, please get rid of anything that would give too many details to the reader before they read the entire paper. Be sure that it is clear, brief, and concise to only hint at the information found in the main sections.
12. Do Not Submit Before You Proofread
Arguably, this is one essential aspect of abstract writing that most students tend to ignore. As a result, many of them do not proofread their work, resulting in poor grades. Once you have gone through your abstract and find that everything checks out, read the whole paper and confirm whether your results are sensible. Once everything is in order, you can now submit the work to your professor.
Abstract Format APA
APA format is mainly used for researchers and students of psychology and other social science fields. The format details the guidelines for many academic writing aspects, including structure, layout, citation, referencing, and presentation. For example, if you are doing a research paper in APA format, you need to write your abstract in APA format since it makes a section of your paper.
Although the abstract section may not be necessary for some subjects, it is beneficial to readers to get an insight into what to expect when they read through your paper. In addition, many readers and reviewers may also need to go through your abstract to determine whether the abstract is worth the read.
Basics of APA Style Abstract Writing
Always include a running head. Usually, this section is a shorter version of the research title. It should be placed at the top left end of the page. The running head letters should be capitalized, and they should not exceed 50 characters. You also need to add the page number on the top right corner of your page. This is for APA 6. In APA 7, there is no need for a running head.
Use the standard font of the research paper, Times New Roman 12 point, unless your instructor issues different options.
Your text should be double spaced for the abstract and the paper as well.
All your page margins need to be at one inch.
The paragraph should not be indented on any line, whether the first or last.
The abstract is the last thing you need to write. Since the abstract gives a summary of your paper, only write it when you have finalized it. It would help if you used present tense when you are inferencing the study results and conclusion. Past tense should only be used when expounding on methods used for the study.
Know what type of abstract you are required to write. In APA format, you can either write an informative or descriptive abstract. An informative abstract needs to factor in the purpose, methods, scope, and study results. Without forgetting the conclusions and recommendations.
Avoid using abbreviations and first-person when writing your abstract. For example, do not use we or I'. You have the freedom to use third-person pronouns. Also, consider writing in active verbs and not passive verbs. Even if you have acronyms in your essay, do not bring them over to your abstract page.
Rules for APA Style Abstract Writing
The abstract page should be written after the title page. The APA format states that your paper's abstract should substitute your title page. Fundamentally, this is because it needs to let your readers grasp what your paper is talking about in summary.
Your abstract needs to accurately show what the whole research is about. Only give the information included in the paper and do not write an abstract that offers a commentary. All you have to do is provide a report of what is in the paper.
Keep your abstract short and precise. Focus on writing down vital points, concepts and results. Your sentences, however, need to impact your readers significantly.
Keep your APA style abstract short at between 150 and 250 words. It needs to describe the problems, methodology, findings, and conclusion of the research.
Abstract Format MLA
An abstract written in the MLA format mainly summarizes the research objectives, study methodology, results, findings, and the paper's conclusion. It is a minimized form of the article that considers the research paper's vital points. This format is majorly used in researches within the art and humanity fields.
When using the MLA format, please explain what the paper entails, what was done in the research, how you did it, and your findings. Also, your MLA abstract needs to be clear, precise, and brief to point. This is why you need to use explicit language that readers can directly decide whether it is worth their time or not.
Rules for Using MLA Style for an Abstract
Understand the type of abstract you are required to write
Summarize the research objectives and study methodology
Your abstract needs to have the results of the research and the conclusion of your paper
Keep the abstract brief and clear at around 150-250 words in length
The abstract needs to be written after your page title before you start the main text
Include the reasons why you carried out the research and why readers need to read your paper
Proofread to be sure no errors exist in the abstract. This will help you avoid mistakes that would make readers ignore your paper
Always include the implications of your work in your conclusion section
Do not copy and paste information from your research paper.
Your abstract needs to begin with a clear statement of your argument.
Do not use long and complicated sentences
Basics of Writing an Abstract in MLA Format
Your abstract should not be longer than one paragraph. If you need to extend, make it a maximum of two.
The contents of the abstract need to be in Times New Romans with the font size at 12 points all through the paper; unless other instructions were issued.
The page for the abstract needs a one-inch margin all-around the paragraphs.
You need to write acronyms in full if there are any to be included in the abstract.
Do not give any citations within an abstract.
Do not add any footnotes.
Your abstract structure needs to follow the paper sequence.
Use the appropriate paragraph indentations.
Wrapping Up
A research paper is mainly given to college students as an assignment and sometimes for researchers. To write a complete and quality research paper, you need to have an abstract---a summary of the research paper and what you have covered in the entire paper. Many students find it tough to come up with a good abstract, even though it is easy to write one in many cases. All you need to have is a good grasp of the steps involved in creating an abstract and understanding what type of abstract is required for any paper. As you have seen through the article, the main point to take home is that an abstract needs to be clear and concise without exhausting your words on information that is not relevant.