Narrative essay assignments are widespread at the college level. If you have written compositions, chances are that you have encountered narrative writing, otherwise known as story writing.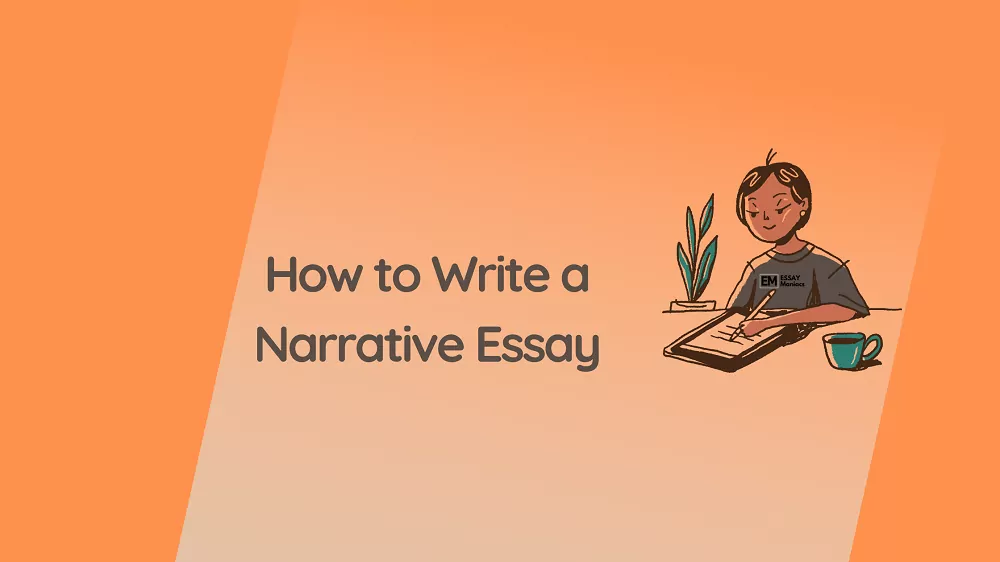 Therefore, it is vital for every college and university student to familiarize themselves with narrative essays and to master how to write them for academic success.
A narrative is usually a compelling story, either fiction or non-fiction. Therefore, you must tell a compelling story to write an excellent narrative essay. Moreover, you have to tell a story through a narrative structure or perspective.
In this post, we will share everything you need to know about narrative essays. We will also share a step-by-step guide for writing excellent narrative essays.
Let's begin.
What is a narrative essay?
A narrative essay is a type of academic writing that involves telling a story. The story could be fictional or non-fictional. When you are given a narrative essay assignment, your objective when writing it should be to tell a convincing story.
Since a narrative essay is about writing a story, it must be done from the first-person perspective, just like the first-person essay. In other words, you must tell your story as you, and you must do it convincingly.
The most convincing way to tell a story in a narrative essay is to use vivid descriptions and try to make your work as interesting as possible. Unfortunately, while many students can easily do this, quite a number can't.
When writing a narrative essay, you must guide your readers through your story. Unlike other essays, there are no claims, arguments, critiques, counterarguments, or persuasive language. Instead, your focus is on the story and letting the readers make conclusions.
If you fall in the latter group, you should continue reading this post because it has all the necessary information to become an excellent narrative essay writer.
Categories of Narrative Writing
In story writing or narrative writing, there are various approaches one can take, which define ways to write a narrative. Choosing an approach depends on the goals and the audience of the written piece. Narrative writing can be linear, nonlinear, viewpoint, and descriptive.
Descriptive Narrative Writing
Descriptive narrative writing mainly describes the action, roles, and appearance of a story's setting, character, and object. It offers a comprehensive background of the story, immersing the readers into the writer's world.
For instance, when you read "The Tell-Tale Heart" by Edgar Poe, you will see the narrative vividly describing events and circumstances around the plot to the extent that you can visualize it. In most cases, descriptive narratives are sometimes framed as conversations between the readers and the narrator of the story. The story's diction, structure, sentences, and gist address the reader.
The same techniques in writing descriptive essays apply when writing a descriptive narrative essay. Here you "show and not tell" because you have to be straightforward. Avoid exaggerating facts because simplicity wins the readers' grades and hearts, even in narrative writing.
Linear Narrative Writing
When assigned to write a historiographical essay, you write the accounts chronologically. This approach of writing a story in a chronological sequence is termed a linear narrative approach. The technique is common in books, TV shows, plays, and many pieces of performances and media products. It is easy to predict the next event once one is immersed in a story. Although there can be gaps in the story, the linearity is always constant and visible.
For instance, when writing narratives where characters are focused on achieving a certain goal, you have to explain the events linearly from the beginning to when they achieve the goal. Such quest narratives have been applied in many stories, movies, and TV shows.
Another type of linear narrative is the historical narrative, where events are explained from start to end. For instance, one may choose to narrate their journey through the war in Iraq right from when they were deployed. The same technique can be used in some sections of college essays when explaining how you developed a love for a course you want to pursue.
Disorganized/Nonlinear Narrative Writing
Instead of taking a linear and direct approach to linear narrative writing, the nonlinear narrative framework entails structuring a story by highlighting random, related, and sometimes unrelated events. It is a format primarily used to emphasize a given plot, character, or object in the story. It can also be used to highlight a specific character's perspectives, emotions, and stances. With the first-person narration, such stories can also be used to describe major events, including selected scenes, and provide details that would otherwise be left out but are critical to the story.
ViewPoint or Perspective Narrative Writing
The voice of the story or the narrator has their perspective. When this perspective is the gist of the story, the narrative piece is referred to as perspective narrative. For instance, "The Catcher in the Rye" is a viewpoint narrative essay, and so is "Half of a Yellow Sun" by Chimamanda Ngozi Adichie.
Viewpoint narrative writing allows the writer to explore the personalities of the characters and expose the readers to the specific themes, ideas, and traits of a character. It is an effective strategy for personal essays, college essays, scholarship essays, and stories that need the perspective of personal growth and advancement.
Types of Narrative Essays
It is somewhat difficult to write a narrative essay if you do not really know what you want to communicate and how to communicate it. There are three major ways to write narrative essays.
1. Non-fiction writings
Non-fiction writings based on happenings, facts, or real information count as personal narrative essays. Common examples of non-fiction writings considered personal narrative essays include diaries, journals, personal statements, college essays, autobiographies, and biographies.
2. Fiction writings
Fiction writings are based on writers' ideas, thoughts, and feelings. They are considered imaginary narratives. Examples of fiction writings strongly regarded as narrative writings include plays, short stories, folk tales, novels, and so on.
3. Poetry
Poems can be either fictional or non-fictional. They are considered narrative writing because they are the expressions of the authors' ideas, thoughts, and feelings. The best examples of poems that are narrative writings include epics and sonnets.
Narrative Essay Structure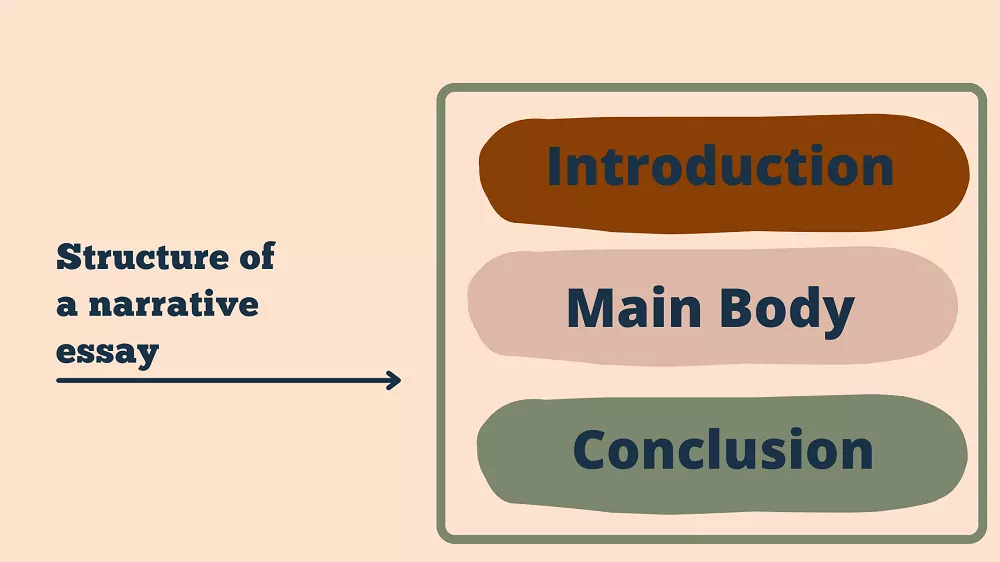 The narrative essay structure is no different from the conventional essay structure. It has one introduction paragraph, three body paragraphs, and a conclusion paragraph. However, while the narrative essay structure is the same as the conventional essay structure, the purpose of the paragraphs, especially the body paragraphs, is usually quite different.
Find out the purpose of the five paragraphs of the narrative essay structure below:
Introduction ? Provides insight into the story, identifies the objective of the essay, and has an engaging statement to hook the reader
First body paragraph ? Rising action
Second body paragraph ? Climax
Third body paragraph ? Falling action
Conclusion ? Lessons learned from the story
Steps to writing a Narrative Essay that scores an A
If you want to write an excellent narrative essay to help you score a superior grade, follow the steps below.
1. Choose an essay topic
Before you start writing your narrative essay, you should choose a topic. Then, ensure you read the essay assignment instructions carefully to know what is required of you. After doing this, the next thing you need to do is to brainstorm narrative essay topics.
The following narrative essay topic ideas can help you brainstorm in the right direction.
A life-changing situation you experienced.
A massive challenge you overcame.
An experience that forced you to overcome fear.
A great discovery.
A situation in which you assisted someone.
A situation in which you stood up for someone.
A moment that forced you to stand up for yourself.
An experience that changed your life perspective.
A rebellious act that changed your life.
A negative life lesson.
The saddest day in your life.
The happiest day in your life
Using the narrative essay topic ideas above, you can come up with a few narrative essay topics. And from the topics, you simply need to choose the most interesting one to write about.
2. Create a narrative essay outline
After choosing a narrative essay topic, the next thing to do is to create a narrative essay outline. A typical narrative essay format comprises an introduction with the thesis statement, the body paragraphs, and the conclusion paragraph. The introduction offers an overview of the entire essay: the introduction catches the readers' attention. Then, the main body introduces and develops the characters, plot, and dialogues to allow you to summarize the story in conclusion.
Therefore, the outline should include the following major elements ? an introduction paragraph, three body paragraphs, and a conclusion paragraph.
Your outline should include the following elements.
Introduction ? Provides insight into the story, identifies the objective of the essay, and has an engaging statement to hook the reader. It should be sequential and transitional.
First body paragraph ? Rising action
Second body paragraph ? Climax
Third body paragraph ? Falling action
Conclusion ? Lessons learned from the story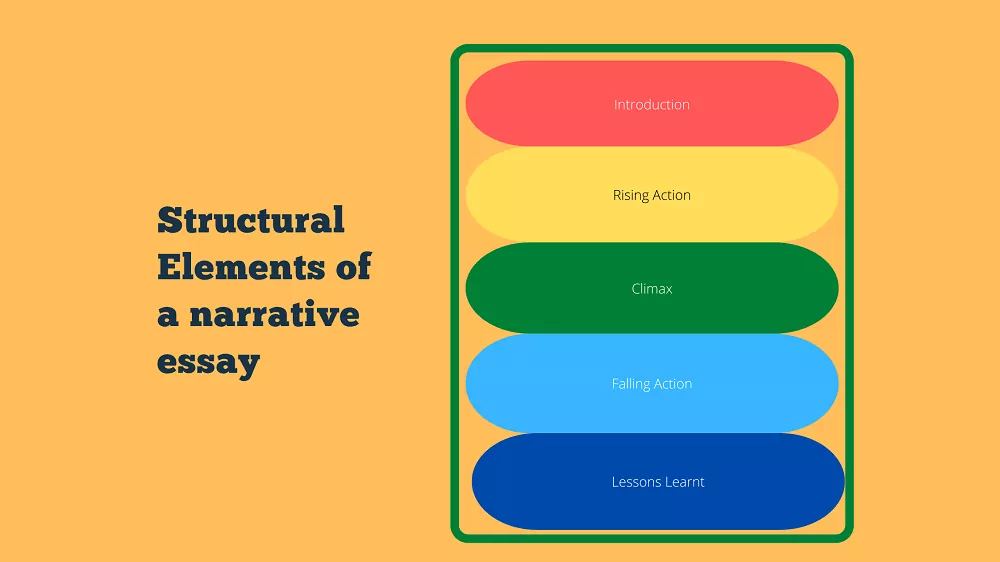 It is vital to make sure your narrative essay outline is as comprehensive as possible.
3. Write your introduction paragraph
After creating a comprehensive narrative essay outline, the next thing you need to do is to write your essay introduction. This is when the rubber meets the road.
Because you have already created an outline, it should be easy for you to write your introduction. Simply follow the points you made in the introduction part of your outline.
The first thing you will need to write will be the introductory phrase. You should ensure it is short and catchy to hook the reader into reading the rest of your work. A short insight into your story should follow the phrase. Do not give away too many details in your intro.
At the end of your introduction paragraph, you should write your thesis. It should neither be too formal nor too casual. It should simply be precise and polite.
4. Write your narrative essay body paragraphs
After writing your introduction paragraph, you should write your body paragraphs. You are supposed to tell your full story in the body paragraphs. Three paragraphs are usually enough for a narrative essay. However, you can write up six or seven body paragraphs if necessary.
When writing your essay body paragraphs, you should focus on one idea per paragraph exactly as you outlined in your outline. You should also focus on chronologically writing your story to ensure it has a good flow.
Moreover, you should pick a tone and stick to it. Your tone can be romantic, critical, ironical, or philosophical. Just make sure it is appropriate for your topic and that you stick to it from the start of your essay to the end.
Once you are done writing your body paragraphs, skim through them to ensure your story has an exemplary logical flow. If you identify any gaps in your story, fill them.
5. Write your narrative essay conclusion
After writing your narrative essay body paragraphs, you should write your narrative essay conclusion. Your conclusion should not include any new information. It should simply wind down your story. The best conclusion is usually that which ends with a powerful closing sentence. So make sure your essay conclusion paragraph has one.
The perfect way to write the conclusion of your essay is first to summarize your story and then give your
6. Format your essay and then proofread it
At this point, you have written a narrative essay. However, it is not yet ready for submission. Therefore, you must do a couple of things before submitting it. The two most important things are formatting and proofreading.
You need to format your essay first. In other words, you need to make sure your essay meets the formatting requirements of the citation style you were instructed to use in the essay instructions. The most common citation styles are APA and MLA.
After formatting your essay, you should proofread it. Proofreading your narrative essay is what will transform it from an average narrative essay to an excellent narrative essay. However, you must be thorough in your proofreading to make your essay a genuinely excellent one.
Begin proofreading by reading your essay aloud. Doing this will help you catch mistakes and identify and revise the sentences that don't sound right. After reading your essay aloud, you should proofread it one more time using an online grammar editor like Grammarly.com to catch the mistakes you might have missed.
After proofreading your narrative essay, it will be ready to submit.
Sample Narrative Essay Outline
The most ideal narrative essay outline is that which is comprehensive, precise, and perfectly chronological. In this section, we will share with you a sample narrative essay outline to help you write one for your own essay.
Topic: My first music festival
I. Introduction
Hook: Can you recall the first music festival you attended?
Background: I do not know about you, but I do. The first music festival I attended remains the coolest event I have ever attended. It was a music festival of epic proportions out in the desert. It was the 2018 Coachella in Indio, California.
Thesis statement: I knew I would love the music at Coachella, but I didn't know it could change my life forever.
II. First body paragraph ? Rising action
Topic sentence: The 2018 Coachella Valley Music and Arts Festival was set in Indio, California. It was a multi-day music festival with the biggest music artistes in the world, including Beyonce, Eminem, Post Malone, Cardi B, and The Weeknd.
Details
Closing sentence
III. Second body paragraph ? Climax
Topic sentence: The biggest highlight of the music festival was the performance by my favorite artiste ? Beyonce. It was my first time seeing her live, and she performed for two hours straight.
Details
Closing sentence
IV. Third body paragraph ? Falling action
Topic sentence: I knew I would have fun at Coachella, but I did not know the level of ecstasy I would experience and how that would change me from a laidback music fan to a stereotypical music fan that follows everything about their favorite musician.
Details
Closing sentence
IV. Conclusion ? Lessons learned from the story
Summary of thesis
Summary of main points
Lessons learned
Narrative Essay Topics and Ideas
One of the challenging things you must do to create a good narrative essay is to choose a topic. You will most likely be asked to write a specific narrative essay at the high school level, but this is often not the case at the college level. So most of the time, you have to choose your own topic.
For most students, this is not the easiest thing to do. And this is why we decided to create the list of narrative essay topic ideas below. The list should help you develop two or three quality narrative essay topics.
You can then identify the best among them to be your narrative essay topic.
Narrative essay topic ideas
A childhood friend you will never forget fondly
The saddest experience in your life
The happiest experience in your life
An experience you will never forget
The most embarrassing moment in your life
Your first solo vacation
The family member you became best friends with
The first time you prepared your own meal
The biggest crisis you've ever experienced
The most life-changing event in your life
Your first day in high school or college
Write a story about what scared you the most as an adolescent
Your most enjoyable vacation trip
The worst day of your life
A story about how you lost a precious thing
A story about how you assisted someone in need
Your most memorable summer camp experience
Your first time riding a car
A story about how you bought your first car
When you misjudged someone, and they proved you wrong
How you helped a stranger
The best gift you ever got
Starting a relationship
Your first day on a boat
Your first day on a plane
The scariest thing you have ever done
Something you overcame in your life
An encounter with a stalker
A day you nearly had a bad accident
The day you made a big mistake
Starting a Narrative Essay
Before beginning to write a narrative essay, you must first read the assignment instructions. If the narrative essay is part of your college essay, ensure that you know the perspective or angle to introduce and develop your story.
Brainstorm the ideas to include in your essay; you can make notes or mindmaps to establish how the information will flow. Come up with the plot, characters, conversations, climax points, or sizzling action points, and visualize the reaction of the audience in your mind once they get to read your story.
If you are writing a narrative essay and want to engage your readers, begin your essay with a provoking statement, a quote, or a statement; a good essay hook will do the magic. Essay hooks or attention grabbers are always the best sentence starters for narrative essays. You could even ask the audience a question to get them psyched up and find the story's answer.
Your introduction should set the scene for the story, give away your angle and perspective, and be descriptive enough to allow the readers to visualize the story. Use spatial order organization, chronological organization, or a hybrid of the two organization formats to achieve a good flow in your introduction paragraph. For instance, if you are writing about the best birthday party you ever had, talk about the setting, the people who came, and the activities that followed.
Remember, there are specific and open-ended prompts. For instance, it is an open-ended prompt if you are asked to write about an incident in your life when you failed and how you overcame it. On the other hand, a specific prompt could ask you to write about your first day in college. Like other essays, narrative essays do have a thesis statement. However, the introduction engages the readers, so make it count.
Choosing a Narrative Topic for your Essay
If you are wondering how to come up with a topic for a narrative essay, let us explain a few things in that context.
First, some institutions, instructors, and departments will guide you on the topic or list topics to chow for your narrative essay. On the other hand, some will give you the freedom to choose a narrative essay topic to test your creativity.
If this is the case, consider the context and scope of the assignment first. Ask yourself:
Given the prompt, what story should I narrate?
What story fits into this context?
Is it possible to narrate the story within the specified word count or pages?
A good narrative essay should let you reflect on the theme or lesson at the end. But, it could also take an unexpected turn or leave the readers in suspense. So, consider this when choosing a topic and, by extension, writing an excellent narrative essay title.
Even if a topic has exhaustively been written about, you can adopt the style but write your personal experience. Again, it is how much appealing your story is and not the subject.
When choosing a topic, check whether the prompt is closed/specific or open-ended.
When applying for college, university, or graduate studies, a narrative piece can set you apart from other candidates. In most cases, the Common App essays are written in narrative format. Therefore, when choosing a topic, look at the angle that the prompt wants you to take. In addition, you can get inspiration from millions of written narratives on personal blogs, short stories, examples of best college essays and personal statements, scientific magazines, or Social media.
Thesis Statement in Narrative essays
Do narrative essays have a thesis statement? Yes, they do. When crafting your introduction, it can only be complete by stating the story's main aim or controlling idea. You can do this directly or indirectly.
The thesis statement wraps up the aim of the entire narrative essay. It fortifies the introduction and tells the readers what to expect.
It is easy to develop a good thesis statement with a good topic. You can write a preliminary thesis and then edit it, depending on the progress of the story. But, first, you should ask yourself how your reaction would be to a given situation or event, then turn that into a question. Your answer to it should be your thesis statement is a sentence or two.
For instance, when writing about failure narrative essay, your thesis can read: "I realized that failure comes to push us out of our comfort zones and untrap ourselves from the endless cycle of undermining our power of control, which made me work my way out of the seemingly challenging situation."
It can also be a simple statement like "visiting with the homeless in my community after the hurricane made me know that I am privileged; it changed my life forever."
An excellent narrative essay writer must find a way to weave some good ideas. If your thesis statement sweeps away the readers off their feet, the body paragraphs should make them not regret getting into your world. The conclusion should exit them from that world and leave them yearning to read more, take some action, or have a life lesson.
Example of a Narrative Essay
Topic: The scariest day in my life

I was lying on the bed with strange faces looking at me, bright lights beaming down, and a strange but familiar beeping sound in the background. I was in the hospital. The people looking at me were among the doctors who apparently had saved my life about seven days prior. About half an hour after I had woken up from a medically induced coma, it all started returning to me. I remembered what exactly had happened and how scared I felt when it did.

About a week earlier, I drove back home from school before getting T-boned by a heavy trailer. From about five seconds before it happened until I passed out in the mangled vehicle, I felt a fear I had never felt before. The heavy trailer hit my car on the side at full speed. The driver had lost control, and there was no way I could get out of the way.

In the aftermath of the accident, I remember being trapped in the vehicle, thinking either I was dead or just about to die. I tried to wriggle out of the mangled wreckage but couldn't. I remembered loud sirens, people running around the vehicle, and the smell of gasoline. I knew my injuries were terrible because I could really feel my legs. My legs were also not in a natural position, so I knew they were most likely broken in several spaces. I could also taste my blood, so I knew I had an injury somewhere on my head.

Before long, the paramedics and emergency services got to me, and some people talked to me through the windshield, which was now no longer in place. It was almost certain that I would die from their pale faces and the fact that I was slipping in and out of consciousness. I tried, almost movie-like, to tell them to tell my mother that I loved her, but I could say anything. The paramedics were insisting that I preserve my energy. Finally, not long after, I passed out.

I later learned that I was resuscitated twice after the accident and that getting me to the hospital was a race against time before worse could happen. The doctors gave me a few hours to regain full consciousness in the hospital bed before they told me that I could probably never walk again. It sounded bleak, but I didn't care. All that mattered to me was that I was alive
Tips for using when writing a narrative essay
You now know everything crucial there is to know about narrative essays. In this section, you will discover tips to use when writing a narrative essay. Taking these tips into account when writing your narrative essay will increase your likelihood of writing a masterpiece that will help you get an excellent grade.
Ensure there is clarity throughout your essay. When writing a narrative essay, you will need to do two things ? tell a story and tell it. If you tell a good story and some parts are unclear, you will not get a good grade. This is because the whole thing will not be easy to understand and grade.
Don't give too many details. When writing a narrative essay, your teacher or professor always encourages you to be as vivid and descriptive as possible. However, many students tend to overdo this resulting in essays that are overly detailed to the extent that they are difficult to understand. Thus, avoid giving too many details in your essay. Just be descriptive but not too descriptive.
Use first-person narrative. A narrative essay is a first-person essay. In other words, it is told from the first-person POV (Point of View). Therefore, when you are asked to write one, you should make sure you use first-person narrative throughout. Using a second-person narrative will make your essay look like you are not telling your own story. And this is not the correct thing to do.; your narrative essay should be about your own story.
Use engaging and dynamic words. Use dynamic and engaging words to ensure your story is not monotonous and boring. Failure to do so will make your entire essay sound plain and boring. This is something you do not want. So make sure your essay is as interesting as it can be by using interesting words, imagery, and so on to spice up your essay.
Don't use references. It is okay to use references in narrative essays but only sparingly. Many references, especially within your essay, will make it look like it has been researched, yet this should not be the case. Your narrative essay should detail your individual experience or experiences. Therefore, if you do it correctly, you shouldn't have the need to add references because your individual experience will inform your essay.
Follow the right format. You should follow the right format to get the maximum grade in your essay. The format for narrative essays is usually the MLA format. First, however, you should consult your essay assignment instructions to find out the right format for your essay as per your instructor. And then, you should use this to properly format your paper from the citation to the page numbers.
Final Take!
You now know everything crucial about how to write a good narrative essay. You know what a narrative essay is, the structure, and the steps to writing one. So, theoretically, you should be able to write a narrative essay quickly.
If you do not have time to write a narrative essay, you should order one from us now. If you do so, one of our narrative writers will quickly take on the job and deliver a flawless narrative essay on the topic of your choice.
Let us write your story essay or composition today for quality, timely delivery, and competitive prices. We have creative minds ready to drop mouth-watering stories written from your perspective and angle.