Every professor or instructor will tell you that they undoubtedly enjoy reading and grading an essay or academic task where signposting words and phrases have been used. This is a secret that only the top grade and talented students have discovered. It is the reason they score As.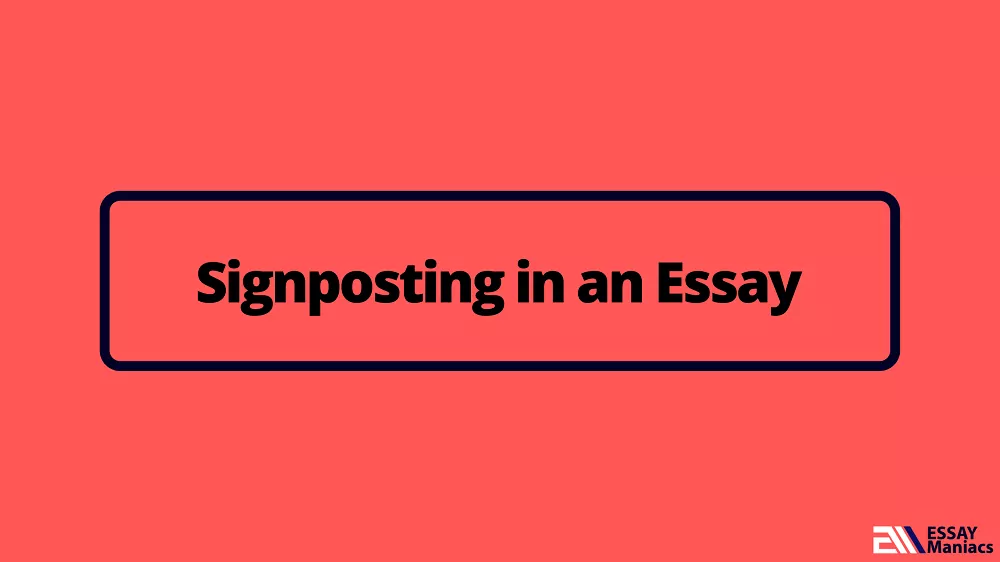 Essays that have a logical flow, where signposting words and phrases have been used, are appealing to read. When you signpost, no one struggles to read through your essay, identify your thoughts, claims, counterclaims, and arguments. In the end, such essays achieve their intended purpose, which then earns you the best grade.
Any student who aspires to score the best grades for their essays must master the art of signposting. Not only in essays but also in other academic tasks, assignments, or homework. It is a skill that sets you miles ahead of the rest.
In this guide, we take you through the best practices of signposting using examples for illustration and deep understanding before giving you a list of signposting words and phrases.
What is signposting?
You are probably wondering, "what are signposts in writing?" Let us begin by defining signposting before we head on to focus on signpost examples.
Signposting is a commonly used strategy when writing academic and professional papers. It refers to the use of phrases and words to guide readers through the content of a piece of written work such as an essay, research paper, term paper, proposal, or dissertation. It entails flagging the most significant parts of your arguments, signaling transitions, and clarifying any stakes of an argument.
Signposts are these words and phrases that help you articulate the structure of any given piece of writing to ensure that your writers flow with the ideas.
There are two classes of signposting: Major signposts and linking words and short phrases.
Major signposting entails the introduction, conclusion, and outlining of main arguments or the direction of arguments. It equally entails the use of opening phrases. On the other hand, linking words and short phrases encompass any connecting words that guide the readers through the main arguments by linking sentences, ideas, and paragraphs.
Example of signposting
To understand Biden's foreign policy for China, it is imperative to evaluate the policy direction of Trump's regime.
This example helps the reader to understand in advance that you will be taking them through the characteristics of Trump's foreign policy for China before exploring Biden's current foreign policy to China in a cross-comparative approach.
Another way to view the issue of global warming is'
In this example, you are trying to remind the reader that although you have covered some aspects of global warming, they should note another vital point.
How to Signpost in an Essay for more effortless Flow of Ideas
When you signpost, a reader whose mind is preoccupied can read your essay or piece of academic writing and understand your point without struggling. It is a bulletproof strategy that helps your readers comprehend each point. The readers can connect points, sentences, ideas, and paragraphs, which gives an ideal flow as they read.
Signposting also makes your writing enjoyable; you sound professional in your arguments. In addition, when you signpost, the structure of your essay, especially in the introduction, helps you present your arguments well.
Here are eight effective strategies, tips, and tricks you can use when signposting to write an essay that scores an A.
1. Use Verbs to Signpost
When introducing quotes or referring to the sources or references, use various verbs to signpost your readers that you are about to introduce a quote, then connect it to the main argument.
You can use verbs such as asserts, opines, contends, reasons, reports, concludes, demonstrates, claims, shows, concurs with, refutes, opposes, etc.
Be vigilant enough not to use the wrong verbs in a given context when using these verbs. Besides, ensure that you are precise. Use these verbs to endorse what the scholar said, refute or oppose what the scholar said, or compare the opinion of scholars on a given issue.
2. Use Retrospective Signposts to Reiterate
When writing an essay or dissertation, capturing your readers' attention becomes your ultimate goal. And while you capture their attention, you must also keep them motivated and engaged so they stick to your work.
One way to achieve this is by reminding the readers about the key points you have covered and where you are headed. You prepare your readers for what is coming.
You can use phrases such as "as is now evident," "as mentioned earlier," "in other words," "as a complement to the last point on," or "the main point is"
Using retrospective signposts can help you show how the previous points matter to the existing idea or argument. In addition, it helps the readers to take keen note of a point before introducing a new idea.
In most cases, you can do this at the end of paragraphs where you want to highlight the earlier point and expose its relevance to the essay question.
You can as well apply this strategy to your conclusion. Also, you can repeat complicated ideas, points, or arguments to avoid sparking controversy or creating abrupt surprises.
When you remind the readers about these key points, your intended direction, and your expected destination, you orient them through your reading to allow some good flow of ideas.
Repetition makes your readers get bored by reading something so many times. However, when you signpost these ideas, you help them see that you address a different point connected to the past ideas.
3. Effectively use Transitions
Transitions knit together ideas in an essay or academic writing task. Using transition words and phrases, you can link ideas in two sentences or paragraphs. You can use different transition words when writing, depending on your goal. Only ensure that your intention and the choice of a transition align.
You can illustrate your previous point using transitions such as 'for example,' 'for instance,' 'as an illustration,' or 'to further expound on.'
You can compare, show cause and consequence, or give additional points to what you have already covered. And when you use transitions, be wise enough not to overuse or place them for the sake of it.
Related Reading: How to write explosive compare and contrast essays.
4. Precisely use Signposts
Although signposting is intended for all the good reasons we have explained, your work will sound sloppy when abused. For instance, using words such as 'conversely' or 'however' in the wrong context makes you look foolish.
Resist any urge to sprinkle signposting words all over your written piece. Instead, you must be meticulous and link sentences, paragraphs, or ideas only when necessary.
Choose a transition or linking word that fits the context. For example, only use 'as a result' to signpost when the following idea is a consequence of an idea you previously wrote.
As usual, precise language will enable smooth and accurate communication with your audience; you must stick to it when writing your essay.
Related Read: How to make good paragraphs in an essay.

5. Signpost in your introduction
When signposting in the introduction, clearly elaborate:
The overall aim of your essay, e.g., 'This essay argues'.'
The main ideas you will discuss and in what order, e.g., 'First, second, third'.'
The rationale of choosing your main argument for the topic, e.g., 'Given that'.' Or ''will form the key focus of this essay.'
Quantify the content or aims of your essay, e.g., 'This essay discusses the three strategies'.'
In short, your introduction should present the essay's overall aim and share the points you discuss in the body paragraphs.
6. Signpost throughout the body paragraphs
You need to use paragraph breaks and subheadings to signpost through your essay. It is a way to keep the readers focused on the main points of your essay. However, you can only do this for long essays such as term papers, research papers, or dissertations.
Writing three to four sentences to effectively use paragraph breaks before starting another paragraph. Paragraph breaks are the single line space, indentation, or both that mark the end of one paragraph and the beginning of the next.
In your body paragraphs, you can tell your readers about specific points to come or what has been discussed already.
Example: Having discussed the overall direction of Trump's foreign policy, it is necessary to consider Biden's current policy.
You can equally use words and short phrases within the paragraphs. For example, you can use words such as 'Consequently,' 'as a result,' 'therefore,' 'alternatively,' or 'however' to signal direction.
7. Signpost in your conclusion
Like the introduction, the conclusion of an essay also plays a critical role - a signpost in your conclusion to bring some element of closure and close the loop for your readers.
To signpost well, look for the verbs you used in the introduction and use the same verbs in their past tense. For example, "this essay has discussed and concluded."
Ensure that your conclusion reminds the readers about the main points, arguments, and reasoning you have achieved in your essay and how your essay has answered the question.
A good essay outline should help you signpost ideas in your conclusion. That way, you can craft a conclusion that satisfies your readers' appetite.
8. Ensure that your topic is clear earlier on
Provide a rationale for choosing your topic early enough. Then, you have a few seconds to capture the attention of your readers, after which you either keep or lose their interest.
To have your readers engaged in reading your essay past the title, let the reader know the direction. Begin by writing a great hook, providing a detailed background, and explaining how the topic is relevant to your essay. Also, ensure that your main arguments are clear off the bat.
List of Signposting Words and Phrases for Essays
Now that you understand what it is, its significance, and various approaches to achieve it, let's have a quick look at the phrases and words or signposts that you can use in your essay.
Introducing new idea
Firstly, secondly, thirdly'
First, second, third'.
The first/next/final section'
The current debate'.
The current issue'.
Adding similar points
In addition
Equally
As well
Also
Similarly
Likewise
Again
On the same note
Specifying a particular idea
Given
Considering
Specifically
In particular
More specifically
In relation to
In terms of
Regarding
With respect to
Giving examples or illustrating
For instance
For example
As an illustration
Such as
Namely
This can be explained by
To further illustrate
Summarizing ideas
To conclude
As evident from the discussion
As is clear from the discussion above
Overall
Generally
To summarize
In conclusion
The main issue that is apparent
The main points here
Finally
Lastly
It is clear that
The strength of this approach
Making comparison
Conversely
On the one hand
On the other hand
Compared to
In comparison
However
In contrast
Rather
Instead
This contrasts'
This conflicts'
This is contrary
Another angle
Linking or developing a new idea
Having said that'.
Picking from the last point
Having established
To further understand'
To elaborate further
In addition to
As well as'
Another issue'
A second
Of equal importance
Notably
Extending the argument further
Related Reading: How to write a compare and contrast essay.
Final Remarks
Signposting is a single ingredient that makes your essay stronger, more understandable, and more flowing. In addition, it improves the taste of your essay even when your instructor is in no good mood.
Using the signposting tips and tricks we have discussed can help you achieve so much, even when writing a short essay, as you would with a longer essay.
When creating a good flow, the instructor or professor can identify with your argument. You invite them to your world and keep them to the end of the essay. Even as you signpost, be meticulous just as you would with transition words. Ensure that you use it sparingly and as necessary.
We have expert essay writers who can write a researched, structured, and organized essay if you are struggling with your essay. Leave planning, researching, outlining, drafting, and revising an essay to our writers and receive a top-grade grade essay.