Thesis papers and dissertations are often longer than 20 pages. A lingering question that undergraduates and graduate students ask is whether they can complete their dissertations faster and simpler.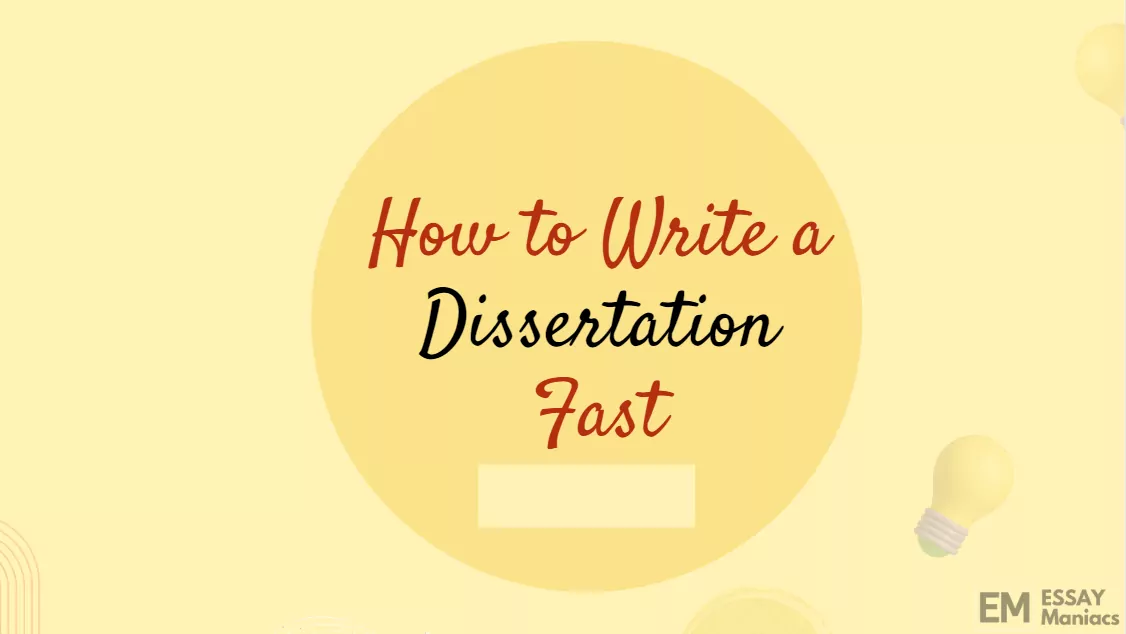 Whether you are writing an undergrad, master's, or doctorate-level thesis or dissertation, these tips will come in handy.
We have an entire article dedicated to writing a dissertation and one for a dissertation outline, so we will not dwell so much on those topic areas. However, if you are writing a thesis, the process is pretty much the same as that of a dissertation, or at least that is the assumption of this article.
Do you want to write that dissertation or thesis in three days, a week, a few weeks, or less than a month? Well, follow these tips and tricks, which have worked in favor of students scoring first-class or distinction.
14 Actionable tips to help you write a Dissertation or Thesis in Under a Month
Usually, most people dread writing long research papers such as a thesis and dissertations.
While the fear is well-founded because writing theses and dissertations is not a simple task, the entire process becomes seamless when preparation meets talent and dedication.
So how do you write that dissertation or thesis in a month or less? Here we go.
1. Adjust your expectations and be flexible
If your goal is to complete your dissertation or thesis in a month or less, you need to know that since you are exploring a new area, you will likely encounter disappointments and discoveries. Remember, you are targeting to write a paper with a higher chance of being accepted. Therefore, you should adjust your expectations.
Do not expect to be perfect but continue learning as you research. You can only attain proficiency if you accept that you are not knowledgeable and can make mistakes along the way. With that realization, you can research freely, develop ideas, and review the literature as you learn. Besides, you can synthesize the available work and persuasively convince your readers.
In most cases, keep your expectations higher but be sure to adjust them as you proceed. Because you are writing a paper that requires a longer time to complete in a record time of under 30 days, ensure that you are ready to do the reading, never slack with your writing, and continuously stay motivated even if you feel not like it. Expect to make major changes as directed by your professor or supervisor.
Expect to do away with some of the sources, incorporate new sources, and make them sit well with your writing structure and outline. It might appear impossible to complete sooner, but when you become flexible, everything is achievable.
2. Plan beforehand
In planning, have your dissertation chapters spread out in your calendar. Instead of writing "work on my dissertation," be specific enough to write "chapter 1 of my dissertation." Have a specific breakdown of the subsections to handle.
For instance, your introduction should have a background statement, problem statement, thesis, purpose statement, aims and objectives, rationale, signpost (breakdown of the sections to come), and transition to chapter 2.
Being specific on what to handle prepares you mentally for the task ahead. You can also stick to the plan and write faster than when you have no plan.
The good idea is to have a schedule for every section and everything related to the dissertation or thesis. Even if it is meeting the supervisor to track the progress, have it on schedule and put a reminder so that you are prepared before the actual day.
3. Use the Pareto Principle
You can use the famous 80/20 rule to ensure that you direct all your time in writing the sections of your dissertation that matter and those that take quite some time. The more you focus your attention on these sections, the faster it will be to complete your paper.
For instance, the introduction, methodology, and discussion sections of your thesis or dissertation are the hardest. In most cases, you should begin by writing your introduction and methodology sections. It is expected that you would have written a proposal at this point and had it approved. Writing the dissertation builds on the proposal you wrote.
Therefore, plan more time for your introduction and methodology. Write a good and distinct thesis statement and a methodology statement. Extend your literature review from the preliminary literature review on the proposal.
4. Begin writing sooner
Before you start writing your paper, consider its sections: abstract, introduction, methods, results/findings, discussion/conclusion/ recommendations, references, and appendices. Then, when you divide your entire dissertation or thesis into sections, you can focus on what is challenging before winding up your writing process with the easy-to-complete parts.
Soon as you are decided on what sections to start writing, begin writing sooner. The thesis and dissertation writing process can maim your morale easily. Therefore, when you still have the urge, determination, and push, ensure that you begin writing as early as possible.
Remember, you are writing a project paper that will be subjected to critique and rigorous review by your professor and a committee. Your graduation heavily depends on it too. Therefore, research as you write and continue building on the thoughts, ideas, and arguments you had planned.
The longer you delay commencing your writing, the higher the chances you will write in a rush and miss the pertinent points. You are also likely to make mistakes when you write in a hurry. If you are unsure about a section, skip it and return to it later.
To be productive, and maintain the mojo and motivation, begin early and keep the tempo until your last section.
If your focus is to write the dissertation or thesis sooner, write the first draft quickly. When you have the first draft, you can now get up your perfection and spend the time left polishing your essay. Even with little motivation, strive to write something that counts towards the larger word count.
5. Write continuously and never stop
A trick for writing a dissertation or thesis on a shorter deadline is to write consistently. Once you begin writing, snowball the process to ensure that the entire dissertation is completed sooner than you know. It is good to keep your mind working all the time.
Assuming you have your proposal, notes, and dissertation/thesis outline, write fast, consistently, and with determination.
You can choose to go section by section or do it randomly, depending on your motivation.
Start on a higher gear and maintain it throughout the dissertation writing process. While at it, consult more with your supervisor and peers who have been through the process.
You can take stock of the pages and sections you have achieved as motivations for the next step. To write continuously and better, set targets for each section of the paper. Besides, choose good hours and environments to do your dissertation.
6. Write First, Edit Later
As a rule of thumb in academic writing, you should always write to rewrite.
This means that you should focus on writing while in the writing stages. Write the first draft with well-organized ideas but do not be a perfectionist in the process.
Leave editing and proofreading for last. Unless your supervisor wants you to complete a chapter before proceeding to the next one, leave editing for later stages.
7. Do not fear skipping sections
Writing in a sequential order might sound like a good motivation to complete writing fast. However, sometimes it hinders progress, especially if you have the mood to write a given section over the other.
Do not resist the urge to move on to other sections when writing your thesis or dissertation when stuck. Granted that you stick to your purpose statement, thesis, and aims of the thesis or dissertation, you should not fear tackling a section that is not in sequence with your writing process.
As you progress, any time you feel like you are stuck, pause and begin writing and developing other sections.
8. Research and read widely
To write a first-class dissertation or thesis, ensure that your research is in-depth and comprehensive. Focus on articles written in the past five years, especially scholarly and peer-reviewed articles.
You can access scholarly databases such as Jstor, ScienceDirect, EBSCOhost, ERIC, PubMed, DOAJ, IEEE Explore, and ProQuest.
Get scholarly journal articles and read their abstracts, introductions, and conclusions to determine if they are fit to feature in your paper.
As you research, take good notes and organize the references for later use when writing. You should keep researching daily to make discoveries, advance your reasoning and thoughts, and shape how you present your opinions in the paper.
When writing a dissertation and thesis, check on review papers because they have done most of the tasks. You will also access up-to-date journal articles and new information regarding your topic. If you have limited time, you can take references and access them without having to research from scratch.
Keep the abstract for the last after everything is done so you can comprehensively summarize the entire research. You can take chapter notes to identify what to include in the abstract and what to discard.
9. Organize your references
Research is the mainstay of academic writing. And to advance a scholarly discussion in the form of a thesis or dissertation, you need to access and organize your references. When writing a dissertation or thesis, you will use many sources.
On top of what you already had during your proposal writing stages, search for more scholarly journals and organize them. You can use folders or online software such as Zotero to organize your sources.
Ensure that you have links or PDF copies of these references to refer to them as you write to support claims and arguments in your papers.
Organizing the sources depending on the chapters you will be using helps you avoid mixing up or putting citations just for its sake.
Compiling the references as you go reduces the time it might take to write and then put references later, which can be challenging to complete within a short period.
10. Keep organized notes
As you research and organize the sources, ensure that you take structured and organized notes.
Notes help you write because you can cross-reference the source to use, the idea to place, and what explanations to follow for the points to stand out.
In addition, someone already wrote something or everything you are going to write about. Therefore, borrow ideas from others and take notes when you get the angle right.
11. Stay Healthy
The dissertation or thesis writing process is draining, saying the least. You get drained emotionally and physically. Whenever you get some time, it is important to exercise, go on walks, and do other leisure activities.
Taking breaks helps your brain regenerate ideas, stay focused, and become sharp. You will be amazed at the new ideas that pop up when you are from a much-deserved break.
Studies have shown that walking promotes creativity and critical thinking. You can walk to the ice cream restaurant, the fields, or the streets. The interaction will be life-changing for your dissertation or thesis.
Exercising also helps you develop the physical resilience and mental fortitude required to write the thesis or dissertation. Changing your writing station and environment can make you create new ideas, have a unique perspective, and reorganize some points for the best grades.
12. Work on your motivated windows
Each of us has periods when we are motivated to write. For some, it is during the night, while for others, it is at dawn.
When you identify when you are motivated to research and write, you will write your dissertation faster and more efficiently. When motivated, you can complete an entire chapter in 2-8 hours rather than taking weeks to complete it. During the periods when you are not motivated, feel free to do other stuff unrelated to the dissertation.
It frees your mind and leaves you to focus on different domains of your life so that you stay focused long enough when you resume working on the dissertation/thesis. Working when motivated refreshes your brain.
You can utilize the energy and focus window on achieving more and doing better without redoing it later. And when taking breaks from this motivation window, do things in other environments so that your writing station does not become boring and a challenge to your writing process.
13. Set Deadlines and Beat them
As you are working on a project that can be broken into parts, be sure to have deadlines for the parts. With a shorter deadline, you want to achieve as much as you would with a longer deadline. Therefore, use deadlines as motivation to get milestones for your writing.
Deadlines are a secure way to get going, skip procrastination, and work diligently without inviting writer's block. The deadlines should be realistic and achievable. Make the deadlines count towards the actual deadline that you have. With deadlines set, you will notice that you will complete the paper within a few days if your schedules are free.
14. Have an accountability partner
Talking about your dissertation with others helps you identify if you are headed in the right direction. These other people do not necessarily have to be your supervisor. Sometimes supervisors can be bad mentors, but we need them anyway. Talking to your peers and other scholars about your progress, thoughts, and preferences helps them critique you, reshape your thinking, and refine your approach. They can also suggest different ways to get your references, ideas, and points. Besides, they can also help you find appropriate resources that will significantly reduce your research time. Sharing your writing journey also allows you to determine if your approach is excellent or if you need to refine the frameworks or theories you have presented. The accountability partner also helps to keep track of your time management. They will remind you that you must complete a given section within a given period.
Final Words
Ultimately, writing a dissertation or thesis does not have to be complicated. Any person, experienced or novice, can write a dissertation that will score the best grades if they stick to the tips prescribed in this article.
These dissertation writing hacks and tricks have worked well for others and can work for you too. Writing a thesis or dissertation is simpler, assuming you have already written the proposal. You can achieve high scores by doing things for and out of the assignment. Ensure that you keenly adjust and incorporate these tips when writing your dissertation.
Our guide on choosing dissertation topics and writing a good dissertation proposal will come in handy every step. But when you have the structure/outline and everything else in place, it is time to weave in these tips to succeed.
We can also help with writing your dissertation. Our expert proofreaders can also work around the supervisor's comments and develop a final draft that meets all the course requirements. Trust us for high-quality and first-class dissertations, just as we do with assignments, essays, and homework.