Students, educators, parents, and other stakeholders in education consider homework a norm. But do they know the person who invented homework? How did it even advance to become a preferred assessment strategy across all academic levels? Many questions around homework if you think critically around it.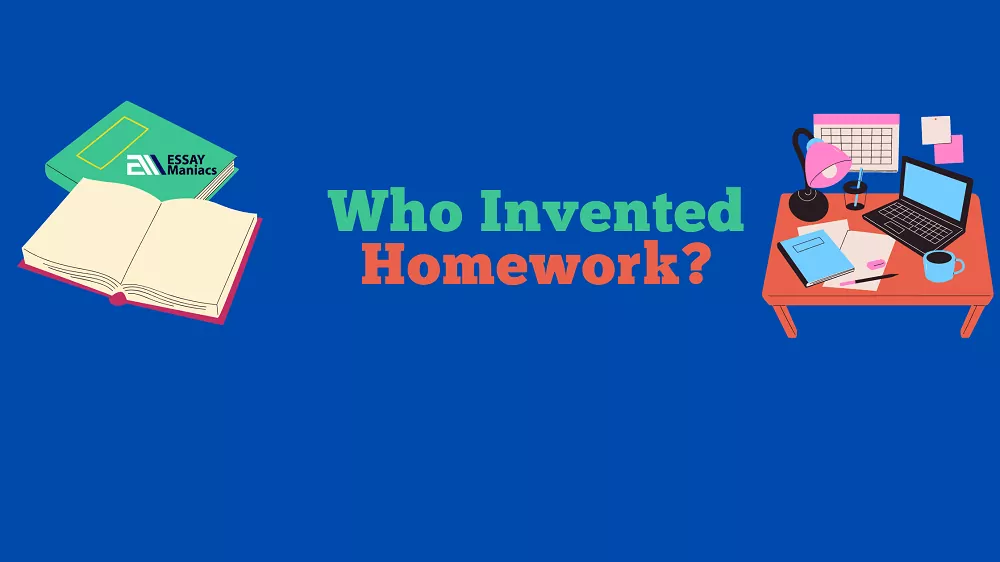 The mention of the word homework gives many students butterflies in their stomachs. They imagine the sleepless night they have encountered to finish some mathematic sums or music assignments.
In this article, we debunk the inventors of school exams before delving into the inventors of homework and its effects.
Who Invented School?
A school is an institution where teachers teach learners in an ambient environment. The concept of learning has been in existence since the existence of ancient Greece, China, and Rome. Tutors gathered the students in a learning environment called academics.
The Byzantine Empire established the primary education system in 425 A.D, which was so different from today's school setup. However, these schools were only meant for military personnel, which meant that only a few kids could attend those classes. They were taught philosophy, language, mathematics, and history. However, this system came to a sudden end in 1453 A.D when the Byzantine Empire collapsed.
When the Massachusetts state voted Horace Mann to be the first secretary of the Massachusetts education panel in 1837, Mann used his influence to enact significant educational changes. He fronted the Common School Movement. This movement mainly focused on ensuring that all the kids received primary education. Local taxes from the state are covered for this primary education.
Mann's idea gained traction when other states adopted it. It slowly became the universal system of schooling. The Common School Movement believed that social harmony and political stability depended on education. This system has been successful in most countries. It has undergone many evolutions to fit the students of the day.
Who Invented Teachers or Teaching?
Teaching is traced back to 561 B.C. A renowned teacher called Confucius was the first known teacher. Back then, the Greek ancient paid private tutors for their children. But, with the introduction of institutions like Cambridge University, it needed skilled teachers.
Horace Mann played a significant role in establishing teacher training schools in the 1800s. Training institutes channeled their efforts at professionalizing teaching. James Carter had proposed establishing a teacher training school in 1820. Still, he was actualized by Mann in 1838: Establishing the first Normal school.
Who invented School Tests?
Henry Fischel is the person who invented exams in 1840. However, the first imperial exams were first conducted in China. These tests were done when applying for government jobs. The tests were derived from six areas or subjects: writing, arithmetic, music, horsemanship, and archery. However, the tests were standardized to include civil law, agriculture, military strategies, revenue, and taxation.
Education transformed into more formal practices because teachers replaced oral exams with written tests. By 1875, tests were used to gauge the students' capabilities before joining college.
The invention of exams was necessitated by gauging how much a student is in a particular subject. However, exams come with their limitations; a student can get a hint on the intended topics of setting and leave out the other parts of the concepts they are supposed to learn.
What Is Homework?
Homework is a set of errands given to a learner by their tutor or instructor to complete at home or any place outside the classroom. These assignments may include mathematical sums, typing jobs, essays, coursework, research work, or any skill the teacher may dim the right to give to their students. The assignments are submitted to the tutor for checking after a stipulated time decided by the tutor.
Who invented homework?
Homework was first invented in 1905 by Roberto Nevilis. The Italian pedagog invented homework to punish the lazy students in his class and ensure they understood his concepts. Not many are written about Roberto Nevilis, and it is alleged that he died in 1954
However, critics argue that homework dates back to Ancient Rome, where the oratory Pliny the Younger gave his followers tasks at home. Pliny targeted the tasks at improving speaking skills in informal setups. After doing the extra practices for an extended period, Pliny's students saw an improvement in their skills. Other tutors adopted this learning approach, and the results were exemplary.
Historians will argue that homework came into existence almost at the same time as the schooling system. But at the time, only the wealthy families in the society could afford formal education. Roberto Nevilis aimed to assist his students in understanding the concepts he was teaching.
He argued that homework helped the students learn at their own pace without hurry and research for information from other sources. He also used it as a means of punishment for learners who performed poorly in his class. Teachers then adopted this learning method across all education systems in European countries. The role of homework has continued to evolve depending on the quality of education offered.
However, not all people are rooted in the evolution of homework. They wanted it to be abolished. U.S Child health Agency stated that homework was some sort of child labor in 1930. Around this occasion, numerous laws that barred the states had adopted child labor. This assertion gave homework a lousy reputation. It perceived education as an improper education practice, making many people wonder why teachers adopted homework earlier. Furthermore, parents were not pleased with homework since the children were too busy to help them with household chores.
There were significant changes in the education sector in the late 1800s. Tutors also changed their homework preferences. They started finding ways to make the homework relevant and personal to individual learners. The educators identified difficulties in their students' work. They assigned them appropriate homework, which gave them more time to focus on their weaker points. It worked for students who were willing to learn.
After World War II, there was a heightened rivalry between Russia and the U.S. Each country wanted to be a superpower country. So they competed against each other in almost all fields. When Russia launched Sputnik 1 to space, the rivalry heightened between the Russians and the Americans: their students were not left out.
Education agencies in the U.S resorted to administering meticulous assignments to their students was best suited to put them one mile apart from their Russian rivals. As a result, the homework given out was mainly in the aggressive subjects: Science and Math.
Towards the tail end of the 19th century, education systems had made giant strides on the positive side. These remarkable changes were attributed to the tutor's frequency and type of homework administered to the learners. As a result, there were significant improvements in the students' performance. As a result, the education agencies made this approach part of the tutor-training programs.
The teachers following this approach measured the fulfillment of assignments as an integral type of training to the students. In today's education systems, learning can barely go on without homework. Therefore, it is considered a measure of the students' self-discipline and the ability to study independently.
Is Homework Important?
There has been a debate on whether homework is vital to students or not. Some argue that it curves out a large chunk of the student's time, which students could have used on their hobbies.
Purpose of Homework
The role of homework in the educational system has been subject to research, and many findings have been presented. Researchers support the importance of homework, insisting that it boosts the knowledge acquisition process for students. Students who complete various homework tasks are likely to master concepts, theories, problem-solving approaches, independent reasoning, and critical thinking.
Homework also allows students to study within settings that are not classrooms. This way, students can adapt their learning styles, learn at their own pace, and find their strengths and weaknesses.
Homework also helps students plan their time well. They have to slot in time for chores and homework after school. It, thus, teaches students time management, self-discipline, and planning.
Here are the pros and cons of homework:
Pros
It teaches the learners to manage their time: Homework is not all about completing the assignments. It makes the students balance their time on studies and their hobbies.
It gives more time for the learners to research: the time allocated to each topic in the institution is between 45 minutes and one hour. This time is not enough for the student to learn new concepts. Assignments give them more time to find out more about the subjects of the day.
It encourages the art of practice: memorizing the same information over a long period is tedious and complicated. By doing assignments every day, the student, especially for challenging subjects, becomes easier to comprehend and helps them iron out their skills and learn new things in goals.
Homework boosts creativity and critical thinking of students. As they try to solve problems, they eventually find different, relatable, and practical approaches.
Homework motivates students. Students stay motivated, active, and happier when doing homework. This is especially true if the child in question understands the purpose of homework.
It promotes student-parent bond. Parents can help students complete or think through their homework. As a result, the parents can communicate and bond with their children better. As well, it enables them to understand the weaknesses and strengths of their kids.
Cons
Homework is currently facing a lot of criticism around the globe. More than 50% of college and university students are battling depression and anxiety. We can ascertain that all cases are due to the assignments given by their teachers. However, many things happen in the classrooms that we may not know.
After sitting out almost eight hours in class, a student expects to be given time to refresh and think about developing their hobbies. But this does not happen in most cases, and they will be given loads of assignments depending on the subjects' tutors. These assignments deprive them of their sleep and prevent them from spending time on their hobbies.
Many assignments may deteriorate students' health and make them less active in class. These huge assignments may lead to students' health problems, hence poor results. In most cases, students develop homework anxiety that can affect their health.
Students will not have time to play with other kids, interact with the world, and achieve important developmental milestones.
Homework is not a guarantee for improved academic performance. According to a poll by the Associated Press, homework does not seem to improve academic performance. In fact, some schools are eliminating homework on these grounds.
FAQs about Homework
As a student, you have probably asked yourself these questions. It is something we frequently get over our chat services. We have tried to offer brief answers to help you make up your decision.
Can someone get help with homework online?
Yes, websites with platforms connect students to knowledgeable tutors who can help them with homework. In most cases, these websites vet the writers or online tutors to get 100% customized homework help. You should be cautious, however, because some homework-help websites scam students. If you need assistance, you can get it from homework help tutors at EssayManiacs.
How do I get help with homework?
There are many ways you can get help with your homework. First, you can get help from your friends or peers. But then again, some of them are always unwilling or busy with their homework as well. Alternatively, you can hire a homework help expert who is knowledgeable in your field to help. In most cases, there are many homework assistance websites online. You should do proper due diligence before committing your money and homework instructions to any website. We come in here; EssayManiacs is a trustable online homework help website. You can be sure to get an online tutor in your field of study to help with essays, assignments, term papers, research papers, dissertations, and theses, and you name it. We are the best homework help website online, try us and taste the feeling of excellent papers.
Can I pay someone to do my homework?
Yes, there are various websites to pay someone to do your homework. EssayManiacs is a legit online tutoring website. We have hundreds of tutors who can help you write your homework within the best turnaround times. They legally do the homework for money. And when you pay us to do your homework, we do everything from scratch. Grab the chance to work with some of the best minds in academia. We have people with Master's and PhDs who complete all the homework as per the required standards.
Final Remarks
As much as Roberto Nevilis' idea has helped many students and shaped the education systems in the world, it also came with its limitation. He had a brilliant idea of helping his students understand his concepts. Teachers should, however, work on providing homework in smaller manageable bits to allow the students to explore their talents, relax and help their parents at home.