Classification or division essays are common in both high school and college. They are essays that require you to group things and give examples.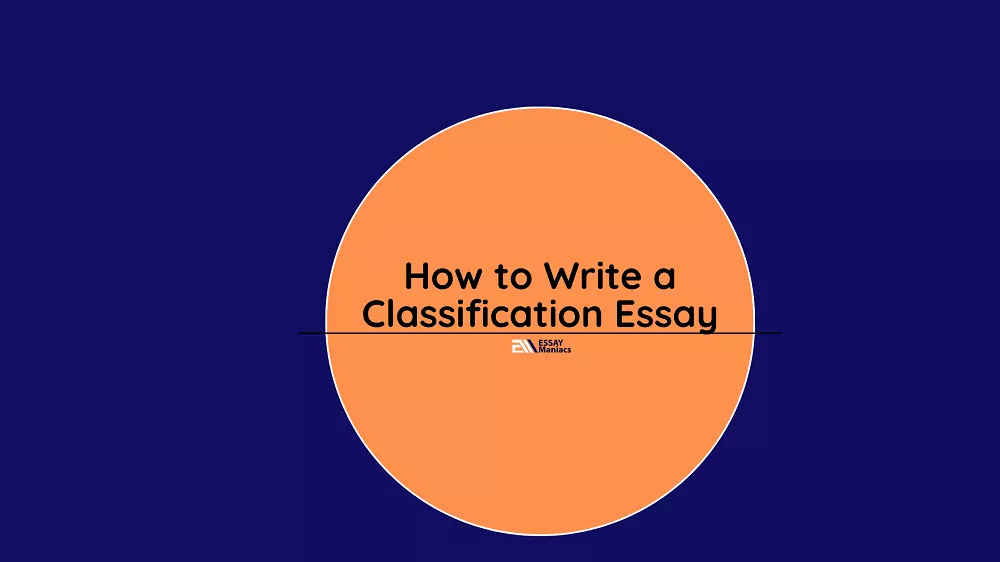 Teachers and professors like them because they know the essays force students to actually read widely to be able to group or categorize things and give examples. They also like them because the essays promote a greater understanding of things.
In this post, we will share with you everything important you need to know about classification essays.
Let's begin.
What is a Classification Essay?
A classification essay is a piece of formal writing that groups or categorizes objects or subjects. For example, it could be about an idea, character, or place. When given a classification essay assignment, your objective should be to categorize objects or subjects based on their characteristics.
A classification essay, or division essay, breaks down broad subjects into smaller, more specific, and more manageable parts. For example, you could be asked to classify computers, cell phones, operating systems, healthcare systems, animals, people, leaders, etc.
The assignment instructions will almost always tell you what to categorize. So you do not need to worry about anything.
To get top marks when writing a classification essay, you simply need to classify things and offer good examples. Of course, your work should also make sure your essay is well-researched, well-written, well-structured, and well-cited. Submitting a classification essay that meets none of these requirements will most likely result in a poor grade.
How to Structure a Classification Essay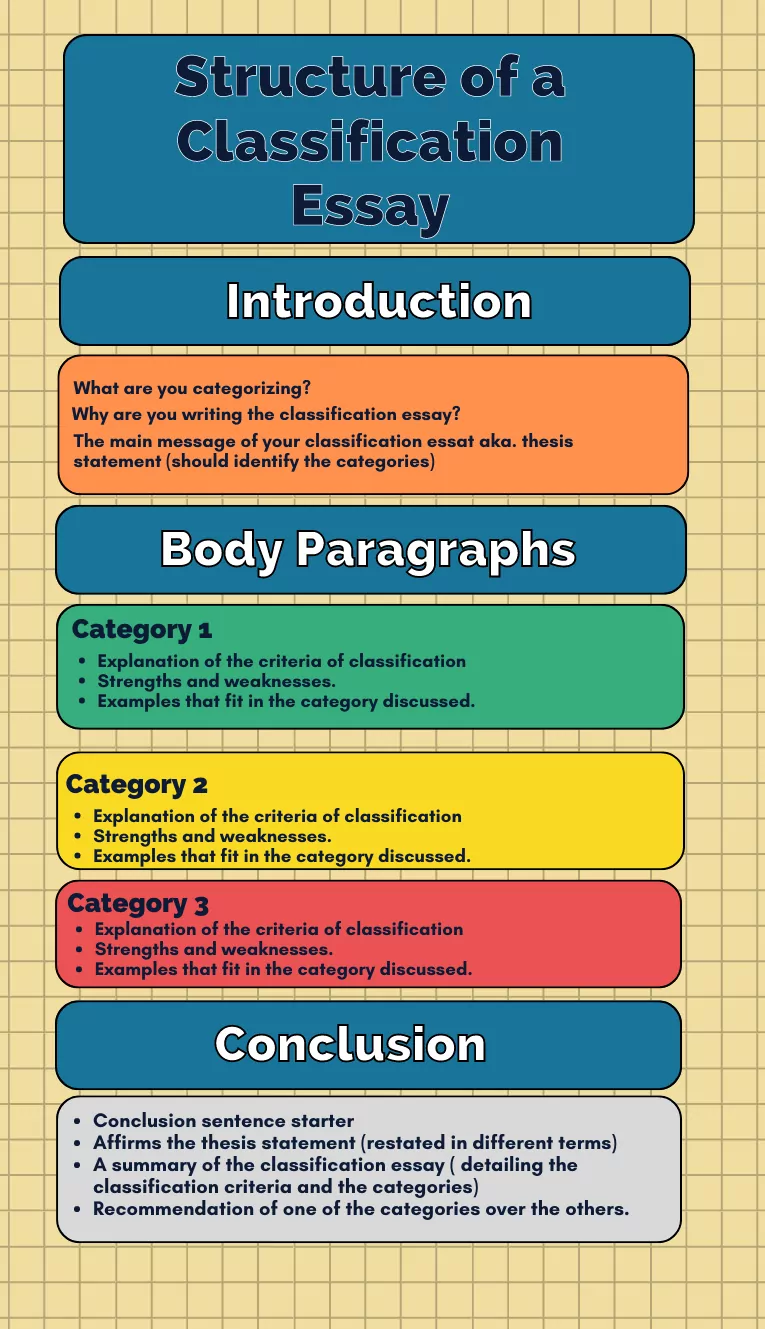 The most crucial thing you need to learn about classification essays is their structure. Classification essays have a simple five-paragraph structure. In other words, they have the same structure as most essays, especially at the college level. Below is the standard classification essay structure. Learn more about what you should put in each part of it.
1. Introduction paragraph
A classification essay begins with an introductory paragraph that introduces the broad topic. In your classification essay introduction paragraph, you want to clearly identify what you are going to categorize in the body paragraphs.
You also want to tell the reader the rationale for writing the essay. For example, why are you going to categorize? In addition to this information, you will want your introduction paragraph to have your thesis statement. Your thesis statement should identify the categories or groups you will put things into and perhaps the main reason.
Example of a classification Essay Introduction

When people talk of camping, they are often unaware that there are different types of camping. But, in actuality, groups or individuals can venture into many types of camping for leisure, sports, or spiritual purposes. To better understand the diversity in camping, it is imperative to break down the different kinds of camping: tent camping, van/RV camping, glamping, car camping, backyard camping, primitive camping, Overlanding, winter camping, bike camping, dry camping, workamping, adventure camping, and ultralight camping. Understanding these different types of camping can help with planning, executing, and reviewing camping activities to suit one's bucket list, depending on their schedule.
Note how the thesis statement explains the category and subcategories explored in the essay, including the rationale for breaking down the categories. Anybody reading the classification essay will be informed about the different camping types and can choose which suits their schedules. That is how to write the best classification essay introduction.
A quick tip for the thesis: topic +subtopics + rationale for subtopics equals your thesis statement.
2. Body paragraphs
After writing your classification essay's introduction paragraph, you will want to write three body paragraphs for your essays, assuming you are inclined towards achieving a five-paragraph essay structure. Three is the minimum number. The maximum number should roughly match the number of categories you will have in your essay.
Each body paragraph should focus on just one category when writing body paragraphs. This will make your work easier to understand. And each category-focused paragraph should start with a short introduction for the category, followed by the identification of subjects or things in the category and then relevant examples.
Between your paragraphs, you should try to create a flow. You should do this using transition words. Using transition words, especially between your body paragraphs, can make your essay much easier to follow and understand.
When your body paragraphs have a solid organizational structure, you will definitely tickle the professors or instructors for the best scores or grades.
3. Conclusion paragraph
The conclusion paragraph is the last thing you want to write in your classification essay. However, without it, your classification essay will not be complete. The right way to write the conclusion paragraph for your essay is by first rewriting your essay's thesis and then listing the categories you have classified objects or subjects into.
The last sentence in your conclusion paragraph should be a powerful closing statement that focuses on the significance of the categorization or classification you have just done.
The conclusion combines all the categories and subcategories to show the reader the bigger picture. For example, if you are writing about camping, give insights on the activities under the categories or elaborate on which camping activities are suitable for a specific type of schedule or duration.
Related Blog Articles:
Steps to Write a Classification Essay Easily
This section will discover the correct way to write a classification essay. You discover it through a step-by-step guide detailing every important process step. By the time you reach the last step in this section, you should be able to write an excellent classification essay on any topic.
1. Choose a topic
The first thing you need to do before starting any research toward writing your classification essay is to choose a topic. Selecting a topic is essential only in cases where your professor asks you to choose a topic. You don't need to select a topic if you have been given a topic. You simply move to the next step below.
If you have been asked to choose a topic by your professor, you should choose a topic relevant to the course the professor is teaching. For example, if your professor teaches some English cause, you can write a classification essay that categorizes major language groups worldwide.
If you want inspiration for your classification essay topic, you should look at our list later in this post. In it, we have listed dozens of fun and inspiring topic ideas for college classification essays.
All you need to make sure after you choose a topic is that whatever you have chosen needs to be relevant to your course. If you are unsure, ask your professor if your chosen topic is okay. You don't want to spend time working on an irrelevant essay.
2. Create a thesis statement
Formulating a thesis statement is the foundation of a good classification essay. A thesis is at the core of every good essay. You must ensure that it is strong and comprehensive, not simplistic and predictable.
It should be strong in the sense that it should make the reader understand precisely what is about to happen in the body paragraphs.
Since it is a classification essay thesis statement, it should focus on how you will categorize things in your essay. This piece of information will be very beneficial to your essay because it will tell the reader exactly what to expect, which is something you should always aim for when writing a thesis statement.
3. Conduct preliminary research and create an outline
After choosing a topic and creating a thesis statement, you next need to plan how you will write your essay. And the easiest way to do this is to research your topic and create an outline.
Preliminary research entails finding all the vital information about the selected classification essay topic. Ensure the information you find is exactly what the reader expects after reading your thesis statement. When researching, organize the information and take notes because you will need them when incorporating references in your essay.
Once you find enough information to write your classification essay, you should create an outline. Your outline should be comprehensive. Ensuring that your classification essay outline is comprehensive or detailed is not bad. This is because a comprehensive outline will make it very easy for you to write your essay.
Your outline should, at the very least, include an intro, three body paragraphs, and a conclusion.
4. Thorough research
After conducting preliminary research and creating a comprehensive outline, the next thing you need to do is to conduct thorough research. Your research should be aimed at finding scholarly sources that support your thesis and the main points you have stated in your outline.
This step is not going to be easy. Nevertheless, it is a step you should embrace if you want to create a masterpiece. First, make sure the sources you find are scholarly. If you cannot find scholarly sources for your essay, you should use reputable non-scholarly sources.
Finding scholarly, valid, relevant, or reputable sources will ensure your professor has no reason to penalize you for bad non-reputable sources. It will also ensure that the information you have in your essay is credible and factual.
As you do thorough research, when you find new information that is not present in your classification essay outline, you should include that information in your outline.
5. Write the first draft of your essay
After doing thorough research, you should start writing your classification essay. You should start by writing the introduction. Simply follow the outline you created plus the information you gathered during research to write your introduction. If you properly follow the outline you created, you will have an easy time writing your introduction and the rest of your essay.
When writing your classification essay introduction, you will want to start strongly with an attention-grabbing statement. This statement is what will make your professor/reader interested in reading the rest of your essay. You will also want to include a solid and clear thesis statement that states precisely what you will discuss in your essay.
When writing the body paragraphs of your classification essay, simply follow your outline. Write your classification essay body paragraphs just like you would write the body paragraphs of any other type of essay. The only difference is that your focus should be on making sure each body paragraph focuses on a different category and that there is a flow between your body paragraphs.
Lastly, when writing your conclusion, your aim should be to write an excellent and thorough conclusion. It should begin with conclusion signal words or phrases. You should then rewrite your thesis and followed by a restatement of your main categories or points. And it should end with a powerful closing statement that nicely wraps up everything. Make sure your conclusion is as brief as it can be and that it is non-repetitive.
6. Revise your essay
After writing your essay, the next thing you need to do is to revise the first draft into a final draft. Submitting your classification essay immediately after you are done writing is a mistake. It is a mistake because it will most likely have many errors and issues. You need to eliminate all the mistakes and issues in it before submitting it if you want to get an excellent grade.
The easiest way to identify all the errors and issues in your classification essay is to read it aloud. When you do this, you will quickly notice mistakes, errors, and difficult-to-understand statements. When you notice these things, edit them to make your paper perfect.
After reading your entire essay and eliminating mistakes, take a full-day break and reread it. This will give you a fresh perspective and enable you to catch mistakes or issues you might have missed when reading your essay the previous day.
7. Submit your essay
After revising your essay, it will be ready for submission. Do it before the deadline to avoid getting penalized.
Classification Essay Example
Below is an example of how to write a classification essay. You can use it as a template for inspiration when writing yours.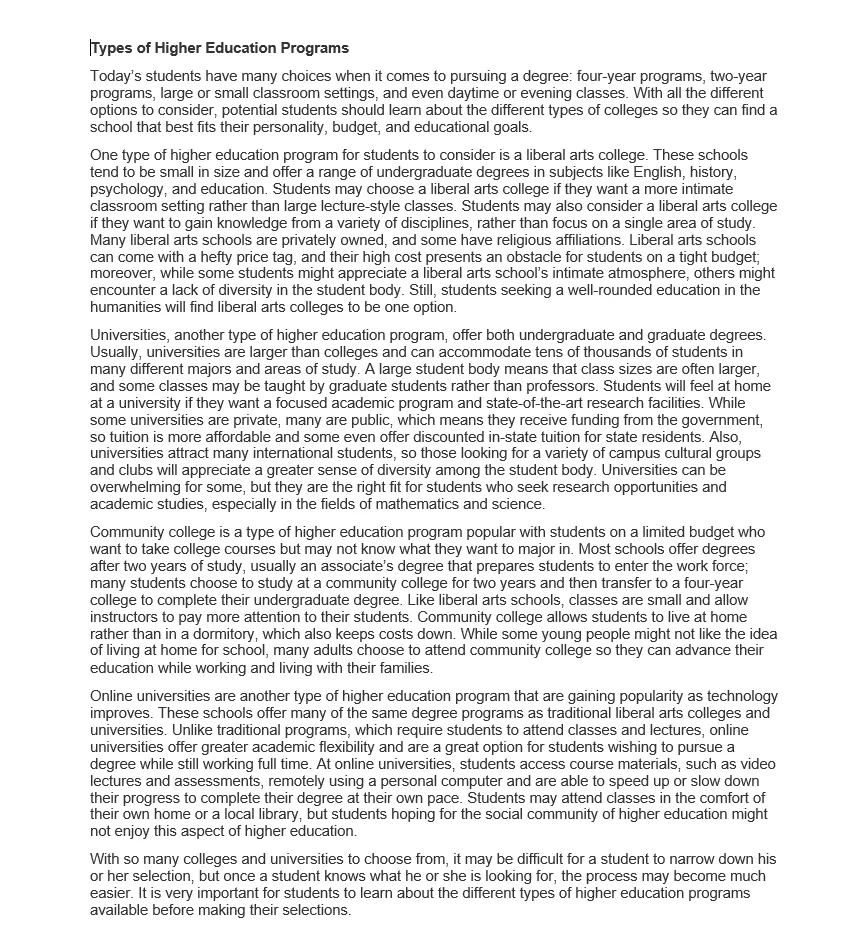 Classification Essay Topic Idea List
As you brainstorm about ideas to put into your classification essay, here are some topic ideas, topics, and essay titles to get you started.
Different ways coaches motivate athletes
Types of extreme sports
Popular sports in the United States
Types of families
Types of websites
Social media sites
Classification of social media users
Ways to enhance relationships
Social values
Teaching techniques
Types of extracurricular activities
Types of essays at the college level
Education systems across the world
Types of higher education institutions in the United States
Forms of teaching
Ways to avoid being a bad person
Ways to a good physique
Types of sleepers
Types of databases
Types of intelligent devices used at home
Types of birds
Types of wild animals
Climate zones of the world
Theories of evolution
Types of computers
Ways to become a freelancer
Ways to become thin
Types of dandruff treatment
Types of vitamins
Classification of foods that cause obesity
Classification of allergies
Superfoods and their health benefits
Types of books and novels
Modern genres of music
Types of art
Ways to save more money
Ways to become a leader
Ways to quit alcohol
Types of love
Types of bullying in school
Ways to cope with stress
Types of vitamins for a healthy life
Types of football fans
Strategies to use to pay for tuition
Types of university teachers
Different ways to handle college assignments
Healthy children's meals
Parenting styles and strategies
Types of government
Coping methods that work
Best high school teaching strategies
Types of extreme sports
Types of fish
Types of Camping
Types of sports cars
Poisonus and non-poisonus fruits
Types of buses
Types of houses
Types of religious organizations
Different types of degrees
Types of doctors
Types of diabetes
Types of Cancers
Types of Medical Insurance
Tips for Writing an Excellent Classification Essay
If you want your classification essay to be excellent, follow the tips below.
Use examples generously. When writing a classification essay, you want the reader to understand the differences between the groups or categories. And the best way to do this is to use examples throughout your essay. For example, after defining each category in a paragraph, you should follow the definition with multiple examples. If you do this for each category, you will make your classification essay more compelling.
Revise twice or even thrice. The best essay is the one that is thoroughly revised and edited. Submitting an essay filled with grammar mistakes, confusing sentences, and vague statements will significantly reduce your likelihood of getting a good grade. Therefore, if you want a good or excellent grade for your classification essay, you should revise it twice or even thrice and only submit it if you are sure you have removed all the errors and mistakes.
Do thorough research. Before you start writing, you should do thorough research. This is absolutely important. Before failure to do the proper research may result in you missing a category or confusing categories in your classification essay. So do thorough research. And when you are doing research, you should do your best to ensure that you only use scholarly sources or credible non-scholarly sources. Strictly ignore non-scholarly sources such as Wikipedia and YouTube.
Format your paper correctly. Your professor expects a well-formatted paper when they give you an essay assignment. You should not disappoint them. Make sure your paper is very well-formatted. Do this using an essay checklist for the formatting style you have been asked to use. There are many such checklists available online. Download the image of one such checklist from a university website and use it to ensure your paper is formatted correctly.
Final Remarks!
Writing a classification essay is not an essay job. However, it is totally doable. The trick is to start planning, researching, and outlining early. You might be bombarded by information overload, but that levels down as you own the writing process through the insights, steps, and tricks we have shared in this classification essay cheat sheet.
Following the best essay tips and steps provided in this post, you can write a brilliant classification essay.
If you are too busy to write your classification essay, you should buy a classification essay from EssayManiacs. Our experienced essay writers will always write excellent classification essays for you. They write everything from scratch and customize it to your instructions. Try our essay service for the top-grade essay classification essay that everyone else dreams about!