A stronger final paragraph can determine and seal the fate of your essay, research paper, thesis, or any paper, for that matter. Therefore, knowing the best conclusion sentence starters in your final paragraph can distinguish whether you pass or fail your essay.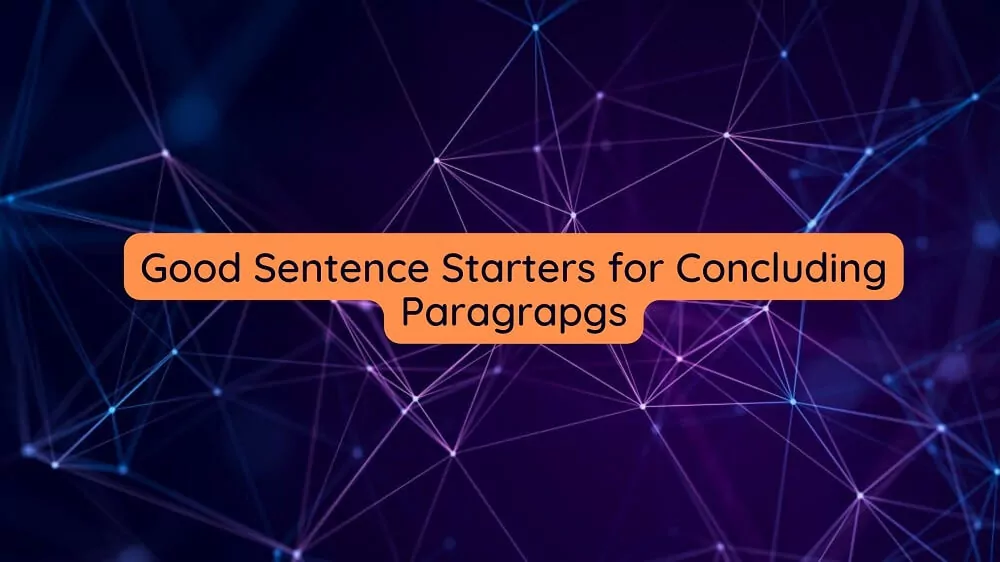 A good conclusion paragraph should restate the thesis, summarize the key supporting ideas and explanatory details discussed, and offer closure or a final impression of the central idea to create a circular loop that links your last paragraph to the first one.
We have already looked at the best practices when writing an essay conclusion. First, however, it is good to state that a conclusion paragraph consists of a conclusion starter, restated thesis statement, a summary of the main points in the body, and a closing sentence.
This article focuses on good ways to start a conclusion sentence, but before diving right in, let's consider some valuable aspects of concluding paragraphs.
Facts about Concluding Paragraphs
Concluding paragraphs are as important as your opening or introduction paragraphs. They each leave an impression on the readers before reading and just after reading the body paragraphs of your essay or research paper.
As a final paragraph, the conclusion of an essay or research paper summarizes the entire piece and offers closure to the readers. It presents an overview of the topic, helps the readers recall the main points or arguments, and motivates them to have a good last impression. It equally highlights the evidence used to support the arguments.
A conclusion section does not include new information or ideas in a paper. It also does not focus on the minor aspects of the paper. Instead, it focuses on the points you need the reader to understand in a snapshot. Mainly, this is why you restate the thesis statement but in a rephrased version compared to how you presented it in the introduction.
Conclusion starters refer to the phrases, terms, linking words, or transitions to open the concluding paragraph (the topic sentence of the conclusion). Next, they connect the body paragraphs to the conclusion to create a good flow. Finally, they signal the readers that the paper is coming to an end. These sentence starters achieve various functions when included in a concluding sentence paragraph structure. For example, when concluding an essay, they can signal comparison, contrast, agreement, opposition, or surrender.
Best Ways to Start Conclusion Sentences for Final Paragraphs
Using some of these sentence starters is inevitable if you want to write a top-notch conclusion. So, here are some good conclusion paragraph starters. We have categorized them to make it easier to read through, pick, and use any of these conclusion sentence starters, even when in a hurry. So, here are some of the conclusion paragraph openers, whether it is a college essay, research paper, speech, opinion writing piece, reflection writing, email, or presentation.
Closing Paragraph Starters for Essays
Weighing up the facts, it is clear that…
To briefly paraphrase
For these reasons
As is evident from the discussion above
In lieu of this
Given the findings
In effect
In lay terms
As has been shown above
Given the evidence above
The weight of the evidence suggests
In closing
At the core of the issue
The summative conclusion is that
The weight of evidence presented above suggests
To review
At the end
Wrapping it all up
It is now clear that
The broader conclusion is that
Coming to a conclusion
It is plausible to conclude that
All things considered
As a final point
Ultimately
In this way
To sum it up
You can see that
Subsequently
Lastly
Hence
For this reason
To paraphrase
What strikes out is that
There is no doubt that
As a final brief
In brief
Overall
In general
Evidently
On the whole
Words, signals, and phrases to begin conclusions for Speeches
So, you have been assigned to write a speech, or you have written one, but you are missing words that you can use at the beginning or the end of your speech. Whether it is an informative speech or an argumentative speech, use the conclusion starting words below to get positive reactions from your audience. You need to leave a strong last impression on your audience and readers, and there is no other way to do it best other than integrating these words at the beginning of the conclusion of your speech. So, here are the best concluding sentence stems, sentence starters, and sentence frames for speeches.
As a final point
In my opinion
As can be concluded
So, I have come to a conclusion that
All factors considered
In the final analysis
For these reasons
In the parallel
To this end
Hitherto, it is clear that
To wrap it all up
After all that has been said
I recommend that
I have clearly shown
I agree that
I oppose
I hope you
In the future
As a matter of urgency
I hope you have learned that
From now on
The informative conclusion is that
Now you understand why
As a counterproposal
I think that
It is clear that
I am convinced that
I truly believe that
The nexus between… and …
My final thoughts are
Please consider this…before…
It strikes me that
I will conclude by saying
I would like to argue that now
On balance
The presented evidence… (supports/challenges/contends)
My last point is
My main arguments
My final analysis
I can weigh in on the findings
One final thought
One final idea
I must reiterate
In my final analysis
I would like to be on the record that
As you can see
In short
In drawing to a close
As the time comes to wrap up
As I have explained
Finally
In sum
Looking back
Last but not least
With all these in mind
To cut a long story short
Considering all these perspectives
Conclusion Sentence Stems for Presentations
A presentation with a strong introduction and conclusion makes a lasting impact on the audience. When you use powerful conclusion words, you effectively summarize the presentation, bring a sense of closure, reiterate the major arguments or points, and present a call-to-action or leave room for the audience to ask you questions.
Here are some good words to start the conclusion of your presentation.
As I come to the close of my presentation
To close, I would like to ask
To quickly recap what we have discussed
Thank you for your time and patience
To end, I would like to highlight
What stands out this far
I would like now to draw your attention to
Let's end this presentation by saying
If there are any questions,
If you would like further clarification or information
I appreciate your audience to my presentation
On a final note, …
As I wind up
You could read further on
That's it for today, but let's recap the main points
I want to leave it here, given that we have so far…
I'd like to summarize by saying
Finally
Lastly
In summary
To sum up
My personal take on
It boils down to
Conclusion Starters for Emails
Maybe you are writing an email to a colleague or professor (asking for a deadline extension) or doing a formal email. You can powerfully conclude your email using these words in the first sentence of your conclusion. They create an impression, present your personality and thoughts, and open an entire world of new possibilities. Besides, you also maintain a professional tone and vigor when you end your essay using these words at the beginning.
Speak with you soon
I appreciate your time and consideration
I am hoping for your response
With appreciation
Eager to work around your schedule
Kindly revert as soon as
I sincerely appreciate your time
Looking forward to your response
Thank you again for
Let me know if you might have any questions
I appreciate your time and consideration
Thank you in advance for your…
Please let me know your thoughts on…
I hope that answers your questions
If you have any questions or clarifications…
Do not hesitate to…
I hope to…
Conclusion Paragraph Starters for Opinion Writing
Personal opinion matters when it comes to opinion writing. And the only way to create a lasting impression is by concluding your opinion essay the best way. You can ask a question, suggest consequences of given actions, weigh in on some points, and present a warning to the readers. Here is how to start the end of an opinion essay.
Beyond the shadow of a doubt
My conclusions are
As I wind up
I look forward to
To briefly review
My final question is
It is my sincere belief
The data indicate that
My verdict is that
It is obvious that
My reflections on
Do you realize that
My last point is
The summative end is that
I have to say that
It seems
To wrap it up
In my opinion
That is why I think that
To summarize my argument
As I already explained
Lastly, my feelings on the issue
All in all
My main premise
My final thoughts on this
I conclude by reiterating
It is worth knowing that
I am convinced
In a nutshell
By and large
To plainly state the facts
So, the big idea here is that…
It makes a difference to note that...
A golden line for me is…
This reminds me of…
I experienced this one...
I promise
I find the argument proactive
I reject the view of author X but embrace those of Y because…
I am confident in myself that
I am inclined to believe that
I truly believe that
I would like to say finally
My final bow is that
Since
It is worth re-examining
I am convinced that…
These are the same sentence starter examples for conclusions of less formal papers. You can use them in your college, narrative, first person, reflection, or informal essays. They are also applicable in creative writing compositions. They achieve a personal touch and have a laid-back, conversational tone.
Conclusion Sentence Starters for Research Papers
When writing research papers, including a firm conclusion reiterates your arguments' significance and impacts. It also helps to refocus the readers' attention on the evidence and other important points presented in your research paper to support these arguments and ideas. So, when you want to get the last paragraph of your research paper right, here are some excellent ways to start it.
In the context of the concept
Due to the result
Drawing from the findings
Based on the results
It is now clear that
It can be conclusively stated
It is plausible to conclude that
Upon analyzing the data
What the study reveals is that
While additional research is still needed, …
Assuming the findings above…
Through this research, it is clear that…
The facts support the argument that…
As the paper demonstrates
The data clearly show
The unexpected data reveals…
As expected, the results signify
The significant revelations made by this study
In the final analysis
In light of the presented findings
Given the context of this research
Drawing from theory X, this study
The data sheds light
As indicated by the data
Based on what is known hitherto
The data reveals
While further research on…is warranted…
With the direction and scope of the results, it seems…
In the context of..., it seems that
Related Reading:
Final Take
The conclusion sentence frames we have listed above can be used in place of the cliché "In summary," "in conclusion," or "in sum." They help create concrete, cogent, and complete conclusions that portray maturity in writing academic papers.
You now have a variety of words, phrases, strings, and sentences that you can use when writing a conclusion. Your concluding paragraph can only bring closure to your paper if it is focused, coherent, and flowing. The conclusion sentence starters are to a conclusion what hooks are to an introduction; they both grab the readers' attention.
Having a strong, lasting impression ensures that your paper's circuit of information flow is complete. When you write your subsequent assessments: capstone, projects, research papers, theses, proposals, lab reports, and term papers, consider expressing your concluding paragraph using these innovative words.
This list is as comprehensive as possible; you now have access to pure goodness and better ways to start your conclusion to share information, make memorable presentations and speeches, and let your readers ponder over the contents of your written piece.
If you need essay writing help, check out our professional writing services.