A 1000-word essay assignment is an essay assignment that requires you to write approximately 1,000 words.
When you get such an assignment, you should know your instructor expects you to write close to but not to exceed 1,000 words on the given topic. And that while the word count is important, you are still expected to follow all the rules of essay writing to get maximum points.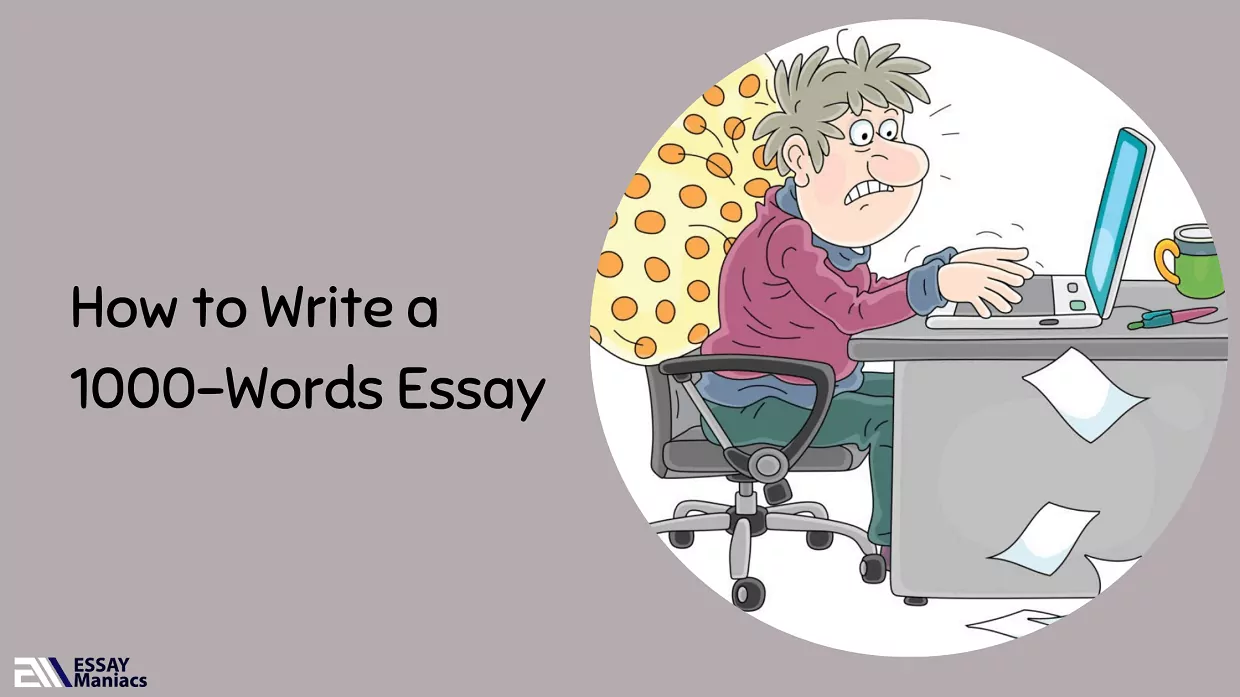 Imagine being assigned to write a 1000-word essay about anything. It could be a specific essay topic, yourself, your neighborhood, leadership, or world peace, whatever topic your instructor chooses. The worse that usually happens is procrastinating it because it seems such a small task to complete faster, and that is where most students go wrong.
A 1000-word essay should be handled just like other essays. It entails planning, researching, drafting, and polishing, just like a 500-word essay or other standard essays. Now, even when you procrastinate and realize you have to do it overnight, following the right step will save the day.
How long is a 1000-word essay?
A 1,000-word essay is 1,000 words long. When professors give 1,000-word essay assignments, they expect students to write as close to 1,000 words as possible. Most of them do not expect students to exceed the word count. Some professors even penalize students for going beyond the word count. A 1000-word essay is about 4 double-spaced pages and 2 single-spaced pages in terms of pages.
When typed using the Times New Roman font in 12pt font size, a 1,000-word essay will be two pages long single-spaced and four pages long double-spaced. In terms of paragraphs, a 1000-word essay should be five paragraphs long. The first paragraph should be the introduction paragraph, and it should be followed by three body paragraphs. And the last paragraph should be the conclusion.
Length of time it takes to write a 1000-word essay?
There is no direct answer to this. The amount of time needed to write a 1000-word essay depends on the provided topic, your knowledge of the topic, the quantity of relevant material available, and your typing speed. Normally, students take three to seven hours to complete a quality 1000-word essay. To write essays fast, you should practice writing essays fast. Practice makes perfect.
Types of 1000-word essays
The four main types of 1000 word essays are:
1. Expository essay
Expository essays are quite popular, and many learners are familiar with it. The main objective of this essay is to introduce the reader to the subject written in the essay. If you are required to write a 1000-word expository essay, you need to provide a lot of facts and important information on the subject.
2. Descriptive essay
As suggested in its name, a descriptive essay is an essay that describes a subject, event, or topic. When you are asked to write a 1,000-word descriptive essay, your aim should be to define and describe the topic or subject fully.
3. Narrative essay
A narrative essay is a story essay. It is an essay that describes an event, encounter, or experience. A lot of students like narrative essays because they are easy to write. They are easy to write because they do not require a lot of research, citation, or organization.
4. Argumentative essay
It is easy to confuse this essay with an expository essay. Whereas an expository essay is a simple essay to write, an argumentative essay requires more concentration and effort to develop. To write an excellent argumentative essay, you will need to put effort into research.
Structure of 1000-words essay
Before writing your essay, you should be aware of its basic structure. Note that you can never come up with a well-written essay without following the proper structure. Therefore, you should follow a specific structure when writing your 1000-word essay.
We advise students to avoid the mistake of overlooking the structure of their essays. Keep in mind that your essay structure should be easy to read and comprehend. Another common mistake is writing a lot of words about unnecessary parts. Use the structure below when writing your 1000-word essay to avoid such mistakes.
1. Introduction (125 words)
The introduction of your essay should grab the attention of the reader. So, you should make it as good as possible. Grab the reader's attention by providing interesting background information about the provided topic. Intro7duce the data you have collected and explain your inspiration for writing the 1000-word essay. Conclude the introduction by presenting a solid thesis statement.
2. Main body (750 words)
The main body should feature at least three paragraphs, each approximately 250 words in length. Each paragraph should include a central point supported by credible evidence. Begin each paragraph by introducing the topic via a topic sentence. Then proceed to present your central point and support it with enough proof. Finally, finish every paragraph with a strong conclusion.
Each body paragraph features these four sections:
The first paragraph (250 words)

Topic sentence
Argument
Evidence
Concluding sentence

Second paragraph (250 words)

Topic sentence
Argument
Evidence
Concluding sentence

Third paragraph (250 words)

Topic sentence
Argument
Evidence
Concluding sentence
3. Conclusion (125 words)
The conclusion should not be less than 100 words but should not surpass 200 words. Here, you should restate the thesis statement assertively. In addition, give a recap of the most important points discussed in the body paragraphs. And then conclude your essay with a powerful closing statement.
Outline of a 1000-word essay
An outline is essential for proper essay organization. A detailed one will guide the writer throughout the essay, telling them what to write in each section. A typical 1,000-word essay outline will have three key parts - the introduction, the body, and the conclusion.
1000-word essay outline template.
1. Introduction
Catchy statement to capture the attention of the reader
Include the thesis statement. The thesis statement is the central argument you will be supporting in your essay.
2. Body
Paragraph one (first main point)
Topic sentence; a brief introduction to the paragraph
Claim to support the thesis
Evidence to support the claim
Concluding statement to summarize the paragraph
Paragraph two (second main point)
Topic sentence; a brief introduction to the paragraph
Claim to support the thesis
Evidence to support the claim
Concluding statement to summarize the paragraph
Paragraph three (third main point)
Topic sentence; a brief introduction to the paragraph
Claim to support the thesis
Evidence to support the claim
Concluding statement to summarize the paragraph
3. Conclusion
Restate the thesis
Summarize all the main points discussed in the essay
Closing statement
Keep in mind that a catchy introduction is necessary as most readers decide whether or not to proceed with reading your essay by simply taking a look at the first few opening sentences. You can also include more points in the body of your essay if required. This way, you get to provide the reader with more proof to support the thesis. Lastly, a strong conclusion will make your essay memorable. There is no need to include any new details in this section.
Example of a 1000-word essay outline
Title: Should consumerism be encouraged?
Introduction
Opening statement: The United States consumer spending will hit $14 trillion in 2024.
Background info
Thesis statement: Consumerism in the U.S. should be encouraged as it allows people to spend their money freely, boosts the economy, and makes people happier.
Allows freedom on how we spend our money
We earn money from what we do
We purchase what we desire
It boosts the country?s economy
More jobs are created
A lot of products are purchased
People become happier
Spending money is delightful, and it reduces stress
People feel wealthier when they spend money
Conclusion
Summarize all the three main points
Briefly discuss a world with less consumerism
Concluding statement
How to write the perfect 1000-word essay in seven steps
Follow the steps below to write an excellent 1000-word essay. Before everything else, you need to prepare adequately when writing your essay, especially if you have a tight deadline ? for example when writing it at the last minute.
Therefore, you need to start by planning your time to prioritize the different steps needed to complete your essay.
An essay plan will help you avoid issues and know what to tackle, when, and how.
Step 1: Pick a suitable topic
Picking an interesting topic is crucial to immediately capture the reader's attention. In addition to making sure your topic is interesting, you should make sure it is easy to research.
You do not want to pick a topic that will take hours to research.
You can only get the instructions on the type, scope, and subject of a topic from the essay prompt.
Therefore, as part of the first step, you must thoroughly read through the essay prompt. These guidelines will anchor your entire essay writing process. You do not need to complete an essay in a rush, only to realize that you need to re-do it.
Step 2: Conduct your research
Conducting research is among the most crucial parts of writing a good essay.
Doing proper and thorough research makes sure that you have enough information to come up with a strong essay.
You should, however, always ensure that you are using credible sources to avoid including false and misleading information in your work.
While researching, take notes and organize these sources. You can create a folder to store the PDF peer-reviewed journals or use online citation management tools such as Zotero.
Step 3: Come up with the essay outline
Developing an outline is an important part of essay writing if you want to save time and score a good grade.
Moreover, an outline helps in the logical structuring of your essay and makes it easy for other people to read and comprehend.
Without a good essay outline, you might forget some important points that need to be included in your essay.
Step 4: Write a captivating introduction
The introduction paragraph is probably the most important part of your essay. It should neither be too long nor too short; it should contain 100 to 200 words.
Begin your essay with a compelling hook statement, and then offer some background information regarding your chosen topic. After putting down a few background details, conclude the introduction with a strong thesis statement.
Step 5: Write the body paragraphs
The main body segment of a 1000-word essay should be approximately 750 words long. The body should have three paragraphs, each containing 200 to 300 words.
Begin each paragraph by introducing the main point with a topic sentence. Ensure that you adhere to the paragraphing rules for essays.
Next, proceed to present your arguments and support them with accurate proof. Tie these paragraphs using effective linking words to create a good flow of ideas. Conclude all the body paragraphs with a strong closing statement.
Step 6: Write the conclusion
Your one-thousand-word essay conclusion should start with a restatement of the thesis. Then, the thesis restatement should be followed by a summary of the main points.
Finally, the last sentence of your conclusion should be a strong closing statement.
You should never include new information in your conclusion. Your conclusion should also never exceed 200 words in a 1,000-word essay.
Step 7: Proofread your essay and make necessary corrections
Once you are done writing your essay, proofread it thoroughly to eliminate all minor and major errors.
If you are stuck with getting started on your 1000-words essay, read these actionable tips to unstuck yourself when writing last-minute essays.
Checklist for 1000-word Essay
Before sending your essay to your professor, use the checklist below to confirm if you did everything correctly.
1. Format
Is your paper written in Times New Roman, Font 12?
Is the header formatted correctly?
Is your essay title original and centered over the paper?
2. Introduction
Does your introduction provide ample background information on the topic?
Does your introduction clearly explain the issue at hand?
Does your introduction include a clear and well-crafted thesis statement? Does it respond to all the guiding questions?
3. Body paragraphs
Do all body paragraphs begin with a claim/central point?
Do all body paragraphs contain ample proof to support the mentioned claims?
Do all body paragraphs have a concluding sentence?
4. Conclusion
Is the thesis statement restated?
Are the main points adequately summarized?
Is the final statement strong enough?
5. Editing
Did you spare time to proofread your essay?
Does your essay follow the required format?
1000-word essay topics
There is nothing more important than the topic you choose when writing an essay. Note that the essay topic is the paper?s backbone. If it is weak, your essay will most likely not be good enough for a high grade. Below is a list of exciting topics for 1000-word essays.
Expository essay topics
How does hip-hop music influence society?
The psychological causes of alcoholism
The shortcomings of the healthcare system in the United States
Pros and cons of student loans
Consequences of drug abuse among teenagers
How physical activity enhances overall wellness
The impacts of teenage pregnancy on the community
Descriptive essay topics
The beauty of paragliding
How I get motivated
What makes me happy
Why Paris is a top tourist destination
Learning Spanish
Importance of higher education
The experience of outdoor camping
Narrative essay topics
A summer holiday to remember
My first-time driving
My greatest fear
A trip to remember
The happiest day of my life
My day as a social worker
How moving from my hometown to another town changed me
My experience in the dessert
The best camping experience in my life
When I made my first coin
How I save money
When I got accepted into my dream college
Argumentative essay topic ideas
Should abortion be legalized?
Does the tax system fairly benefit everyone?
Should teenage girls have access to family planning and birth control?
Is capital punishment justified?
Is vaping less harmful than cigarette smoking?
Should recycling be made compulsory?
Final Remarks
It is not easy to write a 1,000-word essay. However, by following the valuable information provided in this post, you can certainly write one.
If you think you can?t write a 1,000-word essay or do not have the time to write one, you should order it from us.
We have plenty of essay writers who have the knowledge, the experience, and the time to write excellent 1,000-word essays.
Order a custom 1,000-word essay from us today. We are renowned for our overnight delivery, last-minute essay writing, perfect essays, and affordably priced custom writing services.