An explanatory or expository essay is a typical assignment given to students pursuing different courses. When assigned one, you are expected to describe your opinion or point of view on something, a process to follow, an event that has occurred, or the ideas of another person without persuading your audience.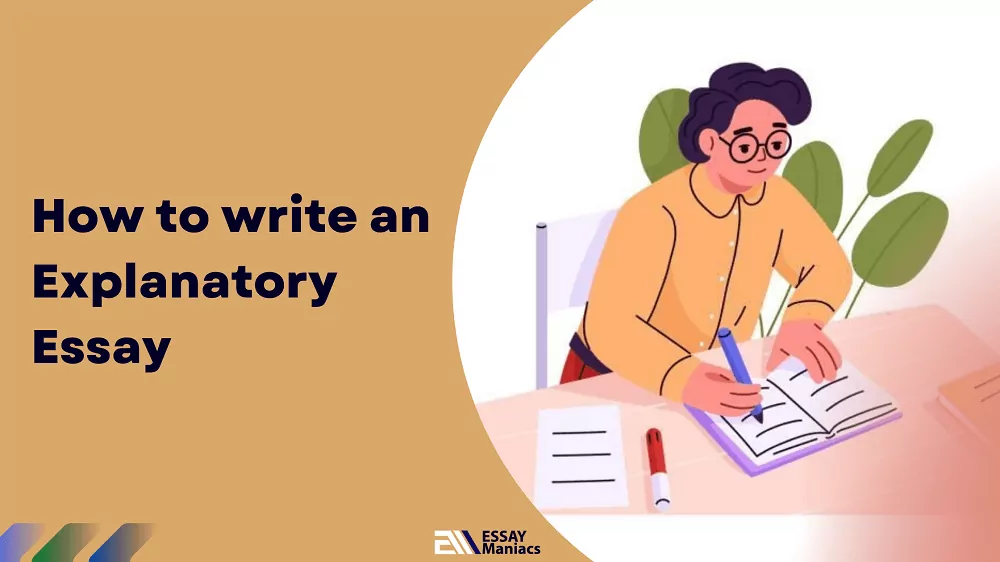 You explain pieces of information to make it easier for your readers to understand. To write one successfully, you need to know how an explanatory essay differs from other essays such as argumentative or persuasive essays.
In this guide, you will learn to write an explanatory essay, from choosing the topic to polishing the paper for submission. Our professional essay writing service can be your first resort if you are otherwise looking for someone who can reliably help you write an expository essay.
Definition of Explanatory Essay
Let?s set out our discussion by defining what an explanatory essay is. An explanatory essay is a formal piece of writing where you present a point of view on a given topic, scenario, phenomenon, event, or situation. To develop the view, you need to conduct in-depth research, logically reason, think critically, and present evidence, whether agreeing or refuting the expected idea. Its other name is an expository essay.
When writing an explanatory essay, it is not mandatory to agree with the point of view you are writing in your paper. Instead, your main aim is to offer an analysis of the topic at hand. Therefore, it is imperative to present arguments, claims, or information of other people in a manner that avoids bias.
You should be objective enough but avoid including any criticisms. You should also desist from persuading your readers while giving explanations. Your primary role is to explain what there is critically and let the readers draw their conclusions about what point of view suits their situation.
An explanatory essay shows the readers your view and gives an account of certain events or situations. You will likely be assigned an explanatory essay if you pursue journalism, English Language, composition, media studies, and history.
You must ensure that you present a neutral position or view on the topic and provide in-depth analysis backed by evidence from research. When you lucidly explain why things happened as they did, you have aced the explanatory essay. That way, your audience can understand your point of view, even if they do not side with you.
In short, explanatory essays present facts, statistics, examples, and information about situations, events, or phenomena without taking sides or persuading the readers to agree with your opinion.
Types of Explanatory Essays you?ll encounter in College and University
Let?s explore the different types of expository or exploratory essays you will most likely encounter in college, high school, or university.
Cause-and-Effect Essay
A cause-and-effect essay explains a situation that leads to a given consequence or set of consequences. For instance, not adhering to building standards could lead to the crumbling of houses. When writing this type of explanatory essay, you should strive to answer the question ?what was the reason for this cause and what are the consequences, repercussions, or outcomes.
You can organize the ideas by explaining the causes first, then the consequences last, or what is referred to as the block format. You can also write it in a chain pattern to explain each cause and its consequences. We have described this in our detailed cause-and-effect essay guide.
Some topics to consider include:
Causes and consequences of PTSD in children
Causes and effects of texting while driving
Cause and consequences of drought
Causes and consequences of global warming
Causes and effects of homelessness in New York
Cause and effect of smoking among teenagers
Causes and consequences of teenage pregnancies
Problem and solution Essay
A problem and solutions or problem-solutions essay entail exploring the problem or issue that affects the society and its corresponding keys. It involves developing appropriate, innovative, and plausible solutions to common social problems.
You can explore the problem from different lenses and brainstorm for appropriate solutions with no deficiencies.
Possible topics include:
How to end corruption in FIFA
Stopping animal abuse in America
How to end political wars
Solving water shortage in India
Solving global hunger
Addressing homelessness and poverty in America
Classification Essay
Another common type of explanatory essay is the classification essay. A classification essay explores different attributes of a subject then categorizes the subject- objects, people, scenarios, and phenomena depending on their characteristics into different classes or categories. While at it, you must explain the reasoning behind the classification. You must illustrate and explain points and ideas when writing a classification essay to attain authority and prowess when writing.
Potential classification topics:
Types of parenting
Types of drugs
Types of television programs
Types of vacation
Types of diets
Types of bosses
Religions
Types of leaders
How-to essays
How-to essays are the most common expository essay assignment. It entails writing the process or procedure of doing something. The aim is to provide readers with steps they ought to take to accomplish something.
Potential how-to essay topics include:
How to invest in Bitcoin
How to stay alert when studying
How to bake a banana cake
How to become an entrepreneur
How to join the army
How to drive a manual car
How to plan a trip
Compare and contrast essays
We bet you did not imagine that a compare and contrast essay is a type of explanatory essay. Well, now you know. The purpose of a compare and contrast essay is to lay out the similarities and differences between two ideas, phenomena, situations, places, people, periods, and things.
You can begin by writing the similarities than differences or alternate similarities and differences, just like the cause-and-effect essay.
Potential topics to consider:
Twitter vs. TikTok, which is better for education?
iPhone vs. Samsung phones
Men vs. Women
Tiger vs. Cheater
Renting vs. Owning a home, which is better?
RV camping vs. Glamping
Drunk vs. Distracted vs. Speeding Driver
Smartphones vs. Tablets
Blues, Jazz, and Hip-Hop, which is superior?
President vs. Queen
Definition Essay
The last common type of explanatory essay is the definition essay, which entails expounding, expanding, and defining complicated concepts to help the readers digest and internalize them better.
Potential definition essay topics:
What is glamping?
What is bike camping?
What is capitalism?
What is racism?
Define separationist
Define sleep paralysis
Define the circadian rhythm
Define superhero
Explanatory Essay Format
The explanatory paper follows the standard five-paragraph essay format like other formal essays. An explanatory essay should feature the introduction paragraph, three body paragraphs, and the concluding paragraph.
When assigned to write an exploratory essay, ensure that it follows the format for an academic essay:
Times New Roman font size 12
Double-spaced pages
One-inch margins all-round the paper
Separate cover/title page and the references page
Formatted in MLA, APA, or Harvard styles
Left aligned
Every paragraph should begin with an indentation of five spaces or one tab
Must have a title
Must have your credentials depending on the formatting style
Structure or Outline of Explanatory Essays
An explanatory essay describes an event, scenario, situation, or phenomenon by representing a point of view. To write an excellent explanatory essay, you must understand its structure or outline. Although this information might be repetitive, dedicating it to this section aims at ensuring everyone grasps the main components of an explanatory essay.
It is imperative to state that the length of the explanatory essay outline depends on the amount of information you want to present to your audience and your selected topic.
Just like many academic essays, it has the title page, introduction, body paragraph, conclusion, and reference pages.
Title Page
The title page of an explanatory essay depends on the formatting style you are using.
For example, the APA title page will contain the title of your essay, your instructor?s name, course code and course name, institution?s name, and date of submission. The title comes three lines from the top margin (pressing enter three times), then you press enter twice or two lines and enter the rest of the details. All the details should be centered.
If you are writing the expository essay in MLA, you will include your name, course code and name, name of the instructor, and date of submission. You will then write and center the title of your explanatory essay before beginning the introduction paragraph on the next page.
Introduction
The three main components of the introduction of an explanatory essay include the hook statement, background information, and thesis statement. Sometimes you can have a sentence of two where you signpost the organization of ideas in your essay.
Body Paragraphs
The main body of an explanatory essay consists of at least three paragraphs that have a well-balanced word count. The body paragraphs comprise 80% of the total word count of your essay.
Each body paragraph focuses on one main point that supports the thesis statement. A complete body paragraph must have a topic statement, facts, evidence, examples, and a concluding sentence.
The claims in an explanatory essay present your point of view that supports the thesis statement. The evidence should be from scholarly resources you yielded during your research.
The concluding sentence should transition the paragraph to the next paragraph and summarize the idea in the paragraph about your thesis statement. Repeat the same until you are done with the body paragraphs.
Conclusion
An excellent way to conclude an explanatory essay is to restate the thesis to reinforce your opinion and draw the attention of the readers. You create a recall value for your markers as well.
The conclusion should also summarize the main points you covered in the main body. Explain and emphasize the main points to show how you have logically defended the thesis and your chosen point of view.
Lastly, offer your readers some call-to-action or conclusive statement that lets them ponder about your essay. You can inspire your readers to take action or think of an issue from a given perspective.
References
This is the last page of your essay. In MLA, it is called the ?Works Cited? page, while in APA and Harvard, it is the ?References? page.
On this page, arrange the references used in A-Z alphabetic order.
8 Steps for Writing a Perfect Explanatory Essay
Now that you can define, outline, and format an explanatory essay, it is plausible to look into the steps you can take when writing one to score the best grade.
1. Read the instructions
Like any other piece of essay assignment, writing an expository or explanatory essay begins with reading the instructions provided by the instructor. The instructions help you contextualize the paper, know the limit or scope, and understand what your instructor will focus on when marking your essay. As you read through the explanatory essay prompt, remember to take note of words such as analyze, explore, expound, define, synthesize as they define the lens or angle of analysis of your essay. You are writing an essay that explains different concepts to people so that they can understand them better. Therefore, the only way to engage your reader is to understand what is expected of you.? It does not matter whether you agree or disagree with a point of view; you need to provide information without bias.
2. Choose a suitable topic
Having known what is expected of you, you need to develop a neutral perspective, angle, or point of view in your explanatory essay. You are meant to explain or describe and not to persuade. The best way to do this is by choosing a neutral topic.
When picking an expository essay topic, ensure that it is not controversial. Instead, choose a neutral topic that will enable you to prevent facts without drawing criticisms. The topic is usually provided in some instances, or you are given a list to choose from. However, you have to develop the topic, get it approved, and proceed to the next steps in other cases.
Whichever way you arrive at your topic, you must brainstorm on it and only pick something interesting, appealing, and relevant to you and your studies. Narrow down your case to make it specific and targeted to an expository-oriented lens before evaluating the scope of the topic to determine if it can be explored further.
3. Do a preliminary research
After choosing the explanatory essay topic, your next step is to do preliminary research. During the preliminary research stage, your aim is to familiarize yourself with the topic, concepts related to it, and what others are saying or have written about it. Furthermore, you also get the chance to choose the best approach to begin your essay and develop a tentative thesis statement that is useful when outlining.
4. Develop a preliminary thesis statement
With the content of your research, craft a controlling idea for your explanatory essay. Having a solid thesis statement is mandatory for any essay that scores higher grades. It should be either one or two sentences at the end of your introductory paragraph telling your readers your main idea in the expository essay.
An effective expository essay thesis statement is focused, precise, debatable, and supportable. Ensure that you can support the essay using three body paragraphs of your essay. It is a preliminary thesis because you can tweak it when writing the body paragraphs.
5. Research in-depth
After coming up with the thesis, it is now time to research in-depth for facts, statistics, and evidence to support the thesis statement. As you gather the scholarly sources, ensure that you organize them based on the ideas they are supporting. Take notes and keep track of the sources. Your focus should be on any piece of information that can be used to back up your main arguments or claims in the expository essay.
6. Plan your paper
With the thesis done and research organized, you can proceed to the outlining phase. In this stage, write an outline for your paper. An outline is a sketch or skeleton of your paper. Outlining your ideas helps you begin your essay with the end in mind. You organize the thoughts so that there is flow from introduction to conclusion.
As you outline, each body paragraph should focus on its independent idea that supports the thesis and must be connected to other paragraphs using linking words. You will write the points you want to include in the introduction, body, and conclusion paragraphs to have some logical flow in your essay.
7. Write your first draft
After outlining the last step of the pre-writing stage, you need to enter the writing stage. During the writing stage, focus on writing first and editing later.
Begin by writing the body paragraphs of your essay so that if you need to tweak the thesis, you can do so without changing the entire paper later. Each body paragraph should have a topic sentence that announces what the paragraph is about. It should be followed by a series of evidence that supports the topic sentence. End your paragraphs with a concluding sentence that wraps the paragraph and transitions it to the next paragraph.
The body paragraphs should validate your arguments using facts, examples, and evidence. Devote each paragraph to a separate idea but link them together for a better flow. Have enough evidential statements that justify your arguments and support your claims to strengthen your expository essay. Find the logical connection between the main ideas in a paragraph and your thesis statement. Finally, balance the word count of your essay paragraph to ensure that you are within the word count for your essay.
Once you are done with the body paragraphs, write the introduction paragraph. Begin your expository essay using an enticing hook statement. A hook or an attention grabber is ideal for starting an explanatory essay. You can use a shocking fact or statistic, rhetorical question, anecdote, a quote, metaphor, or anything that can lure your readers into reading your essay longer. The hook can be one or two sentences long and should precede the background information where you explain the significance of the topic. You can then signpost your ideas after writing the thesis statement to alert your readers on what to expect or how you have explained the thesis statement in your explanatory essay.
As a final step of the writing stage, wrap up your paper with a strong conclusion paragraph. A better way to end your expository essay is through writing a vivid conclusion that entices your professor or instructor. Rephrase and restate your thesis statement, write the summary of the major points in your essay, and close the essay using a powerful call to action or words to make your audience think more about the topic.
8. Revise and Proofread your essay
After the writing stage, you enter the post-writing stage, where you polish the essay. Remember when we said you focus on writing when writing the first draft? Well, that?s how it is done so that you can reserve the tedious editing and proofreading step for the last step.
It is best to take this step after taking some break from writing. Editing and proofreading with an objective mind yield an error-free paper. You can use tools such as Grammarly, ProWritingAid, Ginger, or Hemingway App to edit your work for grammar, syntax, and spelling.
Also, check that the in-text citations and the list of references or bibliography align with the formatting style recommended in the essay prompt. Check to determine that your cover/title page is written as per APA, MLA, or Harvard formats, depending on what your instructor wants. You should also check your arguments, flow of ideas, transition words, vocabulary, tenses, active and passive voice, and general format of the paper. Run the paper through a plagiarism checker to ensure that you turn in a plagiarism-free expository essay.
When everything about your paper is excellent, you can turn in the paper and wait for the grades.
10 Useful Tips when writing an explanatory essay
If you are writing an explanatory essay for the first time or after a series of failures, here are some valuable tips that successful students have used.
Use transitions in your essay. When writing, use effective linking words to ensure a good flow of ideas between words, sentences, and paragraphs.
Cite every borrowed idea as you write. You need to back up your ideas with evidence, examples, and facts from literature. When you do so, ensure that you acknowledge the sources through in-text citations to avoid plagiarism.
Take breaks when done with your first draft. After completing your first draft, take a break to develop an objective mind and resume editing and proofreading the paper. You can always hire someone to edit and proofread your essay for you in case it has gotten into your nerves, or you are just tired.
Polish your paper before submitting it. Before hitting the submit button, ensure that your essay flows and is grammatically correct. Your essay should be error-free and must answer the essay prompt. Follow the Rubric guide on editing your paper because it dictates the marks awarded and what factors the markers focus on.
Create a strong thesis statement. A strong thesis statement signals your readers about what to expect. Ensure your explanatory essay has an arguable, debatable, and precise thesis statement included in the introduction paragraph.
Organize your paragraphs well. Structure and organize the paragraphs of your explanatory essay to establish a good flow. Ensure that each paragraph is clear, coherent, and convent. Each body paragraph must have a topic sentence, supporting facts, and a concluding sentence. Link together the paragraphs using transition words and phrases.
Validate the arguments using examples and facts. Research widely and deeply to get facts, examples, illustrations, and evidence to support the main claims or the thesis of your essay.
Ask for clarifications early enough. When unsure about what to do, write an email to your professor clarifying the instructions, changing the essay topic, or asking for an opinion over your first draft. Do it early enough to avoid inconveniences.
Format your paper appropriately. Ensure that your essay is formatted as per the preferred formatting style. The in-text, cover/title pages and the references page should follow the format. Use APA, MLA, Chicago, or Harvard format as advised or preferred by your professor.
Keep within the word count. You can either do plus or minus 10% in any academic paper. However, sticking to the word count is always a good idea because, beyond the word count, the instructor ceases to be interested. Outline your paper early enough to know what falls where and the appropriate number of words to use.
130 Explanatory Essay Topics to consider
Below are some creative, innovative, and advanced topics you can consider when writing an explanatory essay. The list is not exhaustive; you can pretty much write about anything that comes to mind provided there is enough evidence and you have an interest in it.
Again, if you need someone to write your expository essay for you, you can always hire one of our professional essay writers. We have the best explanatory essay writers who can write your essay within the shortest turnaround time and desired quality.
How to spot a scam
What is your greatest fear?
Why do people make bad decisions?
Why do jails get full while criminals increase?
Is anyone above the law?
Why do the rich get richer?
How to make life interesting
How to have control over our lives
Idiots vs. Genius
Greatest fear for humans
How to mourn a parent
Happiest recollection of childhood
How to play soccer
Impacts of street graffiti
Consequences of having a tattoo
Advantages of eating healthy meals
Pros and cons of meditation
How to learn a second language faster
How to read a novel in under a week
Causes and consequences of Hiroshima and Nagasaki Bombing
Causes and consequences of Ukrainian-Russian war
Impacts of depression among teenagers
Impacts of technology during the pandemic
Impacts of social media on youths
How social media affects productivity
Positive and negative impacts of air transport
Air vs. Train transport modes
Benefits of college education
Reasons to admire Angela Markel
Positive and negative effects of online education
Causes and consequences of nurse shortages
How to deal with bullying in school
How to save the planet from global warming
Causes and consequences of infidelity
Causes and consequences of divorce
Effects of music on our lives
How to write a concert report
How to launch a music career
Jazz vs. Blues music
Why people should go on vacations
Benefits of using solar energy
Causes and consequences of racism
How gun control laws affect American society
Benefits of learning abroad
How to overcome culture shock
Importance of being earnest
Blended learning vs. traditional classes
Causes of global warming
Consequences of dropping out of college
Causes and consequences of high inflation
Process of making electric music
Why people should never fight
How to study for music
Best places to study
How songs can help cope with depression
How to deal with the loss of a loved one
Major stressors in teenager?s lives
Why do many teens commit suicide?
How teens use social media to generate income
Why do teens do drugs?
Effects of marijuana on health
How to maintain a healthy weight
Types of diets
Types of eating disorders
How the environment influences our behavior
Different strategies to reintegrate veterans into society
How to successfully study when working
The best university in the world
Importance of free education
Impacts of gender imbalance on company performance
How diversity improves organizational performance
Link between boredom and trouble
Why the cost of college is going high?
Solutions to rising student loan debt
Impacts of decreasing the consent age
Impacts of reducing the alcohol drinking age
Consequences of drunk driving
Defining neuroanatomy
How to Invest in Bitcoin
Benefits of blockchain technology
The covid-19 pandemic
The great drought in china: causes and consequences
How to develop leadership skills
How to prevent social loafing in the workplace
Reasons to have four workdays instead of 5
Nursing as a noble profession
How to become a nurse
How to become a pilot
The most successful president on earth
Importance of good sleep
Helicopter parenting
Types of parenting styles
Types of bikes for kids
Why paying taxes is good
Why gun control is a great idea
Exploring sky burial practices
How to become culturally competent
Solving the digital divide in the society
The most reliable approach to disciplining kids
How to eradicate discrimination
Why do dogs make better pets?
Strategies to attain financial literacy
Why youths should be taught financial literacy skills
Consequences of postpartum depression among women
Benefits of paternal leave
Best places to visit
How to solve a puzzle
How to develop good habits
What makes a great friend?
How music affects our moods
Consequences of sleep deprivation
Describe a dream home
Define happiness
How can the global community achieve peace?
The person you admire the most
Qualities of a good nurse
Process of becoming a nun
Your favorite teacher
Esports vs. Sports
Impacts of sibling rivalry on growth
Forms of cyberbullying
How to combat financial fraud
How to curb human trafficking
A perfect society
Benefits of professional organizations
Living vs. existing
What makes someone generous?
A perfect wedding you attended
How to process a crime scene
Role of social workers in society
Final Remarks
To write an excellent explanatory essay, you must select a neutral topic, research it, plan, write the first draft, polish the draft, and submit your final draft. In this comprehensive explanatory essay guide, we have explained everything that should set you up for success.
Remember, you should take a neutral point of view while writing on your selected topic because this is not your regular argumentative or persuasive essay. The goal of an explanatory essay is to clearly explain why things are the way they are or the way things happened the way they did. You should choose that pone angle and discuss it, so your readers are informed or knowledgeable in the end.
We have explored the correct format for this type of essay and suggested some topic ideas for your explanatory essay. We wish you the best of luck as you follow the steps we have outlined in this guide.
If, however, you are experiencing difficulties with completing an explanatory essay paper, you can bank on our professional writers. You can order an essay online and get it done within the shortest turnaround time. We also write all other types of essays and have flexible pricing strategies. Get a 100% non-plagiarized essay and get that better grade.