If you are wondering how many pages you will cover with 1000 words, then you are at the right place. Unfortunately, sometimes due to the lack of knowledge about the approximate word count, people presume a 1000-word essay to be a lot, especially when the word count is not capped.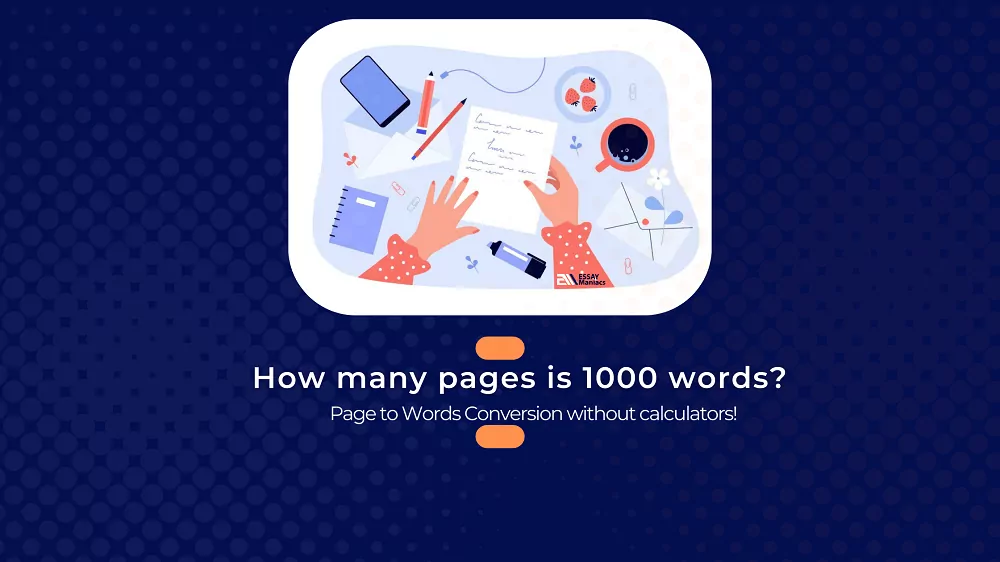 You are probably wondering, "how many pages will 1000 words occupy in an essay or paper?" You are not alone! Thousands of students and professionals have posed the question endless times to us.
It is common to find assignment prompts instructing you to write two, three, four, six, 10, or 12 pages. And if you are not careful, you might debate the actual number of words required to the extent of stressing yourself to writer's block or procrastination. A words-to-page calculator might do the trick, but what happens when it's not there? The gap can only be filled by knowing how many words to write when given the word count.
This guide will cover what 1000 words look like on double-spaced or single-spaced pages. We also cover the approximate time it should take to write the 500, 1000, 2500, 3000, and 10000 words essays and research papers. Although we cover the general aspect, our article is mainly anchored on a 1000-word essay because it is the most common among almost all academic levels. So, let's get started, won't we?
How many pages do 1000 words make?
A typed double-spaced page with a 1-inch margin around the page and font size of 12 Times New Roman is approximately 275 words, while a single-spaced page with the same setting is 550 words or double the number of words in one double-spaced page.
Going by the above criteria, we can define a 1000 words essay.
A 1000-word essay or paper translates to 3.5-4 pages when writing a double-spaced paper with the standard font (Times New Roman or Arial and font size 12) and 1-inch margins. It translates to two single-spaced pages if you write your text on a single-line spaced page with 12 Times New Roman or Arial font size. So, when writing 1000 words in the form of an essay or research paper, with the basic formatting requirements, it is three and a half or four pages of double-spaced paper and two pages of single-spaced paper, depending on the base word count you select. Note that a standard page on Microsoft Word or Google Docs is between 250 and 275 words).
A 1000 words essay is considered a medium-length essay; it is neither a short nor an extended essay.
The number of pages is not fixed but depends on certain factors, such as the font type, font size, line/text spacing, margin dimensions, and the lengths of your paragraphs. Typically, the lower the font size, the more the number of words you will need to fulfill a page.
When asked to write whole or full pages, 1000 words will translate to 3.3 pages, given that a double-spaced full page comprises 300 words. Typically, this means that 1000 words will fit into 1.6 full pages given a single-spaced document that is full page contains 600 words.
Having looked at the factors, let's now consider how long it might take to complete a 1000-word essay.
How long does it take to write 1000 words?
A 1000-word essay persuades the readers to accept a given position or take a specific action. It can also be meant to respond to an academic inquiry or exam question. It can also be a chance to write a subjective piece such as a college essay, personal statement, common app essay, or statement of purpose.
Having understood its purpose, writing 1000 words depends on how much time you have, the complexity of the task at hand, the number of sources required, the deadline of your paper, and the scope of research needed.
All factors are constant; it takes anywhere between 2 hours and 3 hours to write 1000 words without a rush. However, under pressure, someone can write 1000 words in 1 hour and 50 minutes, the standard time our experts write a 1000-word essay.
We found interesting results in an internal contest that entailed writing a 1000-word essay in a standard format. Our top 20 writers could complete the challenging 4-page essay within less than 2 hours. Most of the writers in the top 50 writers' list completed the 1000 words in 2 hours plus but below 3 hours. Only a handful completed the paper within 3.5 hours plus, but these were the recruits who had the basic skills, experience, and speed. So, we will deliver if you assign us a 1000-word essay and need a high-quality paper in under 2 hours. On the other hand, you will get a perfect piece if your deadline is between 3 and 4 hours. Thankfully, that's why we have a last-minute essay help service with fast writers who will deliver your paper within the shortest turnaround time.
Majorly, how fast you write an essay depends on:
How quickly you can understand the essay requirements
How fast you can research
Your typing speeds
The preferred formatting styles
How well you can write an error-free essay
The deadline you have at hand
Cost of 1000 words essay
Are you wondering how much you should pay for 1000 words to be written by an expert essay writer? Well, a 1000-word essay or four pages can cost you anything between $52 to $100, depending on the deadline. So, for example, if you find a service charging $13 for long-deadline orders, you will pay $52. And if your paper is urgent, you can spend upwards of $25 to $30 per page for the 1000 words.
To get serious writers for your task, you need to hire a private and professional essay writing service like EssayManiacs. Unfortunately, the writers on Reddit, TikTok, Instagram, Twitter, and Facebook, take your essays with little respect. In fact, they can publish it anywhere and use it to blackmail you for more money. However, when you use a legit essay service like EssayManiacs with private writers, you rest assured that your work will be done on time, with the right quality, and that your details will be secure, personalized, and confidential.
By hiring our essay writers, you are guaranteed to get a 1000-word essay written faster, safer, and more securely. In addition, we guarantee an essay with an outstanding hook statement, thesis statement, body paragraphs, and concluding paragraphs. Besides, we also write essays backed up with scholarly evidence.
Sources to include in 1000 words of an Essay or Paper
Many wonder how many references they should include when writing a 1000-word essay. For a perfect balance, 1000 words can have at least 6-10 references to avoid over-citation.
Of course, if directed by your school, you can use more than ten references in your works cited or references page. But remember, two-thirds of the paper should be your contribution based on evidence from scholarly sources.
A standard paragraph comprising 150 words should have at least 2-3 in-text citations. Given that a 4-page or 1000-word essay has at least seven paragraphs. The introduction and conclusion each have 100-120 words. The remaining 800 words are balanced between the five body paragraphs. Bear in mind that a paragraph can be between 100 and 200 words if it is a long essay.
Generalized Number of Pages for Given Words
As a rule of thumb, when writing a standard academic paper, you will be using a 1-inch margin around the page, font size 12, and either Times New Roman or Arial. So, depending on the spacing, you will have different pages for a certain number of words.
A standard page falls between 250 and 300 words. However, on average, a page is 275 words.
Caption

| Word Count | Double-Spaced Pages (250 - 275 words per Page) | Single-Spaced Pages (250-275 words per page) |
| --- | --- | --- |
| 500- 550 words | 2 pages | 1 page |
| 1000-11000 words | Four pages | 2 pages |
| 1500-1650 words | 6 pages | 3 pages |
| 1750- 1925 words | 7 pages | 3.5 pages |
| 2000-2200 words | 8 pages | 4 pages |
| 2500-2750 words | 10 pages | 5 pages |
| 3000-3300 words | 12 pages | 6 pages |
| 4000-4400 words | 16 pages | 8 pages |
| 5000- 5500 words | 20 pages | 10 pages |
A 3-page paper will be 825 words, while a 4-page paper will be 1100 words. Additionally, a 5-page paper comprises 1375 words, while 6 pages will contain 1650 words. Therefore, when assigned to write a 7-page paper, you will write 1925 and 2200 words for an 8-page assignment. 8-page assignments and 6-page papers are common in nursing, business and management, history, geography, tourism, leadership, and Literature.
We have seen our experts handle work as much as 3300 words or 12 pages, 10000 words for long research papers, dissertations, capstone projects, and theses, which is about 37 pages.
Professors and instructors who have an appetite for marking papers and want to understand if you have honed your writing skills will assign above six pages or 1500-2000 words for essays, research papers, and term papers. Knowing the exact word count can help you plan and avoid shortcuts, whether you use tricks to lengthen or shorten a paper.
Final Remarks
As you journey through college, high school, or university, or even for your graduate studies or MBA, you will get assignments that require you to fulfill a certain number of pages without mentioning the approximate or exact word count. And that is where the knowledge in this article becomes invaluable. You can tell the approximate number of pages to write based on the word count limit.
Now that everything is clear, you can convert any number of words to pages and vice versa. You can also use free word-to-pages or pages-to-words counters like wordcounter.io or Ink Word Counter. These tools allow you to paste or upload your text and get the estimated word count.
We can help you write an essay of any length. Our essay helpers are ready to help whenever you need their help. So let them geek your essay.
FAQs
Many things go wrong for different reasons. People have asked many questions after reading the guide/article above. We figured out handpicking and answering a few would help you clear your doubts. Check out these answers to the commonly asked questions related to word count and page count.
How many words make a full page?
A full-page double-spaced paper with standard formatting is around 300 words. This means that when assigned an assignment with two full pages as the capped limit, you should write 600 words.
However, if you consider 250-275 words, the standard number of words for a full-page will be 500 -550 words in single spacing. Take note that the number of pages you are to write determines the number of words you should use. And remember, there is always the plus or minus 10% of the entire word count limit. However, always work with the exact word count or surpass the upper limit with a few words to avoid penalties.
How many words make a 6-page paper?
A six-page research paper or essay is about 1500 to 1650 words. If you are writing full six pages, it should be 1800 words long. The conversion assumes that it is a standard format double-spaced paper.
How many full pages do 500 words make?
Five hundred words make a full page and a half if you consider 300 words to be a full page. However, if you are writing a standard 12-point font size Times New Roman or Arial, you will write two full pages of 250 words per page. It is a single 500 words page, though.
How many words make an 8-page paper?
An 8-page research paper or essay double-spaced and with standard formatting takes about 2000-2200 words. The assumption is that your work is double-spaced and that you use a 12-point font size and Times New Roman or Arial font. If you are writing it in single-spaced standard format paper, you will write around 4400 words to fill a single-spaced 8-page paper.
How long are 12 pages in words?
A 10-page paper is around 2750 words for a double-spaced paper and 5500 for a single-spaced paper. Writing a 12-page double-spaced paper will be 3300 words and 6600 words for the single-spaced paper. An average word count for a five paged essay is 1250-1375 words.
How many pages make 1500 words?
If you are assigned to write a 1500 words essay, you are asked to write a six-page paper. Remember to format the paper as a standard academic paper.
Is it possible to write a 1000-word paper in 2 hours?
Yes, it is possible. However, it depends on the topic, the scope of research required, your typing speed, and your time. Find a distraction-free setting, put soft music in your earphones, earbuds, or speaker, and write the essay faster and more accurately. It would help if you divided and outlined your essay into parts.