Although spatial order organization sounds like rocket science, it is almost similar to the chronological order that has been applied in all spheres of writing, including essay writing, for ages.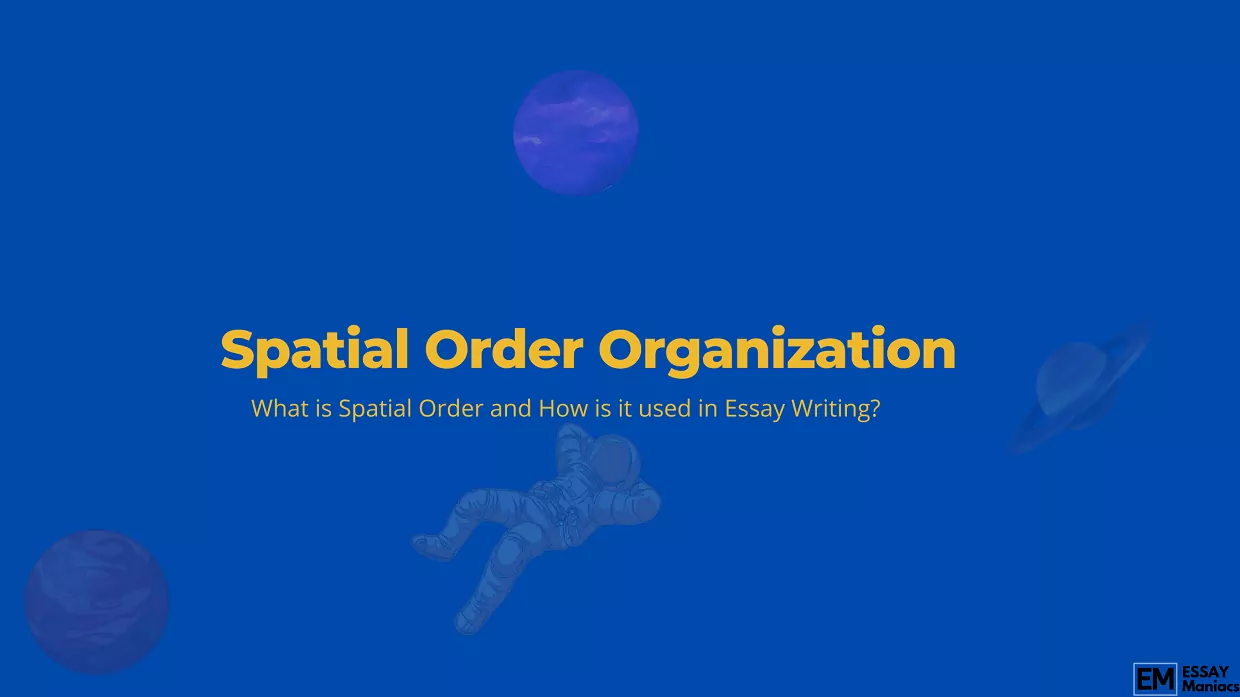 Although both are logical organization patterns, the spatial organization does not consider time. Instead, the spatial organization considers the arrangement of objects, people, and things in a specific space or location.
Describing a scene, something, or anything to someone (an audience) using spatial order organization allows your audience to visualize or imagine themselves in the setting. Undeniably, to effectively describe an event, person, or object, you need a clear and logical organization. Although you can combine the different methods of logical organization as you write, you have to understand what each means.
In this article, we explore spatial order, its meaning, application, and steps to use when writing an essay that requires spatial order organization. If you need information relating to the spatial pattern of arrangement of ideas, be our guest.
What is Spatial Order Organization?
According to the Merriam-Webster dictionary, spatial order organization refers to the process or act of relating to space and the objects within that specific space. When writing essays, it refers to a logical organization method or pattern, used chiefly in descriptive writing, where ideas and elements of writing are laid down (arranged) in a logical sequence per their relationship based on location and space.
Spatial ordering entails compartmentalizing or organizing information, such as describing objects or places, processes, or instructions based on their physical location. When using spatial order in an essay, you will arrange objects as per their respective positions relative to your perspective or the space. You have the freedom to start from left to right or vice versa.
To further specify, spatial order organization entails putting the disarray of elements into a specific order. It is more like fitting together the puzzle pieces to create a compelling whole that makes sense.
When writing essay assignments, the choice of words determines how well you refine, synthesize, present, and organize the findings from the research. This means that to lay down information logically, you need some organization, which is what is referred to as spatial order organization. However, instead of relying solely on time as the chronological order,
Why use Spatial Order Organization? - The Pros
As indicated above, you need to organize your information in a specific format when using spatial order in your essay and assignments. In most cases, the organization helps achieve a logical flow. You also use the spatial order organization to represent facts depending on their order of occurrence.
In terms of use, spatial order is primarily used in descriptive essays. Spatial ordering is best used to describe a setting or a scene, give instructions, or give directions.
The premise is that since it allows you to recount the logical progression of one object in relation to the other in a setting. This means you can use it when writing personal narratives, reflection essays, first-person essays, and other descriptive essays. Likewise, you can use spatial order when describing a process in a process essay. It is also effective in problem-solution, compare and contrast, cause and effect, pros and cons, and classification essays.
Here are the benefits or advantages of using spatial order organization when writing an assignment.
Using spatial order signal phrases and transition words links ideas and creates a logical flow of ideas, improving your essay's or assignment's readability.
You can logically describe a scene, making it easier for the professors to understand your arguments, counterarguments, and claims, even when the topic, event, or scene is complex
Spatial order allows you to avoid confusion, especially where there are many objects to describe or contextualize a scene. You can then make it straightforward for your professor to follow the sequence of your description. Therefore, the spatial order method leads to clarity in writing.
Even so, there are certain circumstances when using spatial order is unwarranted.
The Cons of Spatial order in essay writing
Assuming you have mastered the use of spatial orders, you would notice that there are instances when it comes with a curse to your writing.
First, sequence and chronology in writing your essays or representing your thoughts can be tedious, especially for the reader. When you write long essays and texts, you notice that using spatial order can be tiresome and confusing. If possible, avoid using it for longer critical writing tasks.
Secondly, even though spatial order maintains some clarity, it reduces emphasis in your writing. Primarily, spatial order gives equal weight to the elements in your arrangement. This means that the elements in your spatial order essay have the same emphasis and importance. Therefore, it becomes a challenge for you to emphasize a certain idea or aspect of the scene to draw your audience's attention or pass a message. Writing an essay using spatial order makes it relatively flat and predictable. You must be aware that as you use spatial order to organize your description, you cannot ascribe importance to a specific object.
This means that you can decide to use chronological order or stream of consciousness to organize your descriptions better since that allows you to lay emphasis on some objects and convey a given message better.
Transition Words and Signal Words for Spatial Order Organization
The use of transitions in an essay is indispensable. It maintains a good flow of ideas and makes it easy to connect ideas. In addition, there are transitive/linking words and phrases that you can use to write a spatially ordered paragraph.
Using transitions or signal words below in your spatial order essay helps guide your reader through your paragraphs, especially when describing a setting or scene.
A few meters
Above
Across
Adjacent
Against
Alongside
At the top of
Attached to
Behind
Below
Beneath
Beside
Between
Beyond
Down
In front of
Into
Near
Nearby
On the left hand
On the right hand
Opposite
Through
To the side of
Within
Unlike chronological order (first, second, next, and finally) or other organization methods, spatial order ignores time. Instead, it focuses primarily on the location and space. Any transition or signal word relating to space or location can be used in spatial order organization.
Steps for using Spatial Order Organization when writing Essays and Assignments
Now that we understand what spatial order organization means, its pros and cons, and pretty much everything else, we need to explore how we can use it.
As we already mentioned, spatial order is commonplace in descriptive writing. It is practical when describing how something looks and where something is relative to another without considering time. Likewise, you can use the logical order of location, known as spatial relations, when writing classification, comparison, and exposition essays. And when you want to do it right, here are the steps.
1. Select a fascinating topic and title
The first step when writing an essay or any assignment is choosing an appealing topic. When writing a spatial order essay, you need to select a topic that will allow you to convey the message to your readers. Begin by thinking of a specific setting or scene that you need to describe to your readers. To select a good topic, think from the reader's perspective and list the potential topics- this process is otherwise known as brainstorming. Research further as you sift through your ideas and select a topic that is neither too narrow nor too broad and one that is interesting to write about. Your topic sets the context of the entire story. Ensure that you can write an appealing essay title out of it. With a good choice of topic, you are guaranteed to write attention-grabbing spatial order paragraphs. Here are some questions to ask yourself:
What should you write about?
Who is your audience?
What is the scope of the essay as per the essay prompt?
How will the content you write be relevant to your readers?
Will the topic resonate with the interests of your readers?
These questions, and others that you can come up with, should guide your choice of topic. Let it be a topic that everyone has not exhaustively covered.
2. Write an outline
We can never emphasize the value of creating an outline. After selecting a topic and writing a good title, you should develop an outline to know what falls where.
Ensure you visualize where you will place an idea and how to achieve a good flow. When outlining, focus on the topic to maintain a spatial structure for your content to create a positive impression for your readers. Decide the logical order of flow of the ideas, where to start, and where to end.
3. Use adequate references and examples
When writing a spatial order essay or using spatial organization in an essay, strive to use evidence and examples. Using examples in an essay emphasizes specific ideas and helps your readers get the gist of your writing.
Using evidence from the literature to back your descriptions is the highest form of achievement for a writer. It shows that you are mature and acknowledge others' contributions to academia. Besides, you also get the chance to advance scholarly discussion.
It would help if you gave examples when describing events, people, places, things, or objects so that your readers can create a visual image of what you are describing.
4. Write a good Introduction
The introduction of your essay is the entry point into your essay. It invites your readers into your world. When writing the introduction, factor in the spatial order to allow your readers to connect to the ideas in the body. You can begin your essay with a hook sentence to grab the readers' attention. Ensure that you also have a thesis that signals your readers about the main idea you are trying to achieve through writing the essay.
5. Develop Body Paragraphs
The bulk of the work comes when structuring the body paragraphs since this is where you mostly get to use spatial order organization. Although you have the freedom to choose the sequence, order, side, or process, ensure that the one you select allows you to present your ideas better.
Your focus should be structuring a good introduction, body, and concluding sentences. Make it easy for your readers to understand the organization format, sequence, or method you selected. When writing the body paragraphs, incorporate signal and transition words to link ideas.
A high-scoring essay is one whose body paragraphs are interlinked, flowing, and well-organized. Therefore, ensure that you refine each body paragraph. Remember, transition words are to spatial order essays what glue is to a paper; they hold together the ideas making it make sense.
6. Conclude with a bang
As with writing a good introduction, writing a definitive conclusion will leave no room for poor marks. Sometimes a professor can tell how much you will score just by reading the introduction and conclusion. As they each make 10% of your paper and 20% of the total word count together, you need to focus on refining your conclusion.
Since you had established the spatial order in your body paragraphs, you should reiterate the ideas, but in summary, in your conclusion. Ensure that your thesis statement is restated and refined. Then, as you write the conclusion, make it possible for the readers to glimpse what your body paragraphs are about.
7. Personalize it
When using the spatial sequence in your essay or assignments, you organize information based on physical location in relation to space rather than time. Therefore, using the spatial pattern to organize your essay comes with the responsibility of personalization.
Use personal tones and phrases to ensure that your entire essay is self-explanatory, relatable, and flowing. Adding your personality to your writing helps predict your attitude, understand your points, and effectively helps your readers to relate to your emotions.
The personal touch helps your readers to visualize the description you are giving. Let's have a look at an example.
Example of Spatial Order Essay
When I entered the room, I was unsure where to sit. Finally, the secretary signaled me to have a seat at the far corner as I waited for the dentist to call my file. I was shivering with fear and convincing myself that the pain would disappear after the procedure. My only consolation for the pain was that I would be alight at the end of it all.

The doctor called my name from the adjacent room. The secretary gave me a small ticket with my details. She also directed me to fill in the details in a black book on the table adjacent to where I was sitting.

On entering the dentist's theater, I could see complicated machinery in place. The dental nurse held a tray full of weapons for fixing teeth in her hands. She quickly placed it on top of the table next to the bed and raised the light to accommodate my height. I lay down on the bed, and she hoisted it to the level of the table. On the right of the table was a diagnosis note, an X-ray from the previous consultations, and some chemicals and steel tools. As I wondered how these tools would be used, the dentist arrived. He greeted me, informed me about the procedure and the time it would take, and cautioned me about some pain I would fill.

With the dental nurse next to me, I pretended everything was fine, but deep down, I was shivering with fear. I love myself and never want to go through pain, but I wondered why it is part of human growth. The doctor took a long syringe from the cache of tools on the table next to the bed, lifted a bottle, and drew some chemicals off it. He was then injected into the lower jaw. Before long, I was numb in my jaw and could not feel any pain.

All the while, I was closing my eyes. However, I looked up and around the room when the pain subsided. I appreciated the beauty of the light that shone right into my face. I also enjoyed the cool features around the room that provided the ambiance I needed in suffering. I had so much time that I counted the louvers in the windows. The room was quiet save for the sound of the grinding tools that poked through my problematic tooth. Within an hour and a half, the procedure was done, and all left was the combined pain and numbness.

After the entire encounter, I was convinced I wanted to become a dentist.
Example of Spatial Order Paragraph
When you walk into a Subaru Forester cockpit or driver's deck, you will notice the comfort of the driver's seat. The seat has a pair of electric buttons on the left side, allowing you to control the seat's height up and down, back and forth. Below the seat, there is adequate space that can be used as storage for your personal goods. You also have another storage space on the center console that houses a centrally-placed pair of cupholders, a USB charging system, and a handbrake. The center console on your right is adjacent to the gear knob and the button used to change the driving modes if you are the adrenaline junkie who wants to experience different sports modes. In front of you is the steering wheel that has an airbag at the center engraved with the Subaru logo. You also have a collection of buttons that allow hands-free driving. For example, you can adjust the height of the steering using the height adjustment knob below the steering. In front of the steering is the cluster clock that displays the speed and provides other data such as consumption, engine temperature, amount of fuel, etc.
The above example of spatial organization pattern allows you to visualize the setting, in this case, the Subaru forester cockpit. Then, when writing, you need to decide or make a series of decisions.
You must first take the readers' perspective and determine the relevant details that would be relevant to them. You should then decide on the aspects of the scene to include in your description. In the example, the key focus was on the drive-comfort features in a Subaru forester.
You have to select a starting and ending point as well. Finally, use signal words for the spatial organization on top of your regular transition words.
And that there is how to write an essay using spatial order organization.
Summing Up
Suppose you began when you needed to understand what a spatial order in writing means; you are certainly answered. Spatial order organization is a mainstay in writing logically sequenced and descriptive essays.
Although there are no rules on organization patterns, using spatial order makes you a pro writer. You can easily score the top grade in the rubric if you incorporate the spatial order transition words as we have done in the spatial order paragraph example above. And now that you can tell apart chronological and spatial order, you can vividly use spatial order even when writing or giving a speech.
The example of the spatial order essay above further gives you a taste of how to craft spatial order statements and sentences without ambiguity.
The tips we have shared in this blog post will help you hone your skills in spatial order organization, which is instrumental in essay writing. If you want an edge over other students, use the logical sequencing strategy we just described in your next essay. Well, we bet you will get your professor impressed, elated, and convinced that your essay needs a top grade!