Your instructor has assigned you to write a thematic statement, and you probably do not know how to begin or what steps to take. Now, you are lucky because that's what this guide is all about.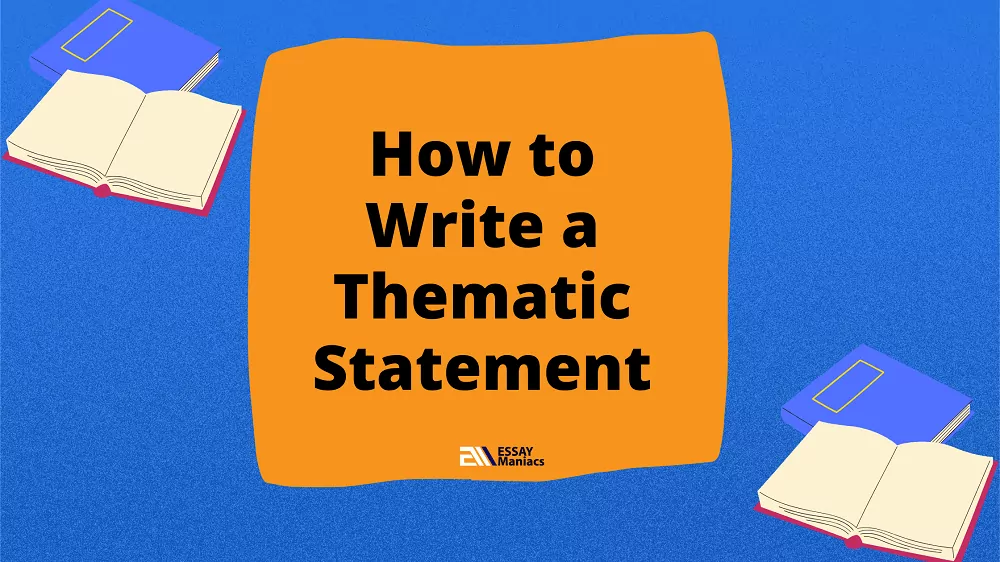 Our team of expert literature writers came up with examples that we have included in this guide. Then, our editorial team pieced it up to help you write a thematic or theme statement that will meet the requirements.
After you are done reading an assignment for class, a novel, short story, lyrics, poems, or essays, you might be asked to write a theme or thematic statement. When asked to do so, you are being asked to condense the gist of your piece of literary work in a sentence or two. But how do you do it? How do you find the theme?
To answer these two questions, go through this structured step-by-step guide on how to write a thematic statement.
What is a Thematic Statement?
A theme statement, thematic sentence, or thematic statement refers to a sentence or two sentences describing the predominant message or theme of a literary work such as a novel, short story, poem, song, or story. It is a precise statement that summarizes the essence or gist of a story. It is a statement that can be transformed into a thesis statement in a thematic essay. It explains the powerful message that the author is trying to communicate in their work.
Examples include:
Family is the structure upon which society is built.
Maternal love surpasses all the love there is in the world.
True love is an illusion.
Love conquers all.
Love can make you forget about yourself and care more for others, even if it means putting your life on the line.
A thematic statement is not a theme, and neither is it a thesis statement, as we shall explore shortly.
A thematic statement contains a single root keyword, also referred to as theme, thematic idea, or thematic assertion.
You can use a thematic statement when writing a five-paragraph essay such as a synthesis essay, critical analysis essay, analytical essay, or thematic essay. They are also frequently used in funeral speeches, marriage toasts, stories, or rhetorical analysis essays.
Thematic Statement vs. Thesis Statement vs. Themes
Thematic statements differ from thesis statements in many ways. For example, while a thematic statement may be factual and comprise unbeatable facts, a thesis statement must be arguable and precise.
A thematic statement is also completely different from a theme. The theme describes the main message that the author or writer wishes to convey through their writing, whereas the thematic statement offers the context for readers to understand the theme better; it expounds on the theme.
The theme can be represented using one or two words, for instance, courage, hate, and love. On the contrary, a thematic statement is usually a complete sentence that conveys the theme. It is possible to have more than one theme in a literary work, and not every single one of them is directly mentioned.
Significance of thematic statements
A thematic statement is simply a summary of the entire literary work. Its main aim is to give readers a hint of what the literary piece is about before they read it in full. In addition, it also provides an insight into the writer's central theme and message.
It offers a bit of background information on exactly how the author constructed their work so that you can get a clearer understanding of the basis of their arguments and views.
Examples of Thematic Statements
If you are assigned to write an analytical essay or synthesis essay, here is how to express the theme statement:
In The Dark Knight Rises, Christopher Nolan presents the idea that true heroism requires complete and utter selflessness.
The central theme of 'Finding Nemo' is that fear is sometimes more dangerous than danger itself.
In Romeo and Juliet, Shakespeare presents the idea that love is more powerful than hate.
Conrad explores the question of what the alienation and loneliness of extended periods of time in a remote and hostile environment can do to men's minds.
Conrad, primarily through the example of the Company's chief clerk, shows how people can maintain order with the most mundane details of their lives while all around them, disorder reigns.
Insanity, given prolonged exposure to the isolation of the wilderness, seems an inevitable extension of disorder.
As one develops morally and psychologically, he learns his duty to his family and community.
Courage allows people to attempt complicated tasks in their lives even when there is a chance of failing.
Independence is necessary to grow up though it can be frightening.
Let's now look at the general theme statements you are likely to encounter in literature.
Love
Love can bring out the best version of ourselves.
Loving and appreciating others, despite their flaws, can lead to a happier life.
Love stretched to extremes can be very dangerous.
Love carries the power to either positively or negatively change us.
Unconditional love can resist any obstacle.
Identity
People need faith in themselves to survive in a cruel world.
Accepting yourself will lead to others accepting you as well.
A person's identity is not stationary; it develops as they continue to learn more about themselves.
Being authentic to oneself can lead to opportunities in life that you did not anticipate.
Believing in yourself and your abilities is a scary but vital lesson to learn.
Fear
Fear is just a state of mind.
The fear of something is actually more dangerous than the actual danger.
The worst thing to fear is fear itself.
Fear robs the mind of all its reasoning and acting powers.
People cannot defeat fear by simply pretending that everything that hurts them does not exist.
Death
Death is a part of the natural circle of life; we should embrace it instead of fearing it.
There is no need to be afraid of death as life is what matters most.
Death is a dreadful end that snatches away people without any notice, leaving behind their loved ones to come to terms with the unexpected loss.
Death is inevitable; people should come to terms with it by living their lives to the fullest instead of living in fear of the unknown.
Death is a mysterious happening that changes things for eternity and leaves the affected ones to deal with their grief.
Trust
Trust is hard to build, and it can easily be destroyed with one wrong deed.
It takes a lot of courage to trust other people knowing that they might disappoint you.
Although it is difficult to accept, you cannot always trust your family and friends to always want the best for you.
The strength of any relationship depends on how much you trust the other individual.
Trust is not just given; it is earned via actions.
Failure
Failure is one of the best ways to learn and become stronger.
You haven't failed until you stop trying.
How you define failure is up to you.
Failing is part of life; what matters is how you pick up yourself after failing.
Failure is another stepping stone toward success; it is not final.
Parenting
Parenting will test your resolve and patience and define who you are as an individual.
Parenting is the toughest but most fulfilling job in the world.
Parenting is all about stressing the positive and staying optimistic during difficult times.
Children come with lots of responsibilities, but it is all worth it.
The tender years of a child's life set the foundation and tone of what is to come.
Character
The choices people make define who they are as individuals.
Someone's real character will always come to light, regardless of their actions.
Our character is founded on the choices that we make daily.
Someone's real character is disclosed when they perform a brave act and go against the norm.
A person's character determines how they are perceived by others.
Faith
Faith gives people a sense of purpose and hope.
Faith is what unites people and keeps them strong.
People are naturally conditioned to believe in something and follow a certain path.
Faith has the power to inspire people not to give up, no matter how challenging things might seem.
Believing in a greater being or thing than oneself provides some sense of security and comfort.
Friendship
True friends are difficult to come across, and the real ones are worth the wait.
A real friend will accept you for who you are and not what you have.
The effort and time invested in a friendship determine its strength.
A genuine friend will always support you, even in times of difficulty.
Friends will come and go, but your family will never desert you.
Nature
Nature offers an escape from the real world and allows people to find themselves.
Life's beauty is wrapped in nature's diversity.
Nothing can be compared to the beauty of nature in its natural state.
Nature should be respected and admired; it should not be controlled.
Nature is what keeps us alive and should be embraced in all that we do.
Life
Life is what people make it, despite its challenges.
What makes life special is its succinctness; there is no need to be afraid of death.
Life is short, and so every day should be lived to the fullest and cherished.
Life is what matters, not material possessions.
People should enjoy life when they still have the chance to.
Change
Fighting change results in stagnation, while embracing it results in growth.
Change is something that should be welcomed; it generates new opportunities and encourages growth.
Life can never remain the same; it should be embraced and not feared.
Change is inevitable and relentless; people should learn to welcome it.
Accepting change is one of the most powerful things someone can do.
Suffering
Suffering is unfair, often afflicting those people who do not deserve it.
Unnecessary suffering has devastating impacts on its victims.
Suffering only lasts for a while; it is not permanent.
Suffering destroys the faint-hearted and strengthens the strong-willed.
Suffering is sometimes a by-product of our actions.
Step-by-step guide on how to write Thematic Statements
Here are the steps to take if you want to write a good thematic statement.
1. Develop a list of themes
Begin by gathering different ideas from the literary work and make a proper list of them. Next, gather the abstract words that express the primary ideas of the work (mainly, these are the topics in the work). These abstract words describe the ideas or concepts that exist only in our minds, like oppression, disillusionment, cruelty, love, hate, hubris, identity, sacrifice, or survival. You should then combine the abstract ideas with comments that reflect on the author's observations in the piece of literary work you are reading. Carefully go through them to see which ones can be backed with evidence, such as examples and facts. Look for the idea that you can easily support using the provided text.
2. Research extensively
To get the best idea for your writing, conduct extensive research. First, read through any articles or books that are of relevance to your topic. Then take time to think about the message you want to convey to your readers.
3. Get inspiration from other works
The next step is to read the thematic statements of other writers. Literary works reveal the thoughts of different people regarding different issues; they are the authors' views and interpretations of life in general. Therefore, drawing inspiration from other writers can be very helpful when coming up with your own thematic statement.
4. Identify conflict areas
Conflicts are vital when it comes to an understanding the theme. They make literary works interesting. By identifying the conflict areas, you will better understand the text.
5. Focus on the thesis statement or crux
The most important part of your work is the thesis statement. A good thesis statement is concise and conveys the intended message in a single sentence. You should, therefore, concentrate on getting it right. Thesis statements are important as they convey the literary work's main message quickly without losing any meaning.
6. Decide the best theme statement for you
Depending on your analysis of the text, settle on one thematic statement that is relevant to the writing.
7. Write the thematic statement
The final step is to put down your chosen thesis statement. Then, follow the above steps for the perfect thematic statement.
Dos and Don'ts when writing Thematic Statements
| Dos | Don'ts |
| --- | --- |
| 1. Express the theme as an insight into life | 1. Never express the theme statement as a topic or subject. Never state the theme as a subject or maxim. |
| 2. Write the theme statement in your own words | 2. Do not express the theme statement as a moral |
| 3. Write the theme statement as a general comment on a subject | 3. Do not express the theme statement as a clich?, such as a familiar saying or adage |
| 4. Draw a general insight from the behavior of a character | 4. Never make the theme statement too general. Broad theme statements or generalizations can confuse your readers. Be very specific instead. |
| 5. Use qualifying words such as sometimes, often, might, may, can, etc. in your thematic statement | 5. Never refer to specific characters when writing your theme statement |
| 6. Be very specific | 6. Avoid using cliches |
| 7. Your theme should be reasonable. For example, it doesn't use words like "all," "none," "everything," or "always" because that kind of statement is rarely true and usually impossible to prove. | 7. The thematic statement should never be absolute. |
| 8. A theme is observation. It should comment on the way things appear to be in reality | 8. It is not a moral or a command |
Thematic Statement Template
Let's look at templates we can use when writing theme statements.
For Stories and Books or literary works
Work

In (name of the literary work)

Author

Presents the ideas that (Thematic idea)

Statement about the thematic idea

Qualifying clause

Example from text
General theme statement
| | |
| --- | --- |
| Thematic Idea | |
| Statement about the thematic idea | |
| Qualifying clause | |
Example of how to use the template
Work

In (name of the literary work)

Priscilla and the Wimps

Author

Richard Peck

Presents the ideas that (Thematic idea)

loyalty

Statement about the thematic idea

It makes us do things that are out of our comfort zone

Qualifying clause

In order to help a good friend

Example from text

When Priscilla confronts the Kobra and Monk to protect Melvin.
Work

In (name of the literary work)

Hunger Games

Author




Presents the ideas that (Thematic idea)

Survival

Statement about the thematic idea

It is not enough without control

Qualifying clause

Over your own destiny

Example from text

A girl is forced to take part in a televised fight to the death.
| | |
| --- | --- |
| Thematic Idea | Courage |
| Statement about the thematic idea | Compels people to take a leap of faith |
| Qualifying clause | Even when there is a chance of failure or imminent danger. |
| | |
| --- | --- |
| Thematic Idea | Love |
| Statement about the thematic idea | Is a beautiful thing that happens when two people come together |
| Qualifying clause | Although it is just an illusion |
Universal A-Z list of Themes
Adolescence ? discovery, pain, loneliness
Alienation ? the destruction of the soul
Ambition ? persistence or corruption
Appearances ? deception and reality
Beauty of diversity
Beauty of simplicity
Capitalism? effect on the individual
Change of power ? the necessity
Change versus tradition
Chaos and order
Character ? destruction, building up
Circle of life
Coming of age
Communication ? verbal and nonverbal
Companionship as salvation
Convention and rebellion
Dangers of ignorance
Darkness and light
Death ? inevitable or tragedy
Desire to escape
Destruction of beauty
Disillusionment and dreams
Displacement
Empowerment
Emptiness of attaining the false dream
Everlasting love
Evils of racism
Facing darkness
Facing reality
Fading beauty
Faith versus doubt
Family ? blessing or curse
Fate and free will
Fear of failure
Female roles
Fulfillment
Good versus bad
Greed as downfall
Growing up ? pain or pleasure
Hazards of passing judgment
Heartbreak of betrayal
Heroism ? real and perceived
Hierarchy in nature
Identity crisis
Illusion of power
Immortality
Individual versus society
Inner versus outer strength
Injustice
Isolation
Isolationism ? hazards
Knowledge versus ignorance
Loneliness as a destructive force
Losing hope
Loss of innocence
Lost honor
Lost love
Love and sacrifice
Man against nature
Manipulation
Materialism as downfall
Motherhood
Name ? power, and significance
Nationalism ? complications
Nature as beauty
Necessity of work
Oppression of women
Optimism ? power or folly
Overcoming ? fear, weakness, vice
Patriotism ? positive side or complications
Power and corruption
Power of silence
Power of tradition
Power of wealth
Power of words
Pride and downfall
Progress ? real or illusion
Quest for discovery
Quest for power
Rebirth
Reunion
Role of men
Role of Religion ? virtue or hypocrisy? Role of women ? Self ?
inner and outer
Self-awareness
Self-preservation
Self-reliance
Social mobility
Technology in society ? good or bad
Temporary nature of physical beauty
Temptation and destruction
Totalitarianism
Vanity as downfall
Vulnerability of the meek
Vulnerability of the strong
War ? glory, necessity, pain, tragedy
Will to survive
Wisdom of experience
Working-class struggles
Youth and
beauty