Even though writing essays can be challenging, writing a two-paragraph essay becomes even more complicated. It is always a challenging form of academic writing assessment that gives students stress.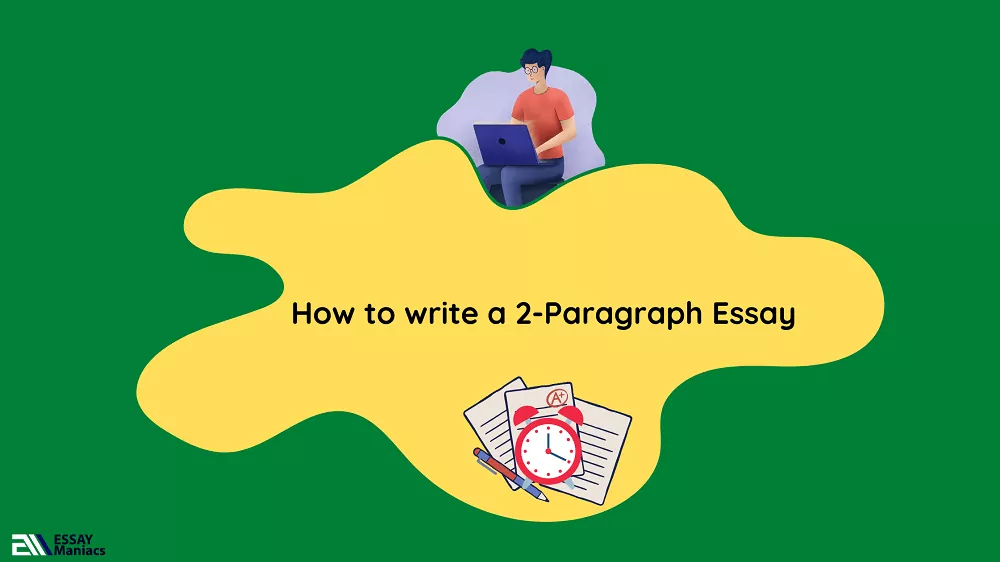 Many wonder how do they do it? Does it even count as an essay? And what if you have too many points to fit in just two paragraphs for an essay?
Unlike the three-paragraph essay or the 5-paragraph essay, where one has many words to spare, the lack of words to waste makes a two-paragraph essay a mainstay for brevity, conciseness, and specificity. It is an essay that you write to address a topic with only 250 to 300 words, nothing more, nothing less.
To write an essay with two paragraphs, your organization and presentation skills must be top-notch. You will be recruiting and using the skills you use to write the longer essays, only that you must condense the content.
In this comprehensive short essay guide, you will learn what a two-paragraph essay looks like, the steps to take when writing one, the length and time it takes to write, and some of the best tips to use. By the time you are done, you will have a knack for writing a 2-paragraph essay.
Let us dig right into it!
What is a two-paragraph essay?
An essay can be two paragraphs. A two-paragraph essay is a brief or short written piece explaining one or two ideas in a few sentences and two paragraphs. It is a typical writing assessment for short-answer essay-based questions during examinations.
It is a condensed version of a traditional essay, but it needs you to explain the details or compress the content to fit within two paragraphs. A two-paragraph essay is about 8-16 sentences long. Its word count is between 250 words and 300 words. Therefore, it must be straightforward, brief, and concise. Like a one-paragraph essay, you must be highly mean or economical with words but spend your words writing about your topic.
When assigned to write a two-paragraph essay, knowing how to write an essay with one paragraph can come in handy.
A two-paragraph essay can have anything between 10-28 sentences, depending on how long such sentences are. The premise is based on the fact that a one-paragraph essay can be as long as 10-14 sentences long.
Outline for a two-paragraph essay
Writing and maintaining a suitable structure with only two paragraphs for content and other parts of an essay might be challenging, but not when you have an outline. On the other hand, it is advisable to stick to an outline when writing short essays. In this case, the outline limits and restricts the scope of your essay, ensuring that you wholly and briefly address the main point (s).
Paragraph 1
Opening sentence/statement. Should introduce the first main point.
First main point
Supporting information to the first main point
Concluding sentence that includes transition
Paragraph 2
Topic sentence. Transitions from the first main point to the second one. Introduces the second main point. You can use transition words such as in addition, on the other hand, likewise, etc.
Second main point. A sentence that details the second point of your essay. It should relate to your topic and thesis statement.
Supporting information for the second main point. These sentences introduce evidence to illustrate, explain, expound on, and provide examples that support the main point. You should also have a sentence that comments on the evidence or the commentary to present the evidence in your own words. Again, you should use transition words to ensure the flow of ideas.
Concluding sentence for the second main point. This sentence summarizes the entire work, offers closure to the whole essay, and wraps up the paper.
Structure of a Two Paragraph Essay
Since your essay consists of two paragraphs, it must have a thesis statement, topic sentences, supporting sentences, and concluding sentences. Then, assuming you have already settled on a topic, you must research. And after the research and outlining are done, here is how to organize or plan your essay to discuss ideas in the two paragraphs.
Note that when writing such an essay, you must select two strong points that stand a high chance of directly answering the question or prompt. So, what does a two-paragraph essay look like?
Title Page
Just like a standard academic essay, ensure that you have a title page. The title page bears the title of your essay, name of your institution, name of your professor/instructor, course code and name, date of submission, etc. The title pages vary depending on your chosen formatting style, i.e., MLA, APA, Harvard, or Chicago. Remember, never underline the headline of your essay. And if you have to bold the title, only do it if the formatting style allows you to do so.
Topic statement
The topic sentence is the mini-thesis of your paragraphs. When writing a two-paragraph essay, the topic sentence captures the content of the sentences within a paragraph. It answers the main title and is a logical explanation of the claims presented within the header. Ensure that your topic sentences are brief, cogent, and relatable.
Supportive points
After the topic sentences (two in this case) comes a series of supporting sentences that contain details about the points raised in your opening sentence. This is the series of sentences in the paragraphs where you integrate evidence, use factual data, provide examples, and illustrate the ideas to prove the validity of the topic sentence. In a two-paragraph essay, you could have up to five or four supporting sentences to back up the thesis of your essay.
Concluding statement
Just like you opened the paragraph, you must close it. Having a closing sentence in the body of your essay does the trick. It winds or wraps up the paragraph and transitions it to the next. The closing sentence affirms to your readers the reason the topic statement was valid, given the facts presented in the supporting sentences.
You can only use the transition sentence in the closing sentence of the first paragraph for a 2-paragraph essay. The second closing sentence winds up the entire essay and offers closure so that the writer is in a complete loop of information. It is a conclusive statement for the whole of the essay.
References
To avoid plagiarism, you must integrate evidence from scholarly sources into an essay. The only best way is to have in-text citations and a list of references (works cited, bibliography, or references page). Then, ensure that the work is referenced appropriately, following your professor's formatting and citation style.
Related: How to structure paragraphs effectively.
How do you write an Essay in 2 Paragraphs? The Steps
You are being tested for your comprehension, critical thinking, creativity, analytical, and organization skills; that's the purpose of assigning you to write a two-paragraph essay. In addition, a two-paragraph essay must show that you can be specific in deciding the best material and evidence to put forth when handling a topic and discarding unwanted or irrelevant information.
Like the one-paragraph essay, you will take the skills that a longer essay needs and condense the ideas and steps to achieve the same objective. Here is how you can write a perfect essay in just two paragraphs.
Step 1: Choose a topic
It is a cliché in most of our articles and an essential step. However, choosing a good topic for an essay delineates a successful and a failing student. When writing an essay, your first step is to select a topic before brainstorming for ideas. Then, if you have a specific question or topic provided, you can jump to the next step. Otherwise, select a topic that is relatable, interesting, easy to find information about, and one you enjoy writing about.
Step 2: Brainstorm for Ideas
With the topic knowledge, research widely, take notes, and brainstorm the ideas you wish to include in your essay. As you research and brainstorm, organize the relevant and valid sources for later use. Sometimes, you do not need sources if it is part of an exam. Then, all you need to do is develop related ideas and write a short two-paragraph essay answer.
Step 3: Narrow down your thesis
Like other short essays, a two-page essay is a condensed version of the longer ones. Because you understand what is required of you, come up with a brief, declarative, and informative statement describing your essay's gist. This is your thesis statement, which is presented in the first sentence of the first paragraph of the two-paragraph essay.
Step 4: Outline your ideas
Quickly write an essay outline where you define what goes where and in what sequence. The outline should be the backbone of your essay when it comes to the writing stage. You can do this faster to ensure that no time is wasted or that you do not derail when writing. Next, outline the paragraphs to determine the tone of the topic sentences and the supporting and closing sentences.
Step 5: Write the essay
To write the essay, which can take 20-30 minutes, start by writing the first topic sentence. The first topic sentence bears a condensed version of the thesis and serves as an attention grabber for your readers. It should be outstanding, short, and sweet. Next, present the examples, illustrations, facts, and elaborations as your supporting sentences. Cite as you write to ensure that you correctly cite the information. Finally, conclude the first paragraph by wrapping up the paragraph and transitioning to the second paragraph.
Repeat the steps you did in the first and second paragraphs, only that the last sentence wraps up the entire essay. Lastly, sum up the two paragraphs and close the essay.
Step 6: Proofread, edit, and submit
As a final step, which takes approximately 5-10 minutes, address all your essay's errors, mistakes, and omissions. Ensure that you proofread your essay well before submitting it for assessment. Also, ensure that your essay is submitted within the recommended deadline and in the correct format (PDF or Word document).
The above techniques, approaches, or steps can save time writing a two-paragraph essay. The two-paragraph essay rule applies to short college essays, personal statements, leadership, nursing philosophy, and brief narrative essays. Sometimes, there is no need for sources. Nevertheless, maintain the structure we have discussed above.
Tips to Make an excellent two-paragraph essay
Let's assume that you are sitting for an exam and would like to write a two-paragraph essay that answers the short essay-based questions. You can use these tips to spice up your writing, conclusively answer the question, and win the heart of the markers, professor, or instructor.
1. Be brief
Being economical with words will save you the trouble of truncating ideas when done. It also helps save time. Instead, use loaded sentences that capture the main ideas you want to communicate. Besides, avoid using too many words to explain something when you can use a word or two. When explaining concepts, be thorough, composed, and brief to avoid confusing the readers.
2. Keep it romped up
Your essay must grab the attention of the readers. Remember, your first or first opening sentence is your thesis statement. Therefore, you can begin with a hook as a thesis statement for this short essay. Just like in the one-paragraph essay. Besides, ensure that every body paragraph focuses on the idea mentioned in the topic sentence. Keep your relevance, validity, and authenticity by citing any information borrowed. Your choice of words should also be top-notch.
3. Maintain a good organization
Ensure that your two-paragraph essay is well-organized. For example, have the two body paragraphs with distinguishable topic sentences, supporting sentences, and closing sentences. As well, plan your essay well before writing. A good organization will help you avoid wasting words and reduce the chances of unnecessary repetition.
4. Use transitions
Use linking words, signals, and sentences to ensure a smooth flow of ideas in your essay. Making good use of transitions always carries the day. Ensure that you do not overuse the transitions or that you don't use the wrong transitions for the sake of it.
6. Proofread and edit well
There are high chances of your professor being keen on your essay, given that it is short. Therefore, you have to limit the chances of them awarding a poor grade just because of a few errors and mistakes. Therefore, follow our self-editing checklist and edit, proofread, and polish the 2-paragraphs of your essay. Remember to assess and correct the grammar, spelling, and punctuation mistakes. Also, check whether your essay has a good choice of words; replace the complex vocabulary if you can. The simpler your essay is to read and understand, the higher the chances of a good grade.
Related Reading: How to write an analytical essay.
Wrapping Up
An essay can have two paragraphs if you are requested to fulfill writing a given number of words on a given topic in two paragraphs. Majorly, a two-paragraph essay is between 250 and 300 words.
It contains two well-balanced paragraphs that expound on a narrowed-down thesis. Two-paragraph essays have a slightly different structure from conventional essays.
And now, with the steps, tips, and explanations, we have the best writers if you want to hire someone to write your 2-paragraph essay. Our essay service has some of the finest writers you will ever meet.
You can use the model of two-paragraph essays to revise, learn how to write, and understand how to organize short essays.