Many people do not realize that a biography is a profile essay, but it is. It is a profile essay because it is essentially the profile or the detailed description of a person.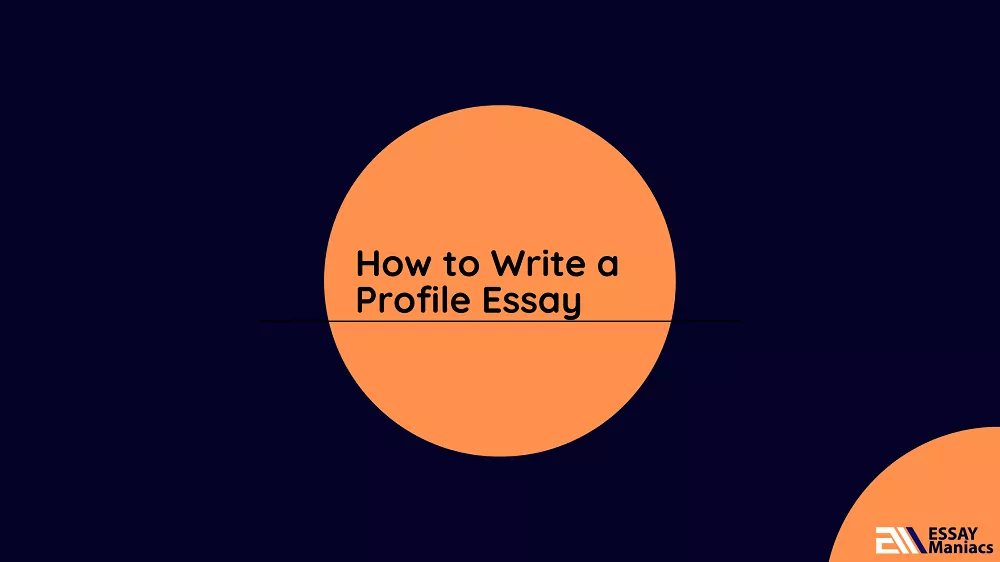 You can be assigned to write an informative essay where you describe a person, place, event, or whatever subject. If that is the case, you should write a profile essay. A profile essay is basically a descriptive essay.
It is a common assignment in college for journalism and media studies courses. However, students pursuing other courses can also be assigned to write a profile essay. Although writing one can be challenging, we will show you in a bit how it can be enjoyable and what steps you need to take.
In this post, you will learn everything you need to know to write the perfect profile essay. Oh! You can buy a profile essay from us and have it customized to your instructions or rubric. Otherwise, let's begin.
What is a Profile Essay?
The hallmark of writing a staller profile essay is knowing what it means.
In the academic context, a profile essay is basically a descriptive essay or informative essay about a person, place, location, activity, item, institution, organization, or event. Within the journalism context, profile essays refer to compositions about a person.
It is an essay that provides a detailed description of someone or something. The essay is usually between 600 and 850 words long and can be longer than 1000 words. The best way to write it is in such a way that it gives the reader a complete picture of the subject.
For example, if you are asked to write a profile essay on your best friend, you should write it so that when someone reads it, they will quickly gain a comprehensive understanding of your best friend.
There are two basic types of profile essays – descriptive profile essays and analytical profile essays.
Descriptive profile essays offer a comprehensive description of someone or something, while analytical ones provide in-depth analysis/evaluation of someone or something while describing it. The most common type of profile essay is the descriptive one. You can be asked to write a descriptive profile essay on a movie character, a story character, a politician, a celebrity, or someone you know personally. You can also be asked to write one on a location, an event, or even an idea.
What Is the Purpose of a Profile Essay?
The purpose of a profile essay is to provide a comprehensive view of a subject. The subject could be virtually anything.
When you are asked to write a profile essay, you should try to write it so that it leaves no important information.
For example, if you choose to write an essay on Barrack Obama, it should describe everything about the man from his origin to his Harvard experience, his senatorial experience, and finally, his presidency. This will help the reader to know everything crucial they need to know about Obama, including his life before the presidency.
When writing a profile essay, you should try as hard as possible to make it as interesting and informative as possible. Because profile essays that are not interesting tend to have too boring and too dull to read. So if you want the reader to read your essay from the first word in the introduction to the last word in the conclusion paragraph, ensure it is an exciting read.
The 6 main steps for writing a Perfect Profile Essay
Writing a successful, stellar, and grade-worthy profile essay needs some quality work. Here are some insights from our top profile essay writers who have completed many profile essays for clients. These essay writers are widely experienced in writing such essays and use these steps to produce the best profile essays.
When assigned to write a profile essay for your class assignment, follow these six steps: (1) get inspired by professionally done examples, (2) choose a topic and a subject of focus, (3) research, (4) plan your essay, (5) write the essay, and (6) edit and proofread the essay before submitting.
Now let's expound on each point to make it further easier for you to write a profile essay that attracts the best grades/score.
1. Get inspired by Examples
You need to research, plan, and write it better to ensure that it has no flaws. To write better, you can get inspiration through reading professional profile essay examples. These professionally written profile compositions are common in magazines such as The New York Times, Esquire, Washington Post, and The Guardian, among others.
While reading these examples, note how the details are presented, the ordering technique used, the use of transitions, hooks, and other aspects of formal writing, formatting, paragraphing approach, and the general choice of words.
You could read as many examples of profile essays as you can. However, be keen on selecting the best to benchmark as you write your profile essay based on the prompt from your professor.
2. Choose a topic and the subject
When asked to write a profile essay, you will most probably be asked to choose a topic by your professor. If this is the case, you should choose a topic that is interesting to you. Sometimes you are given a topic and told to write about it.
Because by choosing an interesting story, you get a chance to tell this story in your essay.
Of course, telling an interesting story is something you should be greatly interested in doing because interesting profile essays are almost always excellent profile essays.
After selecting the topic, ensure that you also choose a subject (the person, place, activity, or event of interest). The subject you choose to write about in your essay can either make or break your profile writing.
3. Gather information about the subject
Once you have chosen a topic for your profile essay, the next thing you need to do is to gather information about the subject.
For example, if the subject is a person, you should research information about them online at this stage. Gather as many important details about the person as you can. These details will be useful in the next step. In some cases, if you have access to the person you want to write an essay on, you can organize an interview with the person to find out more about them directly from them.
If you are writing a profile essay based on an interview, be sure to capture some of the responses the subject gave. It would be best to have open-ended questions on the interview plan to find as much valid information as possible. You need to corroborate the information using information available from credible sources.
4. Create an outline
Although sometimes an outline is not mandatory for an essay, you need to have a quick outline to arrange the ideas and thoughts and define the structure of your paper. Stick to a specific outline format for your essay.
If you feel you have gathered as many details about the subject as possible, you should create a profile essay outline. The outline should highlight what you want to write in each essay section. It should be as comprehensive as possible to make the next step easier. There is a profile essay outline example later in this post. You should use its structure to create your own outline.
5. Write the first draft of your essay
With the nice profile essay outline, the next thing you need to do is to start writing your profile essay. You can do this easily by following your outline like a map.
You see, if you did your outline correctly, it should contain sentences or instructions on how to start each paragraph in your essay and what to include in the paragraph.
When writing the first draft, follow your outline to start writing your essay and write all the paragraphs. As you are writing, remember this is a profile essay. You should try to keep the tone conversational and be as descriptive, informative, or vivid as you can. Write first and edit later.
As long as the ideas are flowing, keep on writing.
6. Edit and Proofread your Essay
After you are done writing your essay, the next thing you need to do is to proofread and edit it. We always advise taking a break to cool off from writing, develop an objective mind, and be ready to self-critique as you edit.
When proofreading, read it twice or thrice to identify and edit errors, mistakes, and weak statements or arguments. Once you have edited your essay to the level where you feel it is perfect, send it to a friend to read it one more time and catch the mistakes you might have missed.
Ask them to highlight any mistakes or errors they see. When you get your essay back, edit it one more time to eliminate the mistakes and errors identified. You can also hire a professional proofreader if you need it done first and professionally.
After you are done editing as detailed above, your profile essay should be ready for submission.
The Structure and Format of a Profile Essay
You now know exactly what to do to write a profile essay. You know all the steps you need to take to write a good profile essay. In case you did not know the structure, it is presented below with its three key parts – the introduction, the body, and the conclusion.
1. Introduction Paragraph
Like every other essay, the profile essay has an introduction. In the introduction part of the essay, you must present what you will talk about in the body part. And you must do it in a summarized manner. Two statements are very important when writing the introduction paragraph – the hook statement and the thesis statement.
The hook statement is the opening statement. It should be interesting to grab the reader's attention and make them want to read your essay. And the thesis statement should be the last statement in your introduction paragraph. It should contain your main argument or the position you support in your essay.
2. Body Paragraphs
The body part of the profile essay is usually made of three or more body paragraphs.
When writing body paragraphs in your profile essay, you should ensure each body paragraph describes or analyzes a different part or aspect of the subject of your essay.
Furthermore, you should ensure a good flow between your body paragraphs and the sentences that make them up.
The most important thing to remember when writing this part of your profile essay is to present your ideas chronologically. This will make this part of your essay easy to understand. Use sensory details to relate to your readers' senses and create a vivid picture.
3. Conclusion Paragraph
At the end of the profile essay, there is a conclusion paragraph. The purpose of this part of the essay is to wrap it up.
So, after providing a detailed description of your subject in the body paragraph, you should summarize everything and then provide a powerful closing statement. This is the most effective way to conclude a profile essay or any other type of essay for that matter.
Remember, the conclusion part is only supposed to contain your conclusion or and not any new argument, evidence, or claim.
Profile Essay Outline Example
Follow the example profile essay outline below to discover how exactly to create a profile essay outline.
Title: My best friend
I. Introduction
Hook sentence: My best friend has always stood up for me from the very first day.
Background info: What makes your friend special and unique? And my friend's biographical information.
Thesis statement: My best friend is someone I can count on even if the whole world is against me.
II. First body paragraph (Appearance and personality)
Major point: My best friend is a tall, well-built, and laidback person.
Description and evidence: Provide a comprehensive description of the major point above and use evidence such as quotes and examples.
Concluding sentence
III. Second body paragraph (Major event in your friend's life)
Major point: My best friend lost his younger brother at age 10, hugely impacting his life.
Description and evidence: Provide a comprehensive description of the major point above and use evidence such as quotes and examples.
Concluding sentence
IV. Third body paragraph (What distinguishes your best friend from others)
Major point: My best friend is loyal to the core and very dependable.
Description and evidence: Provide a comprehensive description of the major point above and use evidence such as quotes and examples.
Concluding sentence
V. Conclusion paragraph
Thesis restatement
Restatement of major points
Closing sentence
Topic ideas for a Profile Essay
When tasked with choosing a profile essay topic to write about, consider choosing an interesting topic, has a favorite subject, and something that has information in case you need to corroborate facts.
Below is a list of profile essay topic ideas. Use the list as inspiration to develop your profile essay topic.
President Obama's Profile: His early life, his senatorial career, and his presidency
Turkey and its place in Middle Eastern politics
Africa: A continent with resources but also with global poverty
Europe: A cycle of war and devastation
King Solomon and his mighty empire
Mandela: The man who changed the world
Adolf Hitler: His ideology and his beliefs
My dog is my best friend
UNHCR: A history of taking care of refugees
United Nations: Successes and challenges over the years
Why Zanzibar is a must-visit country
My favorite movie
The diet of the residents of Loma Linda
The best celebrity role model
The best summer camp for kids in the USA
The most stunning animal park in the USA
Stalin: How the Russian leader helped defeat the Nazis
Moscow: The capital of the Russian Federation
The United States: the greatest economy in the world
MV. Aurora: The conqueror of the seven seas
Adidas: A history of challenges and successes
Jane Austen: A high-achieving woman
Nike Success's Story
The best Air Jordan Stores
The real personality of Princess Diana
The US Senate and its responsibilities
Queen Elizabeth: The longest serving female head of government
The sport I love the most
Stephen King: The most elegant writer of our time
The best classic car ever
Example of a Process Essay
My favorite elementary school teacher

A few years ago, I ran into Mrs. Penny while escaping some school bullies who gave me a hard time. When I ran into her, I just burst into tears, and she did not know what to do. She just hugged me. She later escorted me to a small bench and asked me to tell her everything. I did exactly that, and she made sure the boys were suspended. I did not know it then, but she was about to play a key role in molding me into who I am today.

Mrs. Penny was a tall, big and strong woman. She always walked with authority about her. Some students said she was into powerlifting, but I don't think she was. While she had a big physique and she was very kind and motherly. Everyone loved her for this. She always treated every single student with respect and tried to listen and reason with you rather than impose her beliefs. For example, she once talked to our class and convinced everyone to stay in class for about five minutes long to finish explaining something. This is something that had never happened before, yet she achieved it.

One day while in class, Mrs. Penny caught another student in the middle of a nasty fight. Since the last time she had saved me from bullies, she had always thought I was a well-disciplined boy. So she was very disappointed when she caught me fighting as it was strictly against school rules. We were sent to detention and then came back to class later. As everybody was leaving class in the late afternoon, she asked me to stay behind and told me to sit down. She talked to me, motivated me, and told me that I could only succeed in life by being disciplined. I promised her always to be disciplined, which has helped me in life. It has helped me to become a much better person.

If other teachers found me fighting or doing something else, they probably couldn't have cared. This is because they could have simply assumed I was a bad kid. However, Mrs. Penny was not like other teachers. She was kind, empathetic, and motherly. She saw me as someone I was not and took her time to help show me the right direction in life. I believe I am now in college because of what she told me, especially about discipline being the key to success.

As you can see, Mrs. Penny played a very important role in molding me into who I am today. She helped me to become a better person and to take discipline as one of my guiding principles. It is my hope that Mrs. Penny is still alive and is still helping guide elementary students to become better versions of themselves.
Tips to Use when Writing a Profile Essay
By now, you can already see that writing profile essays can be fun; it is fun! When you select a subject of interest, you can only write the best things about them as long as you meet the scope of the rubric. Like any other comprehensive academic essay, a profile essay has three sections: the introduction, body, and conclusion. And for you to write one that appeals to your readers and markers, here are some tips and tricks that actually work:
Edit your work. After you are done writing your essay, you should thoroughly edit it to ensure it has no grammatical errors, punctuation errors, and so on. This will ensure it gets a good grade.
Show respect. When writing a profile essay about someone, you must show respect even if you hate them. You must strive to be objective and to use objective language. This will make your essay to sound more professional than an anger-ridden essay.
Try to balance your paragraphs. This may seem trivial, but it is not. You must try to balance your paragraphs to make your essay appear structured and organized. This will increase your probability of getting a good grade.
Create an outline before you start. Creating an outline before writing an essay will help you stay focused and organized.
Keep your tone professional. You should strive to keep your tone professional throughout the essay. This is especially true when you are writing about someone close to you. Keeping your tone professional will help you get a good grade on your essay.
Watch your tone and style. As you compose the paragraphs of your profile essay, you should use both formal and informal approaches. It should not be written in the second person. Rather, use first-person and think of creative ways to make your written piece fun to read. Although you are writing an academic piece that should be done professionally, you have the flexibility of flouting the academic writing rules. Describe the subject and maintain a tone that creates a vivid image of the subject.
Final Words
We are sure that by now, our professional writers at EssayManiacs, through their insights, have made composing a profile essay as simple as it should be. The knowledge we have shared in this post is enough to enable you to write the perfect profile essay or composition.
Remember to bring in your creativity, presentation, and organization skills when writing. Write preferably in the first person and have the flexibility of expanding your creativity. That said and done, you should now be able to get an excellent grade whenever you are asked to write a profile essay.
If you need help writing and polishing a profile essay, you should know that we are here for you. We have a team of English essay writing experts who can write a profile essay on virtually any topic. Order your essay from us to get a high grade on your essay assignment.