A consistent structure is a big thing when writing an academic essay or paper. The framework for writing an academic paper encompasses using headings and subheadings to divide the content into manageable chunks or sections.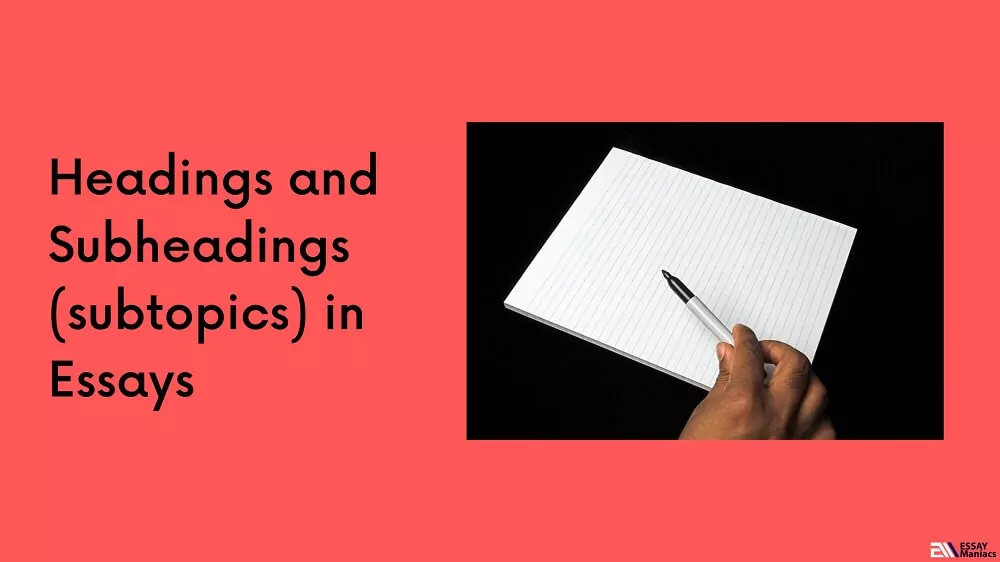 When writing longer essays and research papers (10 pages and above), breaking the test into different but related sections might be helpful to avoid unnecessary strained transition sentences.
The headings are the first thing the readers look at when reading the essay. They are akin to the headlines in a magazine or webpage. Subheadings are the additional subtopics or headings immediately after the main title or header. Headings are meant to grab the readers' attention, but the subheadings make them draw the readers deeper into the topic.
A subheading is a mini-headline given to a section or paragraph within the main text. They are often smaller than the main heading but larger than the paragraph text.
While headings can be used in most academic papers of different lengths (even those less than ten pages), subheadings are reserved for shorter sections within a larger section. If you have a paper with just three main points and the first point has three subpoints, you can use subheadings to organize the subpoints under the main point.
When used in an essay, research paper, or other longer papers, the headings and subheadings should be formatted such that they are distinguishable from the contents of your text.
Let's dig deeper and see how to make headings and subheadings in an essay.
Why Use Headings and Subheadings in Essays and Research Papers
Headings and subheadings capture the readers' attention, making it easier to sell your ideas to those who skim through written pieces first to determine whether it is worth their time.
Using headings and subheadings helps organize your thoughts. They enable readers to focus on the critical aspects of the essay or research paper. In an essay or research paper, each subheading is considered a mini-essay with thoughts limited to a specific element or perspective of the topic.
Using headings and subheadings informs your readers about where they are in the paper. Also, these subheadings act as signposts or directions that orient the readers to your thoughts in the paper.
The subheadings ensure that your thoughts are structured and that you remain focused on the topic within a limited area. For instance, if you are writing a mental health essay or research paper, you can have a subheading dealing with risk factors and another dealing with the impacts of stigma on mental health.
Subheadings also make the research process easier because you can organize your research around them. This way, you can approach your research systematically and limit its scope. You can then scrutinize and organize the scholarly resources rather than focus on the entire research pile.
Having subheadings in essays or research papers makes writing the paper easier. You can plan, draft, and polish each essay section independently. Doing so helps you to write the paper with ease. Consequently, you can fight off writer's block by putting points of argument under each subheading and organizing it later when you are psyched up to write.
Features of a Good Subheading for an Essay or Research Paper
In research writing, it is imperative to have a refined heading and subheading. We discussed how to do this when we wrote about titling an essay and other academic papers. However, certain features make a subheading or a heading stand out. A good subheading can be many things, but let's sample some of the outstanding features it must have. Here are some aspects that make an excellent subheading and heading:
A good subheading is brief, concise, and focused. Shorter headings and subheadings give meaning and enhance the readability of a research paper or essay.
It must have a line space between it and the content.
It contains the keywords that relate to the thesis and topic, telling the reader precisely the main idea of the section's content.
Its wording matches the rest of the subheadings and headings
Can create a flow that summarizes the work independently at a glance
Is ten words or less and refined to have meaning on its own
It stands out from the rest of the text in terms of styling and formatting
It engages the readers such that it gives clues about what to expect
Uses signposting words to realign the interests of the readers
Are they relevant to the text
It uses parallel structures for consistency
How to Make Subheadings in An Essay or Paper
If you are like many students who wonder about how to integrate subheadings into an essay, this section clarifies everything. First, however, there are some crucial tips that you need to consider.
Remember, a subheading expands your heading and comes after the latter. While both hook the audience by grabbing their attention, the subheading enables your readers to delve deeper into the topic. Subheadings are used to divide an otherwise large chunk of paper into sections or chapters.
Subheadings are primarily written in sentence cases and should never be in capital letters. Therefore, you should capitalize the first letter of the subheading of your essay. This is unlike the heading in the title case, meaning that all the major words (nouns, adverbs, pronouns, and adjectives) and words with four or more letters have their first words capitalized. Subheadings subordinate the higher levels. To make a good subheading, here are the tips.
1. Choose the correct length
A good essay subheading should be easy to read. Precisely, it should take a few seconds to read. Our experts recommend keeping the subheading between 4 to 10 words, the standard length of subheadings in academic writing. Ensure as well that it fits a single line. If your subheading runs over, it will be ambiguous and might alter the structure of your essay or paper.
2. Limit the information
You only have a few words to impress your readers. Therefore, only bring in the most crucial information you want to use to bait your readers. Avoid examining every aspect and focus on one aspect of the topic. As long as you have aroused the reader's curiosity to explore your essay, that's it!
3. Maintain Consistency
When you use headings and subheadings in an essay or academic paper, ensure that each maintains the same level. You should not skip subheading levels. And if the first subheading is the only subheading, you are better off eliminating it and maintaining the heading. An excellent strategy to maintain this consistency is planning your essay, which you can do by creating an outline.
4. Number appropriately. It is a must
APA or MLA format does not allow you to label headings and subheadings with numbers or letters. However, there are some instances, such as when writing a dissertation or thesis, where you will most likely be required to use multilevel numbering for the headings and subheadings. Therefore, when you number the headings and subheadings, ensure that it is in a consistent format that you can later use when referring to them elsewhere, for instance, in a table of contents. Microsoft Word automates the process of numbering by choosing the heading styles.
5. Be persuasive
A good subheading should coax the readers to read the text. It should give them an appetite to devour your paper. And it should be persuasive because it does the work of signposting the ideas to expect in a subsection.
6. Ensure Progression
When writing the subheadings, ensure they each add new information to your text to avoid repetitive subheadings. It would be wise to ensure that each subheading addresses a unique aspect of the topic instead of echoing the previous subheadings discussed. As you edit your paper, guarantee that the subheadings progress and add new and relevant information to engage the readers.
7. Stay away from puns, contractions, and idioms
Although tempting, avoid using corny words, jokes, and puns in your subheadings. You should not use contractions as well. Introducing these aspects can make your subheadings and headings ambiguous, deterring the readers from reading the content.
8. Ensure they are relevant and engaging
As you write the subheadings, ensure that they are relevant to the content of your essay. Eliminate any irrelevant subheadings in your essay. Think about the vital information you must include and how you need to format it into a separate section. The strategy helps write subheadings that address your essay's real issues. The subheadings should also give the readers a clue of what to expect to grab their attention further.
9. Include Keywords and Phrases
When writing the subheadings, you should include relevant keywords and phrases that attract the readers' attention. In addition, the keywords and phrases should be related to your topic and thesis statement.
10. Format them well
If you are writing an academic paper (research paper or essay), ensure that your subheadings and headings are formatted per the citation and formatting styles. Later in this article, we look at how to format subheadings and headings in MLA and APA, which are the most common styles. You can also acquaint yourself with other academic writing styles such as Chicago, Vancouver, Oxford, Bluebook, or Harvard.
If you intend to write an A essay, consider reading our guide on writing first-class essays to integrate other factors that professors look for when assigning higher grades for essays.
Related Read:
Headings and Subheadings in APA
In APA formatting and citation style, headings are used in essays and research papers to separate and classify paper sections. The headings are meant to guide the readers through the document. Headings and subheadings are organized in subordination levels, with each section of the paper starting with the highest heading level.
You can organize headings into five different levels in APA. However, it would help if you used the headings in order beginning from level 1, regardless of the number of heading levels.
Below is how to organize the levels:
Heading 1 is bold, centered, and written in the title case. This can include the main elements of the paper, such as Literature Review, methods, conclusion, discussion, recommendations, etc.
Heading 2 is flush left, in boldface, and written in title case. These are the headings directly under heading 1. So, for example, under methods (level 1), you can have subsections such as sampling strategy, data analysis, or data processing as level 2.
Heading 3 is flush left, in boldface italics, and title case.
Heading 4 is indented, in boldface, and written in title case.
Heading 5 is indented, in boldface italics, and title case.
You can use at least two subheadings in APA or non at all. If there is just one subheading, the top-level heading is enough, so do away with it.
When writing a paper in APA, the first paragraph is automatically understood as the introduction. Therefore, there is no need to start with the heading "introduction." The paper's title, which is centered and bolded, becomes the de facto level 1 heading. If your introduction has subsections, you can use headings within the introduction beginning with level 2 headings for the first level subsection, level 3 for the subsections of level 2 headings, and so on. After writing the introduction, use the level 1 heading for the following main section of the paper. Headings should be descriptive and concise. They should be well-formatted and clearly worded for visual and content appeal.
Formatting Headings and Subheadings in APA
When writing headings and subheadings in APA, here are a few things to keep in mind:
The headings in APA are never labeled with numbers or letters
You should not use more than one subsection within a section
Ensure that the APA headings and subheadings are descriptive and concise
Use as many headings and subheadings as you may require
Headings 3-5 should all be indented and terminated with a period.
Headings levels 1 and 2 should be formatted in sentence cases.
Ensure that the first word in the heading level 3-5 is capitalized.
Begin a paragraph below levels 1 and 2. However, levels 2-5 begin in line with the headings.
There should be double line spacing for the APA heading.
MLA headings and subheadings enhance a paper's coherence, soundness, and quality. Using the hierarchy of 5 heading levels in APA should be easier now that we have explained everything.
Headings and Subheadings in MLA
MLA headings are sometimes confused with the header. While the MLA heading is found on the first page and serves the purpose of identifying information, the header is the identifier located on top of every document page.
Using section headings in MLA help improve the readability of the document. Students are mainly not required to use headings when writing essays and papers.
Formatting Headings and Subheadings in MLA
The font should be readable, most preferably Times New Roman or Arial
Use double-line spacing
Every new paragraph after the headings or subheadings should have a half an inch indent.
All the headings and subheadings must be written in the title case
You should not include a period after the MLA headings and subheadings
The title is the main heading. It should be center-aligned and written in sentence case. It should never be italicized, bold, underlined, or put into quotation marks unless when referring to works within it.
All headings that succeed the title of the document are subheadings.
The subheadings have five different levels, just like in APA formatting.
The subheadings are styled as per their order of prominence.
Unlike APA, MLA allows the use of font styling to differentiate the levels of the subheadings. However, the styling of the subheadings should be consistent so that the readers can follow the structure of the essay or paper.
Every subheading should appear in the same size, format, and style for easier identification as one reads your text. The subheadings in MLA papers or essays should flush to the left margin to avoid confusing them with block quotes. Avoid online one level for the internal levels. For instance, if you have a level between 1 and 5, you should ensure that there is more than one instance. If you have one level 2 subheading, ensure that you also have a second level 2 subheading. Above all, every heading and subheading must have content or text beneath them. The content should support the thesis statement of your paper.
Related reading:
Levels of subheadings in MLA formatting
Level 1 is bold, flush, or aligned with the left margin
Level 2 is italicized, flush, or aligned with the left margin
Level 3 is bold and center-aligned
Level 4 is italicized and center-aligned
Level 5 is underlined, flush, or aligned with the left margin
Ensure you use the correct subheading level to help you navigate through your essay or paper. It also helps to know what to be added to the automatic table of contents. Use the subheadings as illustrated below:
Subheading 1 for the first subsection after the chapter title
Subheading 2 for the subsections that are directly under Subheading 1
Subheading 3 for the subsections that are directly under Subheading 2
Subheading 4 for the subsections that are directly under Subheading 3
Subheading 5 for the subsections that are directly under Subheading 4
Take some time and watch this video by Dr. Andy Jonson illustrates how to use headings and subheadings in academic writing.
FAQs
Below are some sample questions, expert answers, and recommendations for essay subheadings and headings.
Should essays have subheadings?
Although shorter essays are written in continuous, flowing, and paragraphed texts and do not need subheadings, longer essays are carefully structured using headings and subheadings.
An essay or research paper can have headings and subheadings (subtopics) if it is long enough to accommodate different sections. Nevertheless, when writing the headings and subheadings, they should be relevant and consistent with the topic and contribute to the overarching goal of the essay or research paper (the thesis statement). A good length for a heading or subheading should be ten words or less. While standard essays do not use subheadings, they assuredly improve the structure of extended essays.
Subheadings subordinate the headings (the title of the essay). They should be persuasive, descriptive, and conversational. They should elaborate on what is in the headline and capture the importance of the topic. Maintain consistency when writing them.
Can introductions have subheadings?
For short papers, no. However, you can include sub-sections for longer papers with appropriate headings and subheadings. For instance, when writing a proposal, dissertation, or thesis, you can have sections and subsections for the problem statement, background information, research questions, hypothesis, aims/objectives, and paper overview.
Can a conclusion have a subheading?
You should not include subheadings in the concluding paragraphs of an essay unless for more extended research papers.
Can subheadings in essays be questions?
No, section headings and subheadings must not be phrased as questions in MLA, APA, or Harvard formatting styles.