A typical academic essay is serious writing. It is serious because it is often well-researched and written formally. The typical informal essay is the exact opposite of this.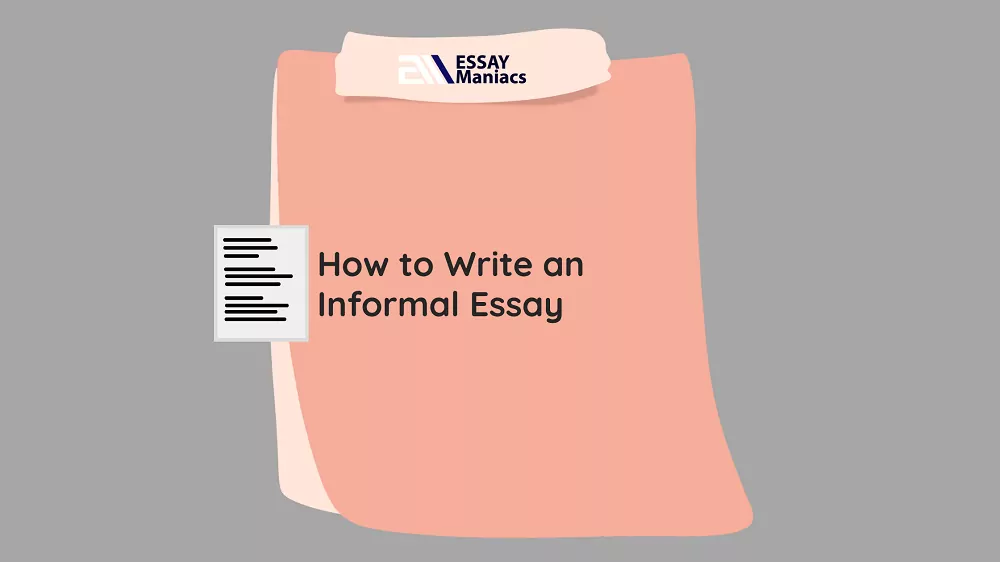 It is often not researched at all and is written in a casual tone. Furthermore, it is commonly written for enjoyment rather than serious discourse. And for that reason, it is a non-fiction essay that does not follow the writing conventions and is purely based on the author's reasons, reflections, and ideas.
In this guide, you will discover everything crucial you need to know to write a brilliant informal essay.
What is an informal essay?
An informal essay is an essay that is written for enjoyment rather than to argue or support a thesis with scholarly evidence. The essay is usually personal in nature and based on memory. A good example of an informal essay is – The happiest day of my life.
To write this essay, you simply need to recall the happiest day of your life and then write about it chronologically. As you can see, you don't have to do much research to write an informal essay.
The fact that an informal essay is written for enjoyment does not mean that it does not have a set structure. The typical informal essay is a five-paragraph essay with three key parts – introduction, body, and conclusion. In terms of word count, the essay is often between 700 and 1,000 words long. The only thing informal about it is the fact that it does not need serious research. Moreover, unlike most essays, the informal can be written in a casual or conversational tone. This means that it can be written in the first and second person.
In most cases, informal essays are written for consumption by the author – to show their creativity, journal an experience, or release emotions through writing pieces.
Structure of an Informal Essay
Like most college students, you are probably used to following the five-paragraph essay structure that most professors recommend for formal essays. While using this structure to write your informal essay is okay, it is not necessary. The rationale for this is that the informal essay is informal and doesn't follow any rigid structure.
Informal essays involve subjective opinions or ideas through prose. Some common examples of informal essays include impromptu speeches, diary entries, journals, social media posts, personal essays, and personal notes.
While the informal essay does not have a rigid structure or format, it must include four elements – topic, introduction, body, and conclusion.
1. Title
The informal essay must have a title. It might be informal and without a structure, but it must have a title, and the title must be specific. By giving your informal essay a title, you are basically creating a compass that you can always refer to when writing your essay to ensure you are in the right direction. If, for example, you want to argue a point but are unsure whether it deserves to be in your essay, you can refer to your title to evaluate its importance. If the point helps to contribute to your title, you should include it in your essay. If it doesn't, you should quickly ignore it.
2. Introduction
The informal essay must have an introduction. In other words, it must simply have a paragraph presenting what you will discuss in the body section. When writing the introduction of an informal essay, there is no specific formula to follow. The only thing that you must do is to make the introduction as interesting as possible. You can do this using a relevant quote, an interesting fact, or a related statistic.
3. Body
In the body of your informal essay, you must go all out to tell the story you set out to tell in the introduction. You must do the title justice; you must make sure that anyone who reads your essay will agree that what you discuss or talk about in the body section is exactly what they expected. While there is no specific structure to follow when writing the body paragraphs of your informal essay, the best way to write them is chronological. This is because chronologically written paragraphs are easy to follow.
4. Conclusion
After writing your essay, you must write the conclusion part of your essay. The conclusion is usually the easiest part to write when writing an essay. This is because all you need to do is to summarize what you have written in the body section or body paragraphs. After doing this, you simply need to end your essay with a powerful closing sentence to complete it.
The Steps to Take to Write an Informal Essay
An informal essay is written in a conversational tone, which is laid-back, entails breaking academic writing rules, and sounds like everyday communication. You can use informal transition words, short sentences, contractions, common and cliché words, adages, expressions, and personal examples.
Here are the steps to take if assigned to write an informal essay.
1. Choose a topic
When you are asked to write an informal essay, you are normally allowed to choose your own topic. If this is the case, you should choose a topic that is very interesting to you. Because by doing so, the fact that the topic is interesting to you will result in you naturally writing an interesting essay. And interesting is what you want your informal essay to be to get a top grade.
Below the informal essay sample that follows this guide is a list of exciting informal essay topics. This list should inspire you to develop your own exciting informal essay topic; a topic that will make your essay interesting.
2. Create an outline for your informal essay
After choosing an interesting or exciting topic, you should create an outline for your informal essay. An essay outline is an essay writing plan. It highlights what you will include in the introduction section, the body section, and the conclusion section of your essay. To create an outline, provide a short summary of what you will include in your introduction paragraph, your three body paragraphs, and your conclusion paragraph.
But how do you know what you will include in your informal essay paragraphs? Well, it depends. If you are writing an informal essay based on a personal experience topic, you must recall as many details as possible about the experience to plan your essay. If you are writing an informal essay based on an academic topic, you will need thorough research to find as many details as possible about the topic to plan your essay.
3. Write the first draft of your essay
After creating a comprehensive outline for your informal essay, you should write the first draft of your essay. Do this by first writing your essay introduction. After writing your essay introduction, you should write its body paragraphs and the conclusion.
Writing the first draft of your informal essay after creating an outline for it should be a relatively straightforward job. You need to follow the outline like a map and use information from it to begin and structure your paragraphs.
The body paragraphs of an informal essay should each express your main message, perspective, or point of view. You can use persuasive writing skills to convince your readers. It would help to think of the topic as a forum thread where you defend your personal views against opposing opinions. Therefore, you must develop resilient supportive facts to defend your stance.
When developing the body paragraphs, you are allowed to use informal language. You should write short, clear, concise sentences, as long formulations are boring and misleading. You should center your discussions around some emotional vibe, express your personality, and write with vigor and respect.
Following your outline will make your informal essay well-organized and structured. However, it won't guarantee flow in your essay. You will have to create a flow with your writing and transition words. Also, it won't automatically give your essay a conversational and laid-back tone. You have to do this on your own using conversational words and writing.
Related Articles:
4. Edit your essay
After writing the first draft of your essay, you should edit it thoroughly. Do this by reading it to eliminate ambiguous and unclear words and statements. After reading it to eliminate unclear words, you should read it to remove all types of grammatical and punctuation errors.
The next thing you need to do with regard to editing your essay is to review it one more time using Grammarly.com or similar software. This will help you to catch the errors you may have missed and to correct them.
After proofreading your essay using Grammarly.com, it will be ready for submission.
Informal Essay Example
Title: Benefits of living in a remote location

They say no man is an island. While living in a community surrounded by friends and neighbors is a good thing with many benefits, living alone in a remote location also has its benefits. I have been living alone in a remote Pacific island for the last eight months, and the experience has been bliss. The island has a single cabin research station with basic amenities and a satellite connection. The nearest settled island is over 500 kilometers away. I had doubts when I first stepped on the island. I thought I wouldn't last long. However, this has obviously not been the case. My stay on this island has been quite amazing. I have enjoyed many benefits, including improved mental health, improved safety, and a low cost of living.

When I was living in Sydney, Australia, I was in a bad place mentally because I felt a lot of pressure to succeed. I also felt depressed and was frequently on depression medication. Living in a remote location has changed all this. I no longer feel any pressure. I no longer feel depressed or miserable. Just about every day is a good day nowadays. I wake up, check equipment, spend hours on the beach, and eat fresh food I grow in the station's garden. I feel amazing mentally. I feel like a new person because life is so slow-paced on this island and devoid of the pressures of city life.

Regarding safety, I believe living alone on a remote island is much safer than living in a big town or city. I feel safer on this island because there is literally no one around to cause me harm. I do not have to look over my shoulder when walking, sleeping, or doing anything on this isolated island. I also have no reason to watch the news, so I am not exposed to the constant reports of insecurity that city dwellers are exposed to. Not being exposed to constant reports of insecurity makes me feel even safer. Furthermore, in case of any emergency, there is an emergency number I can call at any time of the day to request urgent help.

Lastly, regarding the cost of living, living isolated on a remote island is much cheaper than city or town living. I literally do not pay any rent on this island. I also grow much of my own food, and supplies are brought to me biweekly. Furthermore, I do not pay taxes and am not exposed to constant adverts that force city dwellers to make impulse purchases. And even if I want to purchase something, I wouldn't because it probably wouldn't have much use on a remote, isolated island.

In conclusion, living in a remote location is very beneficial. If you choose to do this, you will be happier, safer, and less stressed financially. I can only equate it to living in paradise.
Informal Essay Topics
Below are some informal essay topics you can use as inspiration to come up with your own informal essay topic if asked to choose your own topic by your professor.
The best meals in our college cafeteria
Celebrities who are excellent role models
My religion and why I love it
My thoughts on marriage and divorce
The best day in my college life
The most embarrassing incident in my life
How parents can understand their children better
Why my mother is the most important person to me
The most famous African American inventors
Entrepreneurs who changed the world
Alcoholism among teenagers
Why home education is bad
Elon Musk and life on Mars
The Illuminati and other conspiracy theories
Legal migration and its benefits
Mental health in the USA
Communism and its benefits
The United Nations and its failures
Gender violence in California
Freedom of speech around the world
The effects of sanctions on Cuba
Education during the peak of the pandemic
East African culture
Why the death penalty should be abolished everywhere
Abortion and the right to life
What would I do if I became a millionaire overnight?
Why soccer is the most popular sport in the world
The pros and cons of video gaming
The Second Amendment and its protections
Why I would like to become a doctor
Why I love intermittent fasting
How I won a half marathon when undergoing chemotherapy
Lessons from my close friend who betrayed me
How I plan to win the next marathon
The car I love most
My dream job
Places I would like to visit
Why I love my step-dad
The last day at my first job
Dos and don'ts when writing an informal essay
Dos
Do write your essay in the first person. This will make it clearly informal and casual. It will also make it read much better.
Do write short sentences. Long sentences will make your essay difficult to read. In contrast, short sentences will make your writing easier to read and more casual (which is something you want when writing an informal essay).
Do rewrite your essay. After writing your informal essay, you should read through it to make it flawless. Do this by editing or rewriting anything that appears out of place in your essay.
Do proofread your essay. After you are done improving the flow of your essay, you should read it one more time to ensure it has zero grammar, punctuation, and formatting errors.
Do ensure your essay is chronological. While it is unnecessary to make your informal essay chronological, making it chronological will make it easy to read and understand.
Do use humor. It is okay to use humor in an informal essay. But you should only do it sparingly to avoid making your essay sound like a comedy script.
Do use conversational language. Using conversational language will make your article to read like a blog, which is a good thing when writing an informal essay. But do not go overboard with conversational language. It could make your essay difficult to understand.
Do read any informal essay examples. Before you write your informal essay, you should try to find and read informal essay examples online. This will help to make it easy for you to write your essay because it shows you the pattern you need to follow.
Do let your personality show. If you have a way of expressing your ideas, arguments, and so on, you should let your personality show in your writing. Let your writing be as unique as it can be. Do not try to make your essay look or even feel academic. Just write it as you would write a blog to be read by a friend. This will help make your essay delightfully informal.
Don'ts
Don't forget to ensure a good flow throughout. While an informal essay doesn't have a set structure, it must have a good flow. Therefore, you should ensure your essay is understandable throughout.
Don't forget to edit your essay. The best informal essays are flawless ones. So after writing your essay, you should read it severally to edit it and ensure it is flawless.
Don't make it formal. When writing informal essays, many students usually use the conventional academic language they use in formal essays. This is not right. You should try hard to make your essay as flawless as possible.
Don't forget to include a thesis. At the end of your introduction, you should have a thesis statement, and your entire essay should be centered on this statement. A thesis is what distinguishes an informal essay from a blog article.
Don't include weak arguments. It is important to ensure that your essay only contains strong arguments. Doing this will ensure you get a top grade. If you include weak arguments, you risk getting an average grade.
Parting Words!
Writing a good informal essay is not an easy job. It will require you to know the structure and style you must follow when writing an informal essay. Fortunately, you now know these two things. You also know exactly how to go about writing an informal essay. So go ahead and write yours. If you get stuck at any point, hire us to help you.
Also Read:
You can hire professional writers to write excellent informal essays for you. Therefore, you should never hesitate to hire the best creative/composition writers to help you complete your informal essay assignment or to write it from scratch. Try our essay writing services today; you will not regret it.
Through the years, even during the hype of AI essay writers, EssayManiacs has stood the test of time. We offer human-centered assignment help, meaning our writers write all the papers from scratch. You can also access the writers and coordinate the paper writing process for the best outcomes.