Whether you are in high school, college, or pursuing professional or graduate studies, you will encounter a reflection paper. It is a common type of paper written by college students. Being a dynamic paper, almost every subject or course that you choose will, at some point, require that you give your personal opinion about certain aspects. In this comprehensive guide, we explain how to write a reflection paper, different reflection strategies to adopt, and offer you examples as well as valuable tips and tricks to help you write your paper like a pro.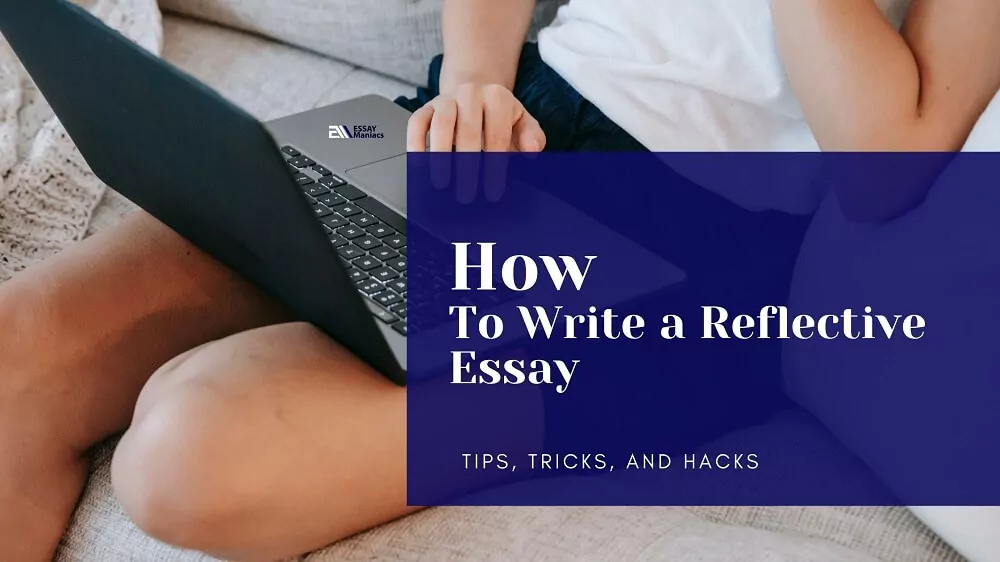 Reflection is a common practice in professions like nursing, healthcare, counseling, psychology, mental health (psychiatry), theology, and almost every other discipline around us. When writing a reflection paper, you should maintain an academic tone while being subjective and personal. Sounds paradoxical, right?
Well, it is a piece of assignment or task where you are required to analyze and reflect on your experience, academic task/course, journal article, lecture, placement, and any other event that has shaped your perspective, thoughts, ideology, and perception on a given topic/issue.
What is a Reflection Paper?
A reflection paper is a piece of task/assignment where students/professionals add their thoughts and analysis to what they have experienced or read. It is a paper that is meant to illustrate the understanding of the author of the material and how the understanding affects the perceptions, perspectives, beliefs, and thoughts as well as possible practice/actions in the future.
Writing a reflective paper entails giving an opinion on a topic and supporting it with observations, personal examples, and sometimes literature (references).
A reflection paper is not a mere summary or a stream of a conscious dump on your paper. Instead, it is an opportunity to write your point of view. Luckily, unlike other assignments, there are never right or wrong answers when writing a reflective paper.
After all, it is your personal opinion over a matter or an experience, and you have to express your ideas, thoughts, and perceptions comprehensibly and subjectively so that your readers/audience gets the flow off the bat.
There are many topic ideas for reflective papers. However, you should read the assignment prompt. Some of the prompts could sound like: reflect on The Human Behavior Experiments or The Corporation in relation to the course content from your perspective.
If you are preparing for the ACT, check out our article on the best ACT tips and tricks.
Common Types of Reflective Papers
There are different types of reflection papers. Let's explore the five most common types of reflection papers.
Reading Reflection Papers : A reading reflection paper is written after reading any piece of writing: journal article, novel, book, short story, poem, rhetorical speech, news article, or any piece of literature. It is meant to explore a thoughtful and balanced assessment of the readings. The general purpose of these reflection papers is to elicit your informed opinion, perceptions, and thoughts about the ideas or concepts presented in the text in question and how you interpret or how they affect your
Experiential reflection Papers : experiential reflection papers are most common in professional programs such as social work, counseling, forensics, criminology, criminal justice, law, business, management, leadership, psychology/psychiatry, education, geography, and many other disciplines. In these reflection papers, students are expected to connect theory and practice. For instance, students can be asked to reflect on their experience during a hospital or agency placement. In this case, the student has to evaluate the experience based on ideas from class. When writing such a paper, you have to refer to theory or concepts from class. Also, be sure to state the skills and knowledge acquired in the professional field. Consider your actions, thoughts, successes, ah-ha moments, and failures or setbacks within a specific format. As we discuss later in this article, you can opt to align with one of the reflection strategies.
Educational reflective paper : This can either be a reading analysis or experiential reflection paper where you give feedback on a book, movie, seminar attended.
Professional Reflection Paper is the type of reflective piece written by professionals such as psychologists, mental health experts, surgeons, doctors, nurses, social workers, etc.
Personal Reflection : in this type of paper, you can give your thoughts, perceptions, and feelings concerning a topic of personal interest. You could reflect on a failure/challenge that occurred in your life. You can also write a reflection paper on an interview.
Different Reflection Models to use in a Reflection Paper
Depending on the context in which you are writing or the type of reflection paper you are writing, there are different models of reflections that you can use.
GIBBS reflective style
Kolb reflective cycle
Schon model
Driscoll model
Atkins and Murphy Model
John's Model for structured reflection
The best Reflection Paper Format
Unlike other academic and professional papers, reflection papers do not follow a given format. Instead, instructors leave the best format choice at your discretion because it is more of an opinion paper.
Nevertheless, as you write your perceptions, ideas, and thoughts, you must adhere to some basic academic writing formats. This means that the reflection paper prompt will highlight the specific format to use.
You can limit your word count to 400-1200 words when writing college reflection papers or reflective essays. Besides, you can format the paper in APA, MLA, or Chicago/Turabian styles.
As you do so, ensure that your paper is:
Double or single-spaced lines
5 x 11 paper dimension
Times New Roman 12-points size or other readable fonts
Every paragraph is 0.5 indented and left-aligned
1 margin top, bottom, and sides
You can always contact the professor if you have any doubts about the specific format to write your reflection paper.
Outline of a Reflection Paper
In our experience and as per different examples and guides, we have discovered that reflection papers follow the five-paragraph essay format. A reflection paper has an introduction, three well-balanced body paragraphs, and a conclusion in simple terms.
Having an outline allows you to establish the basic sections of your paper. It also determines the specific details that you will explore in the sections. Furthermore, an outline helps discard the superfluous information to make a paper coherent, succinct, and high-quality.
Introduction
As with other academic and professional papers, a reflective paper begins with a sound introduction. Your introduction bears your attention-grabber, background, and thesis statement.
The introduction paragraph informs your reader what you are reflecting upon. It also bears the general stance/position, opinion, and perception on a given subject.
Here is how to make it count:
Elucidate the issue or facts of reflection (what are you reflecting about?): a book, lecture, experience, internship, noveletc.
Summarize the entire work, briefly
Write an outstanding thesis statement on how the subject has affected your thoughts, behavior, and actions.

A sample thesis statement could be : After watching the movie, I can contextualize the problem of systematic racism and how it has spillover effects on the health, spiritual, mental, and social wellbeing of the American society.
You can then build on the transition paragraphs.
Body Paragraphs
Crafting a sound set of body paragraphs can be challenging. However, here are some tips to make it count:
Adopt a given reflective model and be chronological
Ensure that each paragraph bears a single idea
Cite sources from where you draw ideas
Have some aspect of critique in your body paragraphs, challenge the conventional assumptions or make stern statements where necessary
If you are writing about academic articles or books, ensure that you include quotes, phrases, and passages from the books.
Always ensure that your reader flows between the body paragraphs
Give the readers a point of reference so that they understand your voice
Use spatial order where necessary
Conclusion
Your conclusion wraps up the essay. It should summarize what you have learned from the entire experience. When writing the conclusion:
Restate your thesis statement
Give a vivid description of the feeling or lessons you have gathered from writing the reflection.
Tie the ideas from the body paragraphs together
Generalize the insights you have gathered
Make sure you don't introduce new ideas
Now that we have a format/outline for a reflective paper, we need to dive deep into the step-by-step guide to writing a reflection paper.
How to Write a Reflection Paper from A-Z
Here are the four major steps required to write an outstanding reflective paper.
1. Decide on the main theme/idea
With the topic, you must decide what to base the entire paper on. It is usually a summary of the entire experience within the context of a topic. You have to let your readers know your thoughts, perceptions, and feelings about a topic. When writing the theme, be honest and concise. When you introduce your perspective and opinion early enough, the readers resonate with the entire reflection. Here is a sample of the theme statement:
After reading the three articles on the impacts of covid 19 on incivility among first-line healthcare workers, I now understand how to address incivility in healthcare settings, especially during emergencies and disasters.
2. Write down various ideas and experiences relating to the central topic/theme
The second step after determining your theme is to brainstorm the ideas and experiences you have had. You can also relate them to your topic or concepts from class.
You can write down your quotes, statements, predispositions, influencing factors, and unique ideas. Again, explain them from a personal perspective.
Here are some examples:
I now understand how traffic accidents claim lives
I was taking life easy until I read how many people are employed but homeless.
TV affects how we think, act, or react. I can now relate my actions to specific TV programs
My research ideas were developed from my experience on the same issues
Evidence from epidemiological studies shows that equine therapy is therapeutic for PTSD
3. Analyze the relevance of the experiences and ideas to the context you are reflecting
After listing your main ideas, it is time to analyze them further. Here is where you now agree or disagree. Refer to and cite relevant literature/scholarly sources as you do so.
Ensure you delve into how the ideas and experiences affect your thoughts/perceptions. Here is an example:
Sample Idea: growing up, I thought that fat people overeat.
Sample Analysis: As I read through different obesity, diabetes, and related literature, it emerged that obesity is a consequence of many factors, among them being genetics. Most people think that overeating carbohydrates cause weight gain. I usually avoid overeating. However, I now eat everything in moderation and exercise.
4. Connect the observations, experiences, and opinions
When writing, make sure to connect your ideas and insights to paint a clear picture of the theme you earlier declared. Break down the teachings, learning, and how they have influenced your actions, perceptions, and assumptions and their effect on your future.
If you are writing about specific contexts; you can do as we advise here:
Interviews: introduce the person you interviewed (the interviewee), briefly explain the interview's gist, explore the main points or ideas, controversies, and conclude by giving your personal opinion. This applies best when writing an interview with a healthcare professional, teacher, politician, priest, veteran, or elderly person.
Project: it could be a capstone project, company project, coursework, dissertation, or thesis. In this case, ensure that the structure of your reflection paper follows the highlights of the prompt. Explore the successes and challenges experienced. Also, explore the lessons learned from the project and how it has enriched you with skills.
Book/Article: write about the author (s) and summarize the main ideas. Ensure that the characters, main themes, and any factors in the book feature in your reflection. Express how you feel and think about the book or article.
Lecture: reveal how the aspects of the lecture stood out. Begin with the course description. Describe the lecturer who delivered the lecture and write about how it flowed, any challenges experienced, any new ideas gained, and critique the lecture using evidence from the literature.
11 Useful Tips and Tricks to Make a Reflection Paper Interesting
Even though each of us has our preferred style and approach to writing a reflective essay or paper, there are a few areas that one needs to look into to ensure that it is the best.
Reading examples of similar papers online would be best as you begin writing your paper. Reading such papers helps you understand the writing process. They can also shape your approach.
Pick a subject that you are so sure you can write about. Preferably, you can select the most memorable and unusual topics.
1. After deciding, write an outline
Fleshing out any paper or written assignment makes the entire writing process easier. With a good reflection paper outline, you are a quarter way done with your paper. Determine what goes into the introduction, body, and concluding paragraphs.
2. Be Clear, Concise, and Coherent
Ensure that your paper meets the 3Cs (coherent, concise, and clear). To do this, use a strong thesis statement and a powerful hook in your introduction. Ensure each body paragraph has a single idea well transitioned to the next one. Balance the word count of your paragraphs depending on the word count in the prompt.
3. Avoid superfluous content
Do not write to fill pages. Even though you give personal accounts or opinions, ensure they are relevant to the theme. Ask yourself what? So what? What now?
4. Select and maintain a good tone
When writing, use an academic and professional tone. Even though you are taking a subjective stance, ensure you sound professional. A scholarly reflection often entails some critique based on well-founded subjects.
5. Cite all your sources
As it is a scholarly or academic paper, you need to find the connection between your experiences, facts, and concepts from the scholarly literature. Use authoritative sources and expert recommendations to back up your personal opinions. While doing so, ensure you have proper in-text citations and a bibliography at the end of the paper.
6. Write a compelling title
Write an attractive, clear, and concise title for your essay. Let the essay be so informative yet short that it automatically invites your readers. Tie the title to the main stance or ideas in the essay.
7. Proofread your paper thoroughly
After writing your essay, review it twice or thrice to ensure everything falls to its place. As you proofread, focus on grammatical errors, spelling mistakes, contextual errors, syntax errors, and misplaced words. Also, check the organization and flow of the paper. Ensure that the essay meets the rubric's criteria for high marks.
8. Do not fear starting over
If you notice that you made a mistake in the essay, do not fear to start over again. Starting over again will help you master writing an excellent reflection paper. When you are starting over, maintain relevance right from the start. If you are unsure, you can order a model reflective paper to help you see how you can write yours professionally.
9. Remember to dot your Is and Js
Ensure that all the parts of the reflective paper are perfectly done. Have a grammar, spelling, word choice, content, context, paragraphing, transition, and conclusion checklist. In simple terms, ensure that every detail of the essay meets the rubric or prompt criteria.
Finally, avoid doing it all at once to write an excellent reflection paper. Space out some time slots to work on your essay to allow you to generate ideas and reflections.
10. Use first-person pronouns
You can use first-person singular I in a reflection essay as you relate the concepts in your reflection to experiences or readings. Do not shy away from the freedom of ultimately writing your thoughts and opinions.
Related Reading: Using first-person perspective in essays.
11. Use restorative questions during idea generation
Using restorative questions can help you generate feelings and thoughts about your experience and what you learned when developing ideas.
How to begin a reflection paper
To start writing a reflection paper, you should begin by reading the assignment prompt. The prompt will specify the specific scenarios, readings, or experiences as well as reflective paper topics.
After reading the prompt, it is also significant to read the articles, watch them play, film, or movie, and read the poems or novels while taking notes. The essence is to highlight the main themes, issues, and ideas that will later form the foundation for your reflection.
Start your reflection paper with a memorable hook, then summarize the central concept from your notes. If there are facts such as statistics, quotes, or important details, they can feature as a hook and in the background. You can write the introduction last or first but ensure you have an outline that acts as a roadmap for your reflection paper.
Do you need someone to write your reflection Paper?
Are you struggling to write your reflective essay and wish to pay someone to write a model reflective essay that you can use to ace yours? We agree that writing an essay can be extremely challenging even with the best advice we have here and all there is.
Related Read:
That is why we have a team of experienced academics who understand the dos and don'ts when writing a perfect reflective paper. You can hire a paper writer on our platform to write your reflective paper outline to make the process smoother.
With the model paper you buy from our website, you can study, research, and build different aspects to prepare your paper by its due date. Filling out the order form on our homepage is signal that you want us to write your paper easily.
If there are charts, diagrams, or lists, include them in the paper to spice it up for your readers. Contextualize the reflection by asking yourself what? (to answer the facts and events of an experience objectively), so what (to analyze the experience), and now what? (to consider the future impact of the experience on practice, behavior, or actions). The introduction should have a strong thesis statement and make the readers instantly identify the gist of the reflection.